During this week's Special Operations Forces Industry Conference hosted by NDIA, LTC John M. (Tosh) Lancaster, USA, serves as Program Manager SOF Lethality, but the update on SOF small arms and ammunition programs was provided by his boss, PEO – SOF Warrior, COL Joel Babbitt, USA, as part of the entire portfolio.
Weapons
While there are multiple efforts underway to enhance the lethality of SOF, two primary capabilities were briefed which offer overmatch to our forces who have faced enemy small arms with longer ranges, by increasing their operational envelope.
The first is the Mid-Range Gas Gun (MRGG and pronounced like "Margie"). Chambered in 6.5 Creedmoor, this gas operated rifle will be offered in two variants: Assault and Sniper Support. Consequently, you will see the variants referred to as MRGG-A and MRGG-S respectively. USSOCOM adopted 6.5 CM in 2018 which replaces 7.62mm NATO for Sniper Support Weapons.
The second effort is the Lightweight Machine Gun – Medium (LMG-M) in 338 Norma Mag, a true game changer which offers accurate fire at ranges approaching that of an M2 .50 HMG, but at a dry weapon weight below the M240.
Weapons Timeline



USSOCOM plans to procure both of these weapons using Middle Tier Acquisition.
Mid-Range Gas Gun



A Military User Assessment was conducted in 2019 for MRGG to inform this requirement with COL Babbitt mentioning that SOCOM has, "conquered the intellectual high ground," on how to best use 6.5 CM. According to industry sources, while numerous companies participated in that event at Camp Atterbury, only Larue and LMT were down selected for further evaluation. Finally, it's important to note that this requirement is limited to Naval Special Warfare.
Lightweight Machine Gun – Medium



LMG-M promises engagement of both point and area targets out to 2500 meters. MARSOC has already conducted a Combat Evaluation of SIG SAUER's Light Machine Gun to inform this requirement. According to PEO SOF Warrior, one point of feedback was that Operators were impressed that they were hitting the target with the first round. A fire control system will also be procured via its own program.
Ammunition
Since both of these weapons fire SOF unique calibers (based on use within DoD), SOCOM also has to develop and procure the ammunition. This requires developing cartridges and soliciting industry for their manufacture, just like any other commodity.
Ammo Timeline



While limited amounts of both 6.5 CM and 338 NM ammunition has been procured via OTA, full production will be accomplished via a full and open competitive contract opportunity.
Since it's in the slide, we'll also mention that the Lightweight Cased Ammunition program has had some great success with .50 but there are still issues being worked through on the 7.62mm NATO rounds. COL Babbitt related that, "the smaller the caliber, the more difficult to achieve lighter weight." This is because the case isn't as large and that's where the weight reduction is being realized, by transitioning from brass to polymer.
6.5 Creedmoor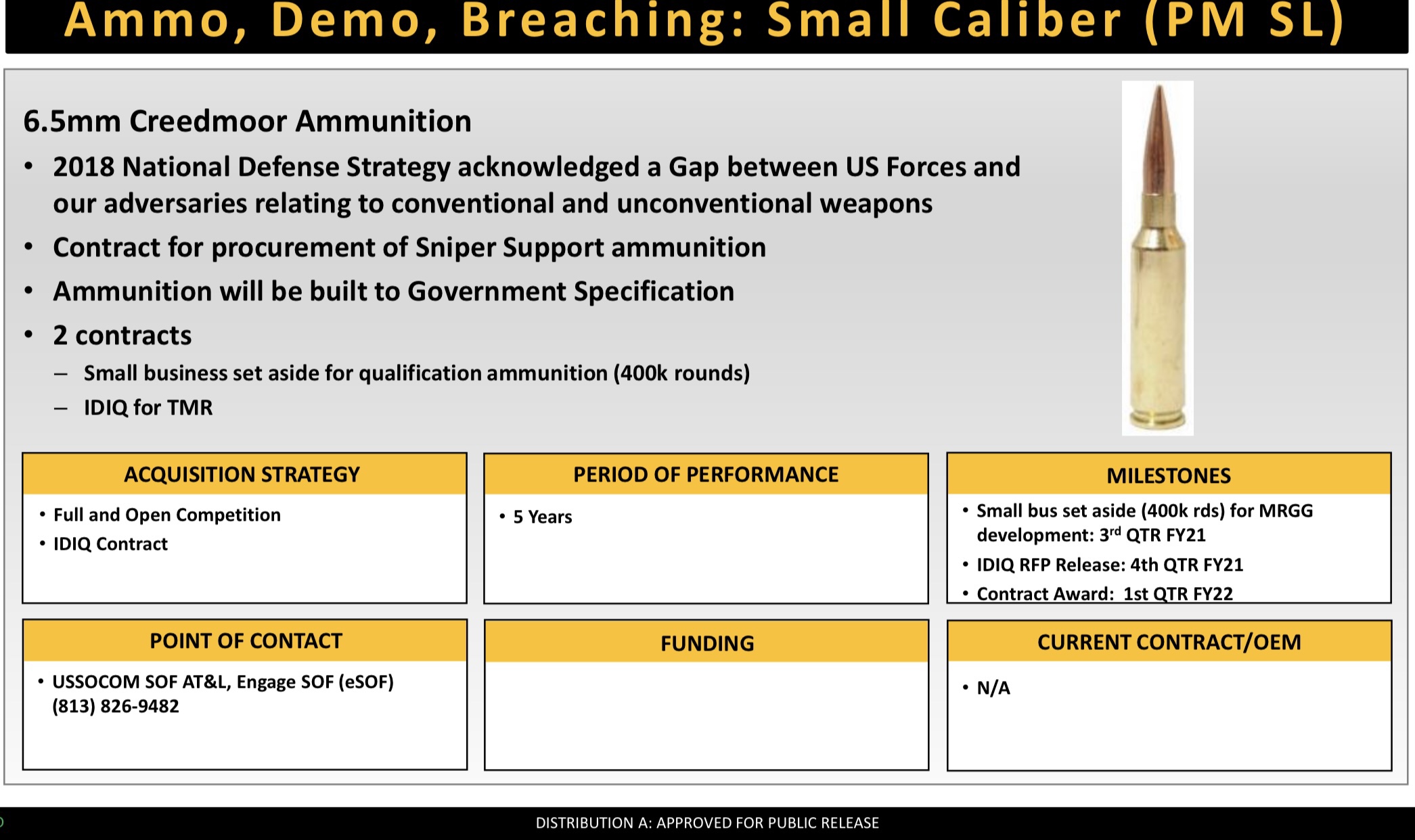 COTS ammunition was utilized for the 2018 effort to decide between 260 Remington and 6.5 CM as an intermediary caliber for SOF. Now, a government specified projectile and load have been developed and are being procured.
338 Norma Mag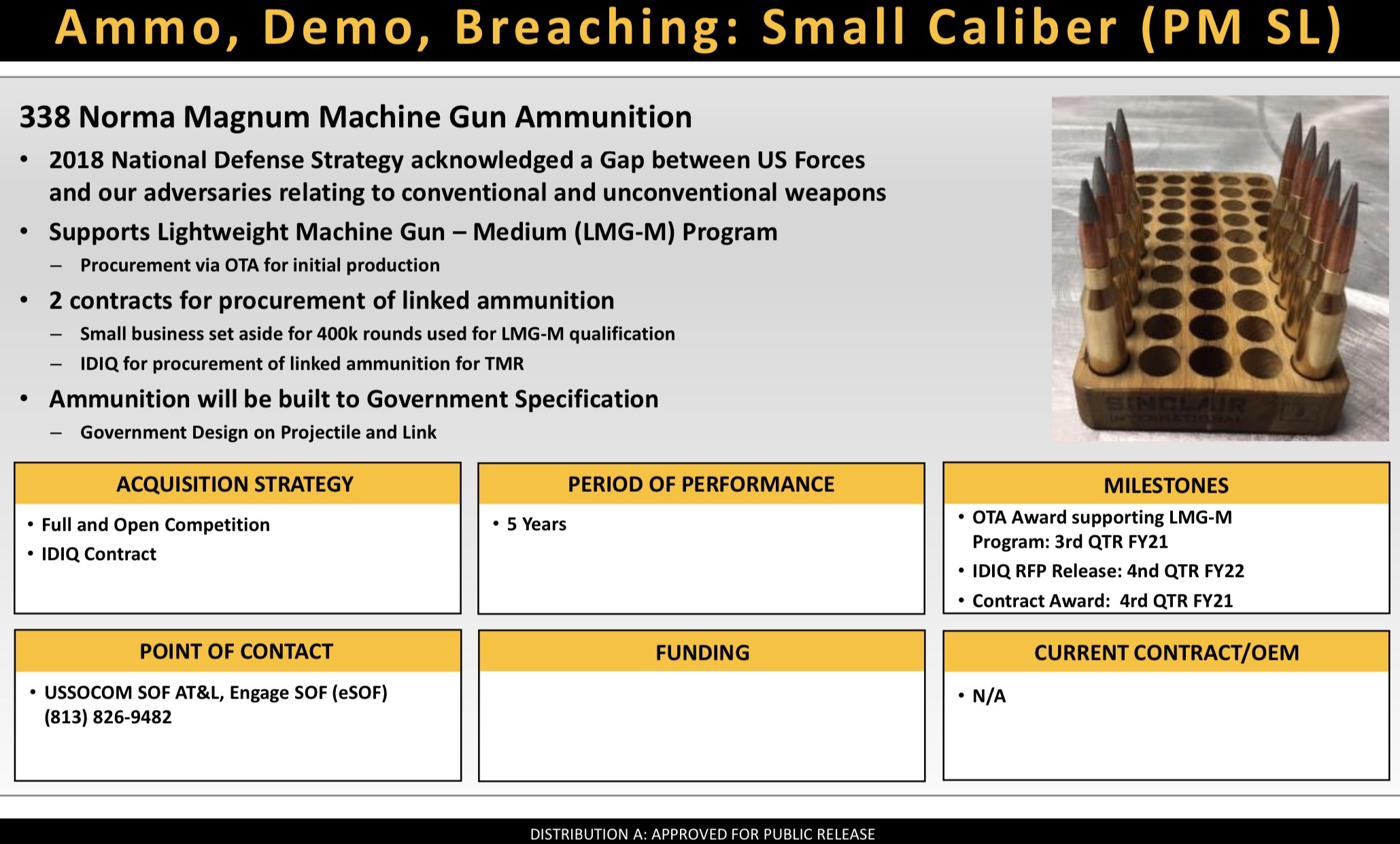 The 338 NM caliber is also part of the new Mk22 Advanced Sniper Rifle which has been adopted by all the Army and Marine Corps as well as USSOCOM. However, cartridges for use by Machine Guns will be different than those used by snipers. Additionally, MG ammunition requires a link which is a government controlled design. While the sniper round will become service common, the MG round will remain SOF peculiar, at least until the services adopt a 338 NM MG.