WRIGHT-PATTERSON AIR FORCE BASE, Ohio (AFNS) —
Spark Tank 2022, a Department of the Air Force annual competition in which Airmen and Guardians pitch innovative solutions to operational problems, will accept submissions in early August 2021.
Spark Tank is co-sponsored by the Deputy Under Secretary of the Air Force for Management (SAF/MG) and AFWERX. "Spark Tank is a crucial part of the Air Force's relentless search for innovative technology," said Col. Nathan Diller, AFWERX director. "The operational skills and knowledge our Airmen and Guardians possess give them the expertise not only to identify problems unique to their jobs, but also solutions."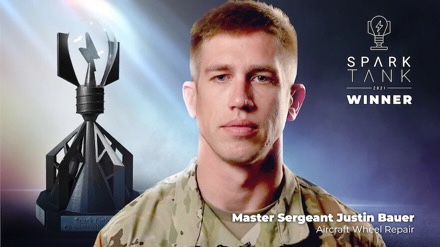 This is the fifth year of the Spark Tank competition. Spark Tank 2021 drew more than 300 submissions with five finalists. Master Sgt. Justin Bauer from the 355th Fighter Wing at Davis-Monthan Air Force Base, Arizona, was awarded the Spark Tank trophy for his idea, "Innovative Approach to C-130 Wheel Repair." Previous winners and finalists have offered improvements from smart weapons loading checklists to robotic process automation for personnel records and everything in-between.
As a bonus, SAF/MG and AFWERX are introducing Spark Tank innovation awards to recognize innovative solutions proposed and developed by Airmen and Guardians across the enterprise. The awards are designed to encourage innovation development, talent retention, and speed up adopting emerging, game-changing technologies that impact the Air and Space Force.
"Spark Tank offers a great opportunity to highlight the innovative spirit of our Airmen and Guardians," said William Gautier, Spark Tank director. "These risk-takers, idea makers, and entrepreneurs reject the status quo, instead they seek inventive answers that improve how our jobs are done."
To enable participation, interested members will submit ideas through the recently launched Guardian and Airmen Innovation Network portal. GAIN allows personnel to share ideas, critique submissions, and vote on the most promising solutions.
Innovation submissions are due via GAIN no later than close of business, Oct. 1, 2021. Finalists will be announced in January 2022. The pitch-finals competition will take place on March 4, 2022, at the Air Force Association's Aerospace Warfare Symposium in Orlando, Florida.
More information will be forthcoming at www.afwerx.af.mil/spark-tank. Ideas can be submitted to the Spark Tank competition at afwerx.af.mil.