Today Garmin launches the latest update to their tactix line with the 7 series, consisting of three models. I've been watching what Garmin has done with their devices for years, as they've transitioned from watches with basic ABC (altimeter, barometer, compass) functionality with basic global positioning to the addition of mapping, and this latest update is impressive. It goes well beyond a watch, to functionality that rivals a handheld device. They've included features I have never even considered seeing on a wrist device. I'm not sure how they're going to integrate additional capability into future iterations. Once you see what they've done, I think you'll agree.
A word of caution, with that increased functionality comes a higher price. This isn't some cheap wristwatch. Consequently, units and agencies should consider these a tool as vital as an end user device and issue them to their members.
Here is their press release:
OLATHE, Kan./ April 7, 2022
– Garmin® International, Inc., a unit of Garmin Ltd. (NYSE: GRMN), today announced the tactix® 7 Series, a new class of purpose-built tactical smartwatches.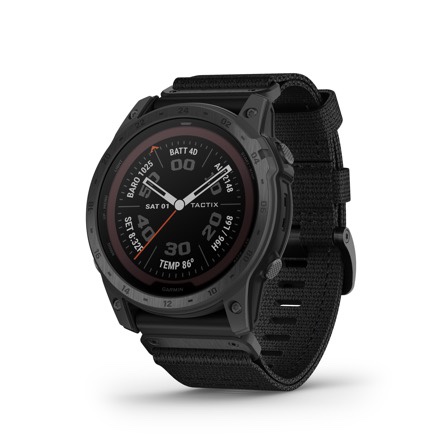 Leveraging a new 5-button interface with a responsive touch screen, the tactix 7 Series provides dedicated tactical, training and performance features, wrist-based navigation, and comprehensive health and wellness monitoring.
Prepared for operations day and night, the tactix 7 Series now includes an always-on NVG-compatible reflective display and a dedicated multi-LED flashlight for low-light conditions.
Featuring robust battery life across all three models, including enhanced solar charging on select tactix 7 units, users can focus on everything from HIIT workouts to HALO jumps and worry less about recharging.
"The new tactix 7 Series is an ideal premium timepiece for everyday use while pulling double duty as a must-have for any tactical kit.
Whether heading to the gym, hiking with your family or preparing to land on the X, you can depend on tactix 7 to help get you there," said Dan Bartel, Garmin vice president of global consumer sales.
"Thanks to premium materials and a new sophisticated design, tactix 7 is a trusted companion whether you're in the field on assignment or in a meeting with clients. It is truly a watch ready for any challenge."
Built to endure
The rugged tactix 7 Series is built to a military standard (MIL-STD-810) and water-rated to 10 ATM.
The new metal button guards with reinforced metal lugs are paired with a black DLC coated titanium bezel and rear cover, as well as black tactical nylon QuickFit bands on tactix 7 Pro Series, to create a watch as tough as its users.
Available in three models, all tactix 7 units feature a large 1.4" display a scratch-resistant sapphire lens.
Users can feel confident knowing the sapphire used is considered one of the hardest materials on earth, ensuring the tactix 7 display remains operationally ready even in harsh environments.
New to the tactix 7 Series is a dual touchscreen and button user interface. The traditional button controls work in any environment and are matched with a responsive new touchscreen for direct access to selections and functions. The powerful 5-button and touchscreen interface enables quick and intuitive engagement with the topographical maps, offering confident "off-grid" situational awareness.
To lead the way during night operations, the tactix 7 Series provides a new built-in multi-LED flashlight providing quick access to a bright, steady light in either white or a dedicated green. Users will find the green light useful in maintaining their eyes' natural night vision.
tactix 7 Series customers can utilize stealth mode, which collects distances traveled and biometric data without recording location data, to physically train or during operations.
Leveraging this security feature ensures customers can use tactix 7–and even upload logged data–without concerns of revealing location information through popular mobile training apps.
By not recording location data to the device, stealth mode also protects operational security should a device become lost.
The tactix 7 Series brings significant battery life gains to the rugged smartwatch family; tactix 7-Standard Edition provides up to four weeks of battery life in smartwatch mode and thanks to advancement in solar technology tactix 7-Pro Series can provide up to 37 days of battery life in smartwatch mode.
Service-ready features
Packed with dedicated features for tactical operations, the tactix 7 Series includes night-vision goggle compatibility mode, Jumpmaster, dual-position GPS formatting, projected waypoints, and the ability to erase all user data in a matter of seconds should the need arise.
During airborne operations, individuals can use Jumpmaster for three jump types: HAHO, HALO, and Static. Set the watch to dual-positioning mode, and it will simultaneously display two sets of coordinate systems, such as MGRS and latitude/longitude, on a single data screen.
When night-vision mode is activated, the backlight settings of the screen will reduce to a level that won't interfere with the function of night-vision goggles.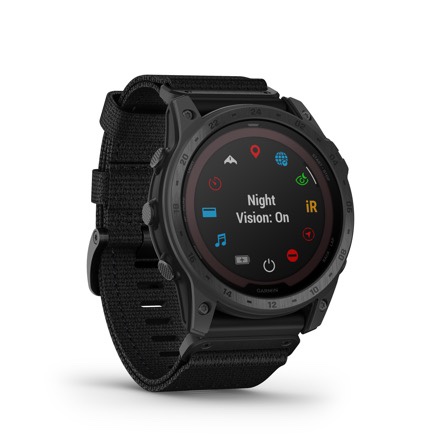 Both civilian and service aviators will benefit from the tactix 7 Series Direct-To Navigation feature, which allows users to navigate straight to an airport in the world aeronautical database or use the "Nearest" function to activate a path to a nearby airport.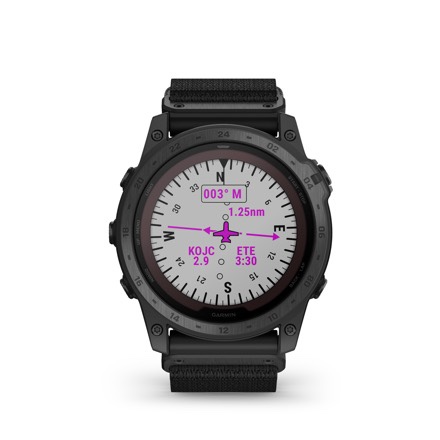 Additionally, pilots can also access aviation weather, including NEXRAD radar, METARs and TAFs, to see winds, visibility, barometric pressure and more directly on their tactix 7 unit.
Everyday support with advanced training. Designed for all-day use, the tactix 7 Series features Garmin's 24/7 health and wellness tools including Pulse Ox, wrist-based heart rate, respiration and stress tracking, plus Garmin wellness insights such as Body Battery™, Fitness Age and Sleep Score with Advanced Sleep Monitoring.
The tactix 7 Series is also compatible with other Garmin devices including satellite communicators such as inReach® Mini 25 and dog tracking devices such as Alpha® 10.
Leveraging Garmin's advanced training technology, all tactix 7 units can help customers reach their training goals.
In addition to dedicated sports apps from hunting to mountain climbing to strength training and more, the tactix 7 Series provides tools for customers to reach peak performance.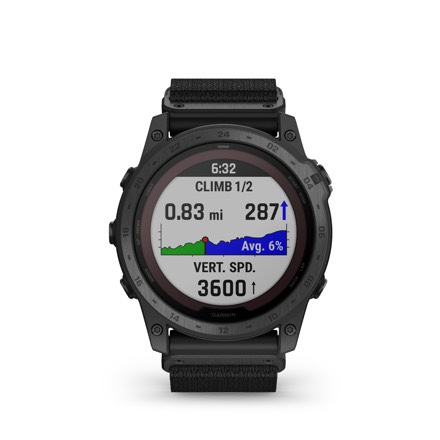 These tools include Real-Time Stamina to monitor and track exertion; a Recovery Time Advisor which takes into account training intensity and factors like stress, daily activity and sleep to estimate the number of hours of rest needed to properly recover from a workout session of the same exertion; and Daily Workout Suggestions, which acts as a personal trainer providing workout suggestions based on current training load, training status and overall fitness level.
Global navigation
Using multi-band GNSS support, customers can access multiple frequencies sent by navigation satellites for improved position accuracy in areas where GNSS signals are reflected, weak or typically don't penetrate. All tactix 7 units come preloaded with multicontinent Topo maps from the customer's regions and provide free access to download additional maps from around the world.
For recreational uses, the tactix 7 Series come preloaded with Public Land Boundaries Maps, SkiView Maps,and more than 42,000 full-color golf courses around the world.
Customers needing the enhanced solutions provided by Applied Ballistics (AB) will be pleased to know the tactix 7-Pro Ballistics Edition now integrates with the AB ecosystem, including the AB Synapse™ app and sensor integration.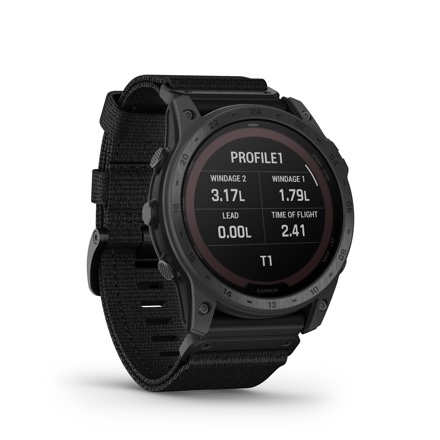 The tactix 7 Series represents Garmin's continued innovation of smartwatch technology and is available now with a starting suggested retail price of $1099.99.
To learn more, visit garmin.com/outdoor.
Engineered on the inside for life on the outside, Garmin products have revolutionized life for adventurers, athletes, and outdoor enthusiasts everywhere. Committed to developing products and services that enhance experiences and provide peace of mind, Garmin believes every day is an opportunity to innovate and a chance to beat yesterday.
For more information, visit Garmin's virtual Newsroom, email our press team, connect with @garminoutdoor on social media, or follow our adventures at garmin.com/blog.
As always, I highly recommend you go to our friends at Strohman Enterprise to purchase Garmin products. They offer discounts for military and LE customers.