Last month, the US Army began fielding an interim version of the Cold Temperature and Arctic Protection System or CTAPS to the Alaska-based 11th Airborne Division following a Directed Requirement from the Chief of Staff of the Army, General James C. McConville.
Soldier Systems Daily had the opportunity to sit down with the Program Executive Office – Soldier team behind this project to discuss how it happened. The Product Manager Soldier Clothing and Individual Equipment is LTC Naim Lee. He was joined by Assistant Product Manager for Extreme Weather Clothing and Equipment, MAJ Ryan Ogden and a Textile Technologist on his team, Mr. James Murdock who is an Engineer assigned to the Combat Capabilities Development Command Soldier Center in Natick, MA.
The CSA issued the Directed Requirement to provide the 11th Abn Div with an improved interim cold weather clothing capability in June 2022 and by January 2023, the team was already conducting human factors testing at the Cold Regions Test Center at Fort Greely, AK with 18 Soldiers from the 70th Brigade Engineer Battalion. The PEO Soldier team quickly transitioned from testing to fielding beginning in mid-February.
As fielded, CTAPS consists of five layers vice the seven layers of ECWCS. MAJ Ogden explained that Army hasn't decided how they will characterize layers in the future but in the meantime will continue to use the layer designations of the Extreme Cold Weather Clothing System Generation III. However, like with ECWCS (and the similar Protective Combat Uniform worn by SOF personnel), although they are referred to as layers, the Soldier may combine different layers to gain the desired protection from the elements.
Featuring the Operational Camouflage Pattern, CTAPS is offered in 15 different sizes, ranging from extra small and short to extra-extra-large and extra-long.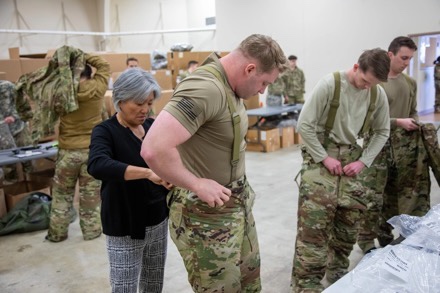 While CTAPS features government designs, two of the layers, layers one and six were fulfilled by Commercial Off The Shelf (COTS) items due to the short notice nature of the requirement.
CTAPS includes:
Layer 1 – Base layer
Layer 3 – Lightweight Insulated Liner
Layer 5 – Softshell Uniform
Layer 6 – Cold/Wet Weather Uniform
Layer 7 – Extreme Cold Weather Parka/Trousers
One of the ways that the Army is able to reduce the number of layers is by creating adaptable garments which combine capabilities. For example, the CTAPS L5 Softshell Uniform is intended to function as both Softshell and Wind Shirt found in ECWCS.
Additionally, Murdock said, "there is functionality in the designs. There is a reason every pocket and zipper is located where it is, so that the entire ensemble not only works as a system but that it also interfaces with other OCIE like body armor, gloves, boots, and head protection."
Based on the recent Arctic strategy document, "Regaining Arctic Dominance" the Army must be capable of surviving temperatures as low as -65 deg F. This is slightly colder than the -60 deg F capability provided by ECWCS going back to its first iteration in the late 1980s. Murdock explained that although the system has been tested to -65, everyone reacts a bit differently to extreme temperatures and while one Soldier may find the ensemble just fine, another may feel cold or another warm.
Murdock explained that the search for materials to handle such extreme temperatures began in 2016 with the Regionally Aligned Combat Ensemble – Arctic program. The Combat Capabilities Development Command Soldier Center evaluated numerous different fabrics for their individual attributes as well as how they could be combined for use in a clothing system for extreme cold weather.
They also worked with Subject Matter Experts from the Army as well as the civilian winter sports community to inform form and function. These concepts were bounced off of 11Bs in the Infantry as well as Soldiers from other branches to determine their applicability to the mission. For example, the L7 parka is now designed to be worn with armor and the trouser features an expandable waist to make it more adaptable to layering.
MAJ Ryan Ogden pointed out the short period of time it took to fulfill this requirement stating, "One of the big takeaways is the rapid flash-to-bang from requirement to fielding. We worked closely with industry to make this happen. It's a testament to how quickly we can get a capability out to the force." Murdock added, "We had companies working very closely with one another that might normally be seen as competitors. Everyone came together to make this happen." This was a major event within the US textile industry. Not only did fabrics have to be milled, treated and printed, but the companies actually assembling the garments had to manage supply chains that include such disparate items as snaps, zippers, and nylon tape, with everything coming from a different supplier. Industry is currently producing up to 400 sets of CTAPS per day and as many, if not more, Soldiers are being issued their systems every day.
The units receiving the new clothing are the 1st Infantry Brigade Combat Team at Ft Wainwright and the 2nd IBCT (Airborne) at Joint Base Elmendorf-Richardson. MAJ Ogden conveyed that a small quantity of additional systems was also delivered to cover sizing tariffs and spares of two such large organizations.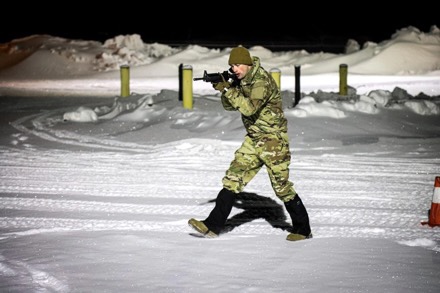 Next month, the units will participate in a force-on-force Field Training Exercise which will also serve as a testbed for the clothing systems.
LTC Lee wanted to point out that what you see here isn't the final configuration. PEO Soldier will use information gleaned from the fielding of this directed requirement to inform a future iteration of specialized clothing to replace the current ECWCS Gen III.
Additionally, LTC Lee mentioned that accessory items like hand and footwear as well as head protection for extreme cold are separate from this project and covered under other programs of record.
The big takeaway here are that the Army can work with industry to rapidly field unique requirements at scale and that PEO Soldier continues to improve clothing and individual equipment for the Soldier.
MAJ Ogden summed it up well, "CTAPS leverages novel materials and offers increased comfort and durability, reduced bulk, enhanced integration with OCIE, and improved moisture management."