The helmet-mounted digital night vision just got better, with new features and improvements
BEVERLY, Mass. (Oct. 24, 2023) Relentlessly working to enhance the performance and functionality of their products, SIONYX announces a new mobile app and significant firmware update for OPSIN, a helmet-mounted digital night vision monocular that features their proprietary XQE-1350 Black Silicon sensor to deliver ultra-low-light images and video.
For over 16 years, SIONYX has developed its silicon-based photonics technology in support of advanced imaging for a wide range of customers, including the U.S. Department of Defense. In late 2022, SIONYX introduced their innovative sensor technology into the shooting, hunting, tactical, and law enforcement markets with the launch of OPSIN, their first purpose-built helmet-mounted monocular. OPSIN captured the industry's attention with its impactful advances to stagnating tools and implications for the future of night vision.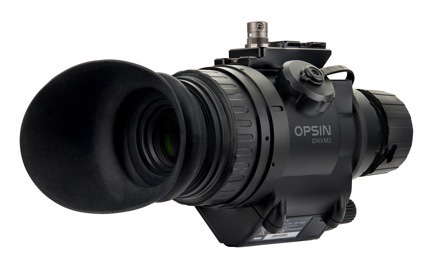 SIONYX sensor technology extends visibility beyond what the human eye can perceive, enabling observation, detection, identification, and recording of targets of interest in near darkness. OPSIN offers color imaging in moonless starlight conditions with a rich layer of natural detail and clarity. Many users have adopted OPSIN, utilizing its video and image recording and stealth navigation capabilities in low-light operations such as surveillance and firearms training.
To further enhance the capabilities of OPSIN, SIONYX is introducing a new app. It is compatible with both Android and iOS devices and enables video streaming, as well as command and control functions. The firmware update will elevate OPSIN's overall functionality with enhancements to the heads-up display and introduction of new modes and features. This strategic step serves to fortify an already game-changing product, solidifying SIONYX's position as an innovator in the industry.
A key advantage of digital night vision technology is its capacity for unlimited firmware upgrades, which progressively improves the camera's performance. In contrast, analog night vision tubes degrade over time and are susceptible to irreversible damage from overexposure to bright light. The OPSIN 2.0.0 upgrades enhance usability through a color-rich and intuitive, modern user interface with data available at-a-glance. The update also introduces new features and capabilities that enable operators to carry out tasks more effectively under a wider range of environmental conditions.
"Today's operators rely on next-gen technologies that improve situational awareness and output data to expedite and improve decision making, keeping them informed, safe, and ultimately allowing them to complete missions successfully," said Robert Pignataro, General Manager of the Commercial Product Division of SIONYX. "As our team develops new features and benefits, OPSIN users can rest assured that we will pass those benefits on to them through simple firmware updates. The speed at which technologies improve in our modern time is astounding and our customers will benefit from these advances as quickly as we develop them, without needing to invest in new gear."
OPSIN Firmware (V2.0.0) Upgrades & App:
? SIONYX Mobile App: The SIONYX app works on both Android and iOS platforms. Users will have the ability to connect multiple SIONYX products, adjust settings to optimize performance, and stream and record video from camera to app.
? Comprehensive System Status: Users will benefit from a redesigned heads-up display showing real-time critical system information, essential for keeping operators informed.
? Intuitive Button Interface: The front knob and button controls have been revamped for improved, intuitive functionality. These changes cater to new settings seamlessly and allow customization to the operator's most used features.
? Advanced Image Processing: OPSIN 2.0 brings elevated image processing and introduces advanced options to enrich the low-light user experience.
? ROI Mode Update: The update introduces a Region Of Interest (ROI) filter, enabling effective handling of high dynamic scenes, including those involving lasers or intense IR illumination.
? Three options (Wide / Narrow / OFF) are available for the ROI filter, tailoring to different scenarios. OPSIN's Auto Gain Control (AGC) adjusts accordingly for the best image quality. While great for navigation or general observation, the ROI filter remains optional. With the ROI off, OPSIN delivers higher detail across the entire field of view.
? Monochrome Mode: Designed for extreme low-light conditions, Monochrome mode offers the choice to view images in grayscale. By reducing color noise in the dimmest environments, OPSIN provides a cleaner image that's easier to interpret.
? 2D Noise Filter: The optional two-dimensional image noise filter is particularly beneficial in outdoor environments with moderately busy scenes. This filter smooths sharp transitions between subjects and reduces overall noise, resulting in better image quality and a more natural visual experience.
? Improved Location Services: The update includes enhancements to the digital magnetic compass and GPS satellite data display for a smoother user experience.
The SIONYX mobile app updated firmware (V2.0.0) for OPSIN, and supporting accessories are now available. For more information about SIONYX and OPSIN click here.