Antimatter Industries and Tactical Development are proud to release The WingTM—a spring-loaded thumb ledge that collapses into many light compatible holsters. The two variations replace the lug of a Surefire X300/X400 (cross-bolt version only) or a Streamlight TLR7 Sub.
The why: For years, competition shooters have been using thumb ledges to control muzzle climb. This keeps your gun flatter and groups tighter, enabling you to shoot faster because your red dot doesn't come off target during recoil.
This raises the question: Why wouldn't everyone want those perks in an actual gunfight when lives are on the line?
The problem: Large aftermarket ledges require special competition holsters. The military and law enforcement are usually only allowed to use approved or issued lvl. 2-3 holsters. To get around this, people have stippled or cut into the pistol frame itself. That's cool, but it doesn't offer a lot of surface area; most of your thumb is hanging off and you don't get the same control as a wide ledge.
The solution: The patent pending WingTM automatically folds out when you draw your pistol, resulting in one of the largest thumb ledges out there to control muzzle climb. When you reholster it, the Wing simply collapses back against the slide of the gun. The Wing adds only 1.5mm to the width to the gun, allowing you to use it with your duty/military issued Safariland holsters. It can also fit in many other kydex OWB holsters made for Surefire x300 lights.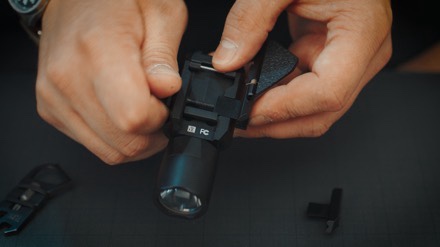 Compatibility: The Wing is compatible with any Sig 320 and military's M17/M18 when using a Surefire X300 pic rail light. (The one with the flathead bolt; not the quick release version.) Don't worry, we're already making the glock variant for Gen 3-5 pistols.
We came out with the Carry Wing for (Sig 365, hellcat, Glock 48 and G43x) because compact guns usually have more felt recoil due to their size. We can personally shoot the 365 with a Wing better than the legion x5 without one. It's not magic; it's just physics.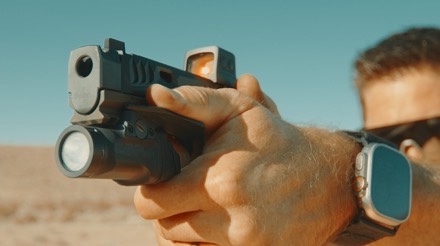 Advantage: The Wing makes a big difference on non-compensated pistols. Unfortunately, most agencies and military regs still prevent you from running threaded barrels with comps. In addition, the Wing kicks ass on 10mm pistols. It gives you control and faster follow up shots with a more devastating round.
Installation: Well, it's pretty damn fast. You simply remove the Wing from the Surefire x300 or a Streamlight TLR-7 sub and replace it with the Wing's lug.
American made: The Wing is designed and machined right here out of 7075 aluminum. Watch the torture test video on our website.
For more information, visit AntimatterIndustries.com.