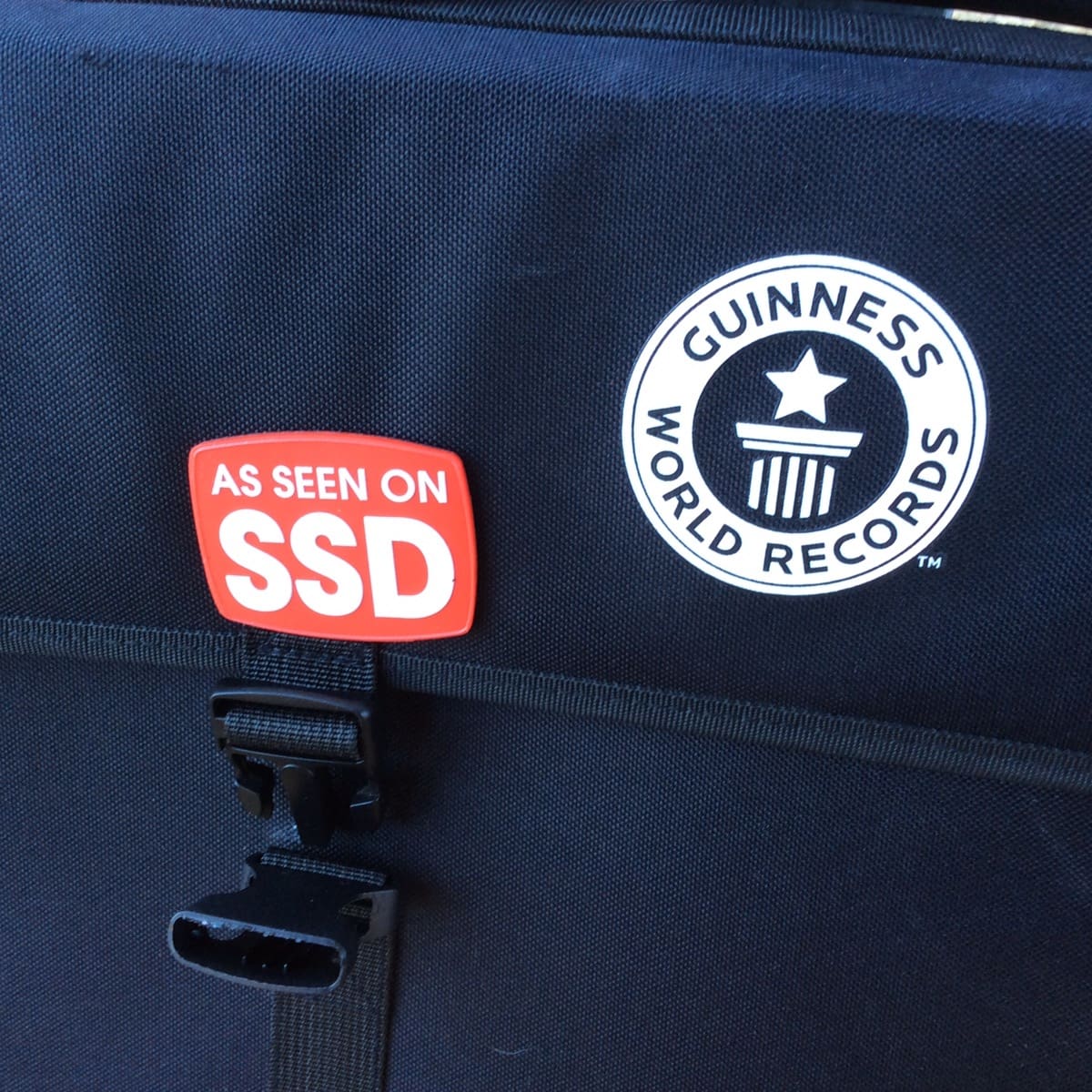 Last Fall I was asked by SIG SAUER to witness pro shooter Max Michel's establishment of a new Guinness World Record at SIG Academy, near Exeter, New Hampshire. Max's effort resulted in a new category for action-pistol shooting, with the fastest speed for hitting six target plates with a 9mm handgun. Despite it being a cold day, Max did it in 2.05 seconds as his best time in three attempts. Below, you can see him getting his head in the game with numerous dry runs.
Max Michel accomplished this feat with his full-size SIG SAUER P320 in 9mm topped with a ROMEO3 mini reflex sight, ran with SIG SAUER Elite Performance Ammunition. Interestingly, the P320 comes equipped with a ROMEO1, but Max prefers the ROMEO3.
Born and bred in Louisiana, Max Michel is a very fascinating guy. Although he served for many years in the Army Marksmanship Unit, Max has been shooting since he was a kid. In fact, he told me that he started out cleaning plates just like in the Guinness World Record and related that it was a fitting challenge, bringing him back full circle to where he started.
"Since he began shooting at 5 years old, Max has won numerous world, national and regional titles in a variety of shooting sports disciplines," said Tom Taylor, Chief Marketing Officer & Executive Vice President, Commercial Sales. "While Max's skill and proficiency with a pistol is well known in the shooting sports world, his latest performance transcends the competitive arena and places it squarely in the public domain. There are many great shooters out there, but a Guinness World Record title adds documented validity and notoriety, elevating Max's credentials to an even higher level of distinction."
Max successfully engaged an official Action Target plate rack consisting of six adjacent shooting plates measuring 8 inches in diameter at a distance of 7 meters. Under the guidelines of Guinness World Records, Michel was given three attempts in which to set the world record. Witnessed by an approved Guinness World Records judge and verified by two experienced timekeepers, Michel's attempt was also photographed and recorded on video which will be available soon from RecoilTV.
"Growing up, I remember seeing the Guinness Book of World Records and wanting to be a part of it," said Michel. "To receive its stamp of approval and to be recognized by your peers is one of the biggest honors I could imagine. Now, after finally having the chance to achieve a world record, I consider it to be one of the major highlights in my 25 years of competitive shooting." Michel continued, "Perhaps one of the biggest joys I've experienced since setting the Guinness World Record has been the feedback I've received from my kids. For years I've been telling them about certain matches, how I performed and what it meant to me, but to see their reaction when I showed them the certificate from Guinness was truly unbelievable. I'm extremely blessed to have this opportunity and I look forward to seeing how my fellow competitors and recreational shooters respond to this new challenge. I hope it encourages them to set their own records as I will certainly be ready to match their performance whenever the time comes."
Here you can see Guinness official Jimmy Coggins presenting Max Michel his official certificate for his World Record.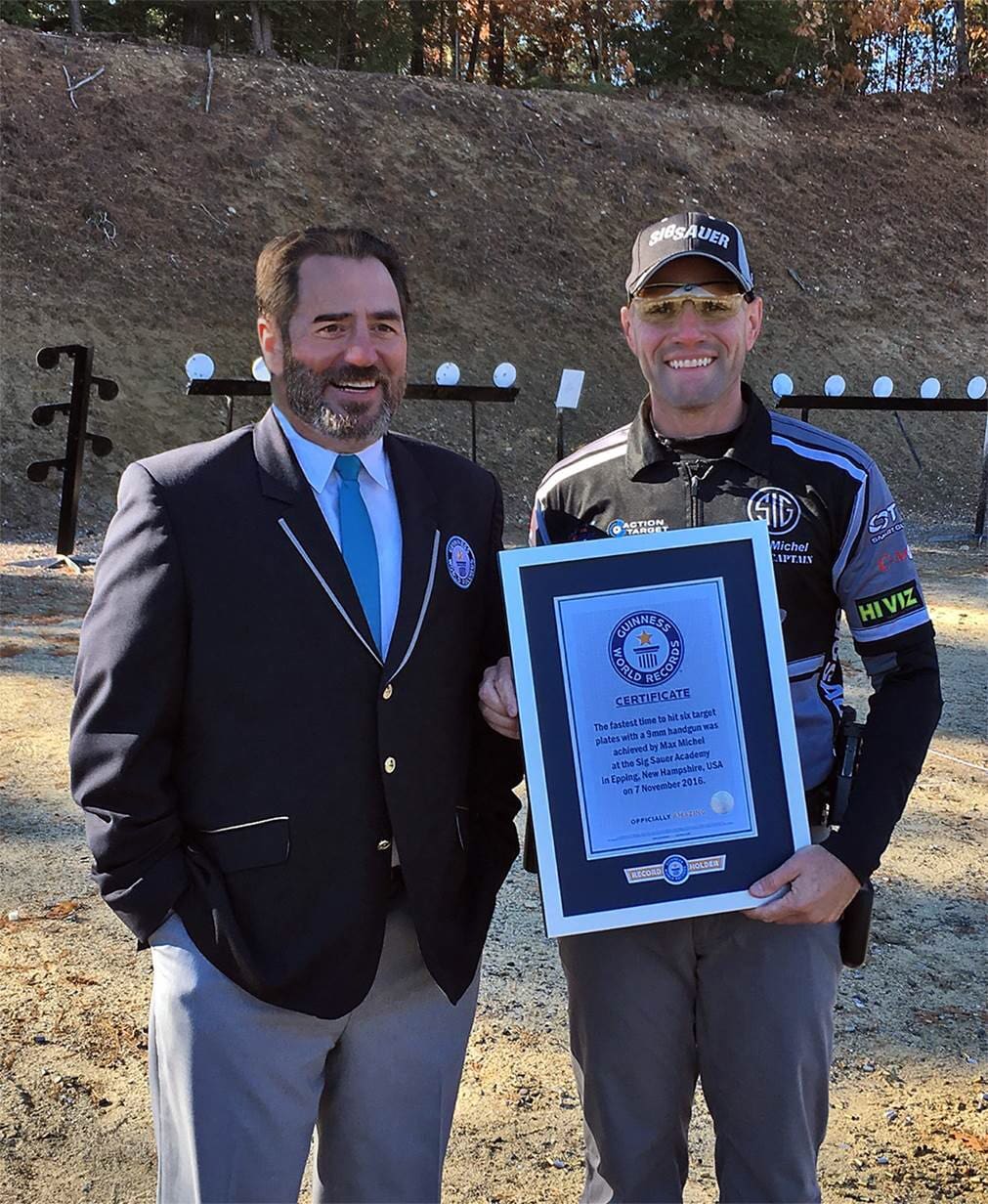 As you can imagine, Max is proud of his accomplishment. It's not only good for him, and SIG, but also for shooting sports. Consider that shooters all around the world will be vying to beat his record. Now that we've heard about his accomplishment, let's see it.
As you can see, Max Michel is definitely fast. Maybe you're faster. Look for details soon on how you can take on Max's Guinness World Record.
Also on hand to capture the event was RecoilTV. To watch the full documentary of Max Michel's world record performance, visit recoiltv.com.