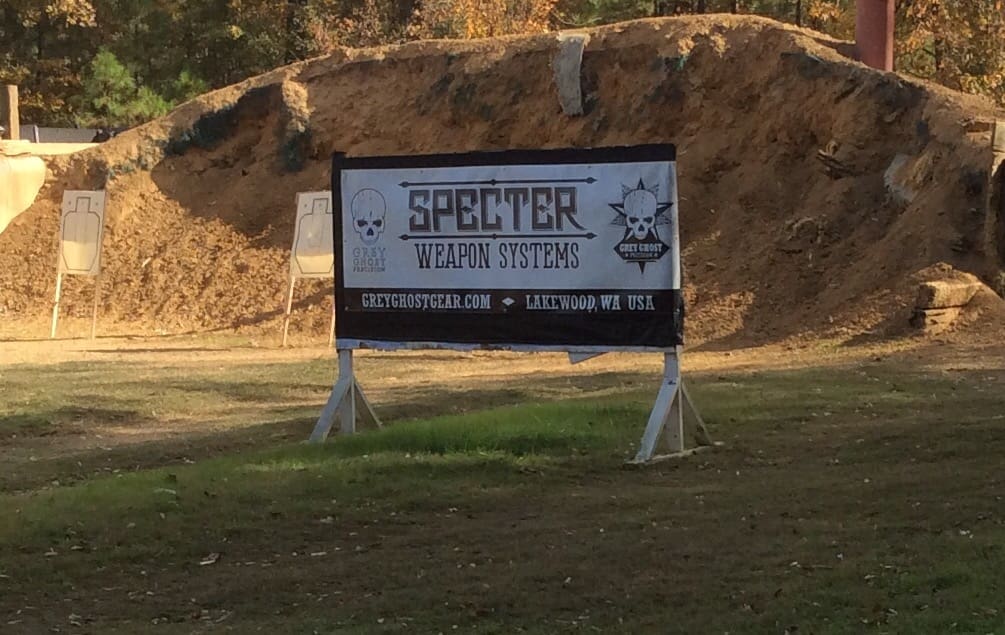 I spent Veterans Day this year at Range 37 near Ft Bragg with Grey Ghost Precision checking out their new Specter series of rifles. Manufactured exclusively for GGP by Mega Arms, the Specter is offered in Heavy (7.62 NATO) and Light (5.56mm) models. Both were a joy to shoot. My main concern was reliability and overall shooting experience. The day was not the best opportunity for me to look at accuracy and hopefully, this will be happening soon.
For years shooters have been asking Mega Arms to build complete rifles based on their popular MATEN 7.62 Upper and Lower sets. Mega heard what they are asking for but decided to team up with Grey Ghost. These are the only guns built completely by Mega Arms and this new relationship is a natural fit considering the two firms' close proximity to one another and privately held status.

Truth be told, I spent most of my time with the Heavy since it was something new. The initial rifle I shot performed flawlessly with the first magazine but then I started to notice failure to fire on the second round out of the magazine. After it happened three times, Jason Curns, Firearms Manager at Mega Arms took a look at it and replaced the firing pin. After that, it ran like a sewing machine the rest of the day. This was the only malfunction I noted over the several hours our group spent at the range.
Gemtech also brought in two suppressors that they will be offering with GGP as well as their Blast Jackets which help dampen the side blast of comps.
Here, you can see the Gemtech suppressor mounted to a Specter Heavy.
I also fired the Light carbine on a pop up range. After a morning with the Heavy it was a lot of fun to shoot and was equipped with the new Mega Slide Lock charging handle.
Although, I've talked about the specs for the rifles before, I'll go over them again.
The proprietary receivers are built from 7075-T651 billet aluminum and are True Black Type III hardcoat anodized to military specifications, with a surface hardness of 60 Rockwell. The forends are 14″ extended Mega MKM KeyMod handguards, which are hand fitted to the upper receiver using Mega Arms' custom lockup system; M-LOK forends will be available in the future. The barrels are medium weight 16″ 416 stainless steel with 11 degree target crowns. They are fitted with Gemtech Jake Brakes and are treated with black nitride inside and out for superior corrosion resistance. One thing to note is that the Heavy's upper does not incorporate a Forward Assist. This is a holdover from the MATEN. According to Mega, most .308 BCGs don't have serrations so the BCG wouldn't do much good.
The lower receivers feature ambidextrous bolt releases and BAD-CASS selectors. The triggers are single stage, with a 4.5 lbs pull. They also come equipped with properly staked mil-spec six position receiver extensions, Magpul ACS stocks, and Magpul MOE+ pistol grips. The Specter Light comes with enhanced takedown and pivot pins directly from the factory.
As I stated up front, I used this experience as a familiarity shoot and came away very pleased. Numerous people fired the weapons in both Light and Heavy configurations. Several times we had to wait for weapons to cool down due to the amount of rounds fired. I only noted the firing pin issue during the entire range session. In addition to our range, the rifles were used the day prior by every competitor during one of the stages of the Green Beret Foundation fundraiser shoot. There were no malfunctions noted during that event and no one complained about the weapon's accuracy during the competition. While the range was not optimized for an accuracy evaluation, I hope to get the opportunity soon.