Spec Ops Brand
Spec Ops Brand displayed their latest addition, the Gun Belt which was transitioned from their Professional Hunter line where it found its genesis as the PH Utility Belt. Originally conceived as a sturdy belt for big game hunting, the the Gun Belt utilizes the concept of a belt on a belt to improve stiffness. This is a great alternative for those who require a gun belt but don't want the added weight, bulk and heat build up associated with many padded belts. It is available now in four sizes in Black, Coyote, and Foliage.
ITW Military Products
ITW released this new product at SHOT. Envisioned as step one in a multi-faceted waterproofing system, the Individual Clothing & Equipment Protection System or ICEPS is designed as a cost effective alternative to commercial products often used by Soldiers such as zip-loc bags. The current cornerstone of this line is the X-Proof protective bag which incorporate a closure with a one way valve. This allows you to put clothing and equipment in the nag and then bleed the air out of the bag. The current ICEPS kit consists of one waterproof pack liner for the three day assault pack, two Roll-Vac equipment bags, and two personal equipment bags. Look for a full report soon.
Waterpoint
The Eagle/Waterpoint Yote will be available by March 2009 and although considered a different product line than most Eagle products the Waterpoint Yote is the same bag. It just includes a water reservoir.
Crye Precision/Texcel
Crye Precision approved the new version of the Texcel webbing in Multicam. In previous variants, the dark brown has appeared black.
Crye Precision/Dry-Fire
Dri-Fire is poised to begin printing their fabric in Crye's Multicam. Dri-Fire is an FR fabric that is more durable than Nomex yet is one-third the cost. Additionally, Dri-Fire provides both moisture management as well as anti-microbial protection not found in Nomex.
Tac 15 Crossbow
For the AR-15 owner who has everything, I introduce the Tactical Assault Crossbow. The Tac 15 crossbow is designed to fit on any AR-15 style lower receiver and throws shafts at an amazing 412 fps. Additionally, it incorporates Vibracheck Backstop string suppressors as well as Picitinny rails. The hand crank cocking mechanism provides for 30 second reloads.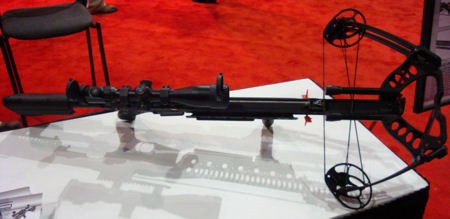 Tags: S.O. Tech, Spec Ops Brand