LAS VEGAS, N.V. – February 1, 2022 – The Industry Day at the Range Safety Award, sponsored by Action Target, honors the participating company that demonstrates the highest standard of safety throughout the event. The 2022 Action Target Safety Award was awarded to Franklin Armory at the Boulder Rifle and Pistol Club Range on January 17.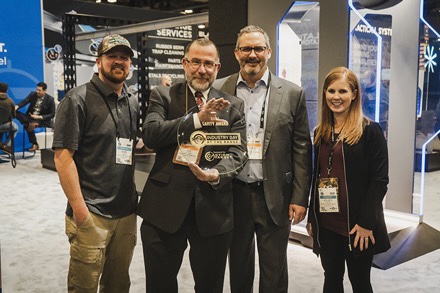 The winner of the Action Target Safety Award receives a $2,000 credit toward the 2023 Industry Day at the Range event. Franklin Armory has elected to donate the $2,000 to Project ChildSafe. Project ChildSafe is a National Shooting Sports Foundation (NSSF) program committed to promoting firearm safety to communities across the United States.
"Action Target recognizes the importance of promoting firearms safety throughout our industry. As market leaders, we understand the importance of building the safest and most advanced shooting ranges possible. We are proud to be a part of this great event and honored to recognize and congratulate Franklin Armory for taking the appropriate steps at Industry Day to promote firearm safety.". says Mike Birch, President and CEO at Action Target.
Safety auditors judged shooting exhibitors during Industry Day, and the score was determined by range safety criteria such as providing hearing and eye protection, control of ammunition and safe handling of firearms on the firing line. Scoring also took into consideration the posting of rules, availability of first aid kits at the shooting stations and crowd management.
"We recognize that Industry Day at the Range is a fast-paced event, and like all firearms, our products require diligent adherence to the four rules of firearm safety," said Jay Jacobson, Franklin Armory President. "Our team has consistently made safety not just a plan, but a process. The fruit of that labor has been a safe and successful experience for all who attended. We know all of our industry peers share this commitment, and it is with great honor that we receive this award.
This year's Industry Day at the Range included quality and purpose driven media buyers who arrived for the annual event. With a steady stream of individuals at the range, visitors flowed through exhibitor lanes testing products and watching demonstrations by top manufacturers and suppliers.
The 2022 Industry Day at the Range was held at the Boulder Rifle and Pistol Club in Boulder City, Nevada on Monday, January 17. More information about Industry Day at the Range can be found at SHOTShowRangeDay.com.