Watertown WI, Aug 12th, 2020 – Three years ago Griffin Armament was approached by a small but elite unit who requested the design and manufacture of a small number of QD pistol suppressor mounts. No design was available at the time. However, Austin Green, owner and engineer of Griffin Armament started theorizing a solution which would become a two part universal piston system for pistol suppressors.
The CAM-LOK™ (Covert Application Mount – Locking) is a universal, QD piston system that allows rapid, secure, mounting of pistol suppressors to handguns.
This patent pending system allows necessary spring piston function while adding a 120 degree, 3 position QD mount with a taper locking function. Durable, cam-like threaded adapters, which are available in a variety of thread pitches, are installed to 20 ft/lbs with a ¾" wrench to the host firearm. The CAM-LOK™ pistons then act as a universal mount like those found in rifle silencers, to couple the suppressor to the firearm with the barrel adapters. This ensures that all your handguns, both metric and English, can be adapted to fit your pistol suppressor without tedious reconfiguration back and forth with various threaded pistons to suit the pistol being used. Additionally, there is no more need to check and tighten the pistol suppressor during use due to the taper locking interface engineered into the CAM-LOK™ pistons and adapters. This nearly eliminates baffle and end cap strikes commonly associated to pistol suppressors using the traditional fixed piston. The CAM-LOK™ system also supports the CAM-LOK™ Carry Compensator for users seeking additional recoil and rise mitigation if carrying the handgun when a suppressor is not being used.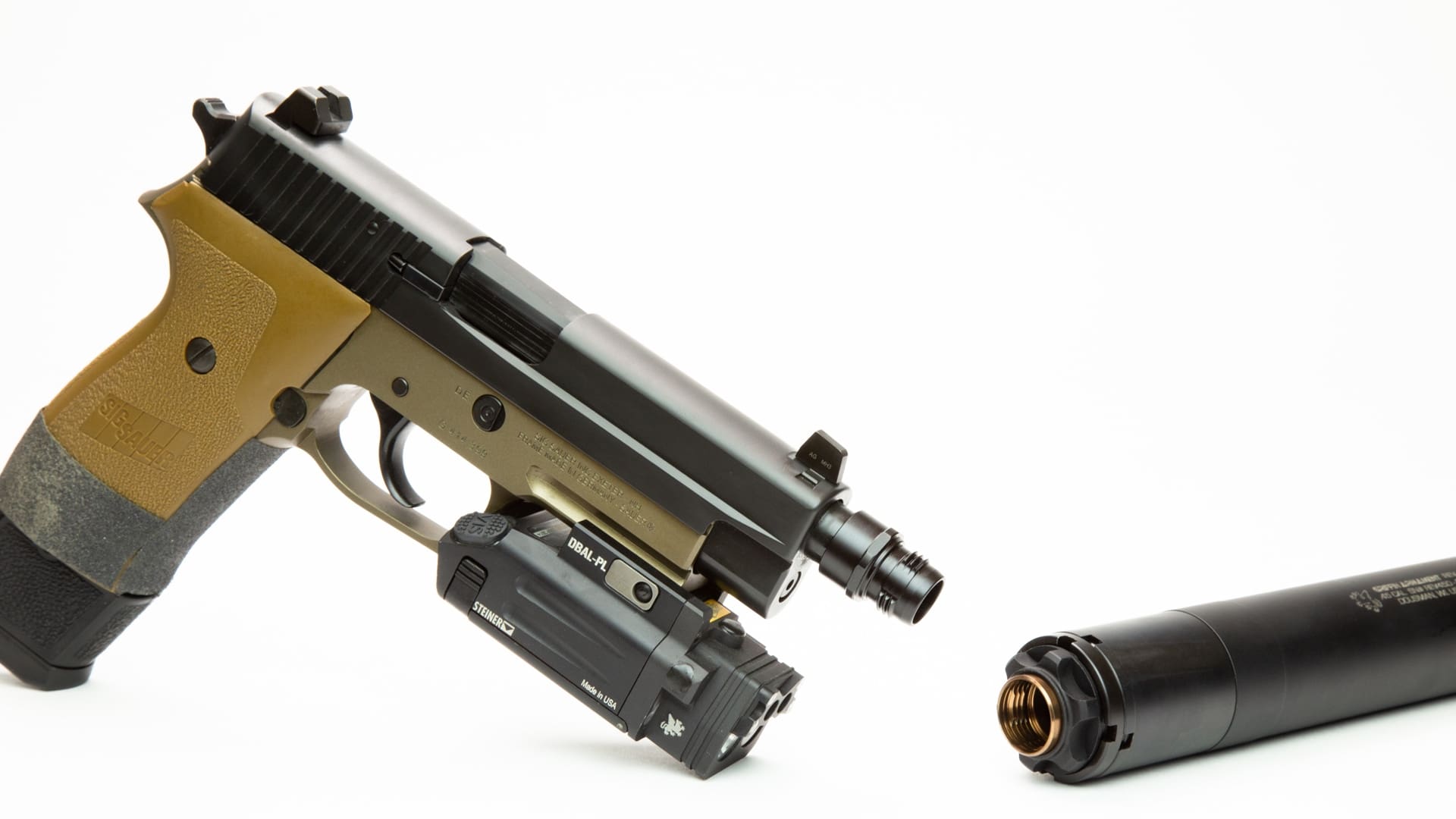 The original fixed piston booster design was developed nearly 3 decades ago by two small arms inventors, Doug Olson & Charles Finn of the former QUAL -A-TEC company. They designed the booster piston assembly, a spring coupling mechanism which enhances recoil allowing reliable operation of browning tilt barrel style pistols when a suppressor is attached. With the added weight of a suppressor attached, most pistols will not cycle in semi-automatic mode without this type of mechanism.
All notable suppressor designers to the present time have used this system to couple pistol suppressors to handguns. Respectable brands such as Gemtech, AAC, Silencer Co, Dead Air, Rugged, and a multitude of others have utilized recoil boosters with direct thread pistons.
This legacy direct thread system has several notable weaknesses. The piston utilizes traditional 90 degree shoulder joints which require more torque than simple hand installation can provide. Coupled with the vibration of barrel and slide cycling, the legacy direct thread piston system often loosens during use, even when basic engineering attempts such as O-ring integrations are made to further secure the suppressors. Relatively fine threads on the expensive barrel are often left exposed and can be damaged during handling or holster carry of the pistol. Previously, users with multiple brand suppressors had to manage an assortment of pistons for their various pistol hosts. Silencers using this legacy system are awkward and time consuming to attach, remove, and re-configure to the appropriate thread pitch piston needed. These silencers are often disassembled and re-configured with different thread pitch pistons when moving the suppressor from one pistol host to another. The CAM-LOK™ system solves these age old problems and brings pistol silencers into the modern age.
To find out more on Griffin Armament's entire product line, please visit their website at www.GriffinArmament.com. For attendees of the 2020 SHOT Show, Griffin Armament will be exhibiting the Optimus, along with the rest of their product line in booth #8003.