Apparently, the BIG one has been awarded. Almost prematurely ahead of any formal Army announcement Point Blank Body Armor, Inc. issued a press release late yesterday declaring that they have been awarded a five-year Indefinite Delivery/Indefinite Quantity (IDIQ) contract from the US Army REDCOM Acquisition Center. This is for an as yet undisclosed portion of the production of up to 736,000 Improved Outer Tactical Vests and 253,000 Deltoid and Axillary Protection Systems ("DAPS") under the "IOTV Main Buy" – Solicitation W91CRB-07-0079.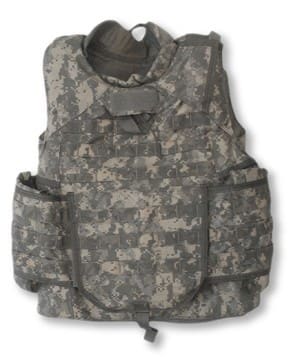 This award comes on the heels of a much smaller award in July for 65,000 IOTVs to fill an immediate need. Repeated delays of the "IOTV Main Buy" award have hit the armor industry hard, forcing layoffs so it will be welcomed as a sign of a longer-term turn around for that industry.
Jim Henderson, Acting CEO of Point Blank Solutions stated, "This is a major milestone for our Company as we believe we are one of only a few companies that can produce the IOTV and DAPS for the US Army over the next five years. We have been a chosen provider of the US Armed Forces for years and look forward to continuing to meet their requirements. While no additional awards have been made and competition continues to be fierce, we are confident that the steps we have and continue to take to improve our operations and manufacturing capabilities will position us as the best value, low cost provider in the industry."
"The recognition and faith bestowed by the Army also reinforces our industry position as a leading, ballistics provider and should add incremental value for our Company and our shareholders," Henderson concluded.
Once the formal Government announcement comes we will update this story as according to Point Blank's own press release, they have been selected as a "chosen supplier" indicating that others may also be awarded.
Tags: IOTV, Point Blank