While it's not truly a debut, GHOSTEX, a joint venture between camouflage gurus Hyperstealth and tailored logistics titans ADS is being unveiled to the masses. The reason we say not truly a debut is that previously, they had premiered a sample of their lineup at the ADS Warrior Expo last summer in Virgina Beach.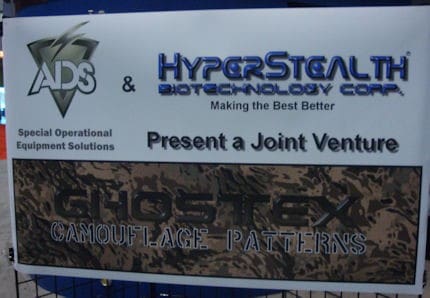 Intended primarily to support niche forces, GHOSTEX (Ghost Textures) derives its name from the US Army's Ghost unit of WWII, (23rd Headquarters Special Troops). This Ghost Army specialized in Camouflage, Concealment and Deception (CCD). The premise of the mashup is intriguing; Commercial Off the Shelf camo patterns to cover virtually any scenario paired with rapid manufacturing capabilities to support contingency operations.
We took a look at their wares during the Warrior Expo and came back impressed. The GHOSTEX website goes into pretty good detail about what they are up to so make sure you visit it to gain a deeper understanding of what they have going on. One important detail that we appreciate is that the GHOSTEX program is limited to authorized customers. These patterns are going to be restricted to those who need them only.
Will GHOSTEX be a contender for the Army's Family of Camouflage program? We won't know the answer to that until the solicitation is actually released, but if they do, my money is on something completely new that we haven't even seen yet. After all, with over 8000 patterns to their credit, no one concentrates on camo like Hyperstealth.
Be sure to visit the Hyperstealth reps at ADS, Inc's booth #20415.
Tags: ADS Inc, Hyperstealth