We first met Line of Fire at SHOT Show 2008 in Las Vegas. They were in an unassuming 10 x 10 booth out in one of the circus tents set in a parking lot across the street from the convention center. At the time they were working on a uniform designed specifically for contractors working in the Middle East which we found innovative. But it was an early TEGS prototype that really caught our eye. In fact, about a year ago we mentioned "Gecko Tape" in an article. We have kept in touch infrequently over the past few years and last year LOF sent us a pair of gloves to try out.
Technology Enhanced Grip System (TEGS) is a patented micro-replication technology developed by 3M. It provides superior grip in both wet and dry conditions. As you can see, it is optimized to be used in concert with itself (TEGS on TEGS) but enhances the grip even if used on conventional materials. The illustration below gives you an idea of how the technology works. The hooks are tiny and mesh with one another. Because they are so small there are more per square inch (300 to be exact) which translates to more surface area in contact. If you are familiar how strong the bond is when you interlace the pages of a phone book, you will get the concept of TEGS. Nothing locks, so you can release anything with TEGS immediately.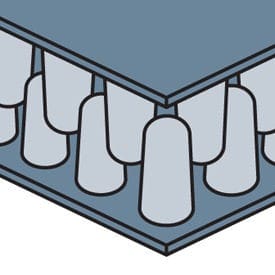 We received a pair of Stryker Extrication Gloves. They are also a good choice for Breachers. Made from 4-way stretch Kevlar, it's over-the-wrist design protects the hands from cuts, abrasion and flame due to Kevlar's inherent FR properties. All of the models feature impact-resistant polyurethane knuckle and finger guards. Additionally, the gloves are of an ergonomic cut that naturally fits the hand.
In addition to the Stryker, LOF also produces the Flashover, a gaunlet-style glove as well as the Pointman and Pointman LE which are shorter length models. The LE model differs from the Pointman in that it is a stretch nylon rather than Nomex.
It is important to note that LOF considers this a Grip System. In this system, the handwear is component A and the TEGS tape, component B. They are intended to work together. However, as you can see above, even if you use TEGS with standard surfaces, you still realize a 43% increase in grip. In addition to full Grip Systems they offer TEGS as individual adhesive backed sheets. This allows you to modify your existing equipment. Line of Fire has also mentioned to us working to license the technology to produce purpose built pistol grips, knife handles, and other similar items.
TEGS works. Wet or dry, regardless of material, TEGS improves the grip. It almost feels sticky. The grip is very solid and the item you are holding doesn't move around in your hand. But, like we said before, there is no problem letting go. There really isn't much else to say on that. There is a slight loss in tactility, but we see that same issue with virtually any gloves. We can't pinpoint the cause to TEGS and feel it is more of a problem associated with handwear in general. Our only critique is that we would like to see TEGS available in additional colors than Black.
Tags: Line of Fire Tactical