Leveraging their protective handwear for welders, Mechanix Wear has introduced three new products to manage the extreme heat produced by weapon suppressors: a cover, transport bag, and mitt.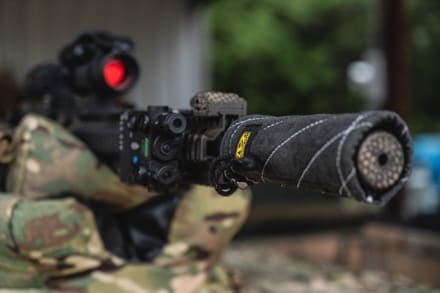 Manufactured from CarbonX thermal resistant fabric technology and constructed with heavy stitching of DuPont Kevlar, they will withstand heat up to 2000°F.
Suppressor Cover
This 6″ suppressor cover (1.5″ outer diameter) mitigates radiant heat that causes burns and mirage distortion to the sight picture. The cover is made from CarbonX heat resistant fabric, padded with heavy felt and insulated with aluminum. It's topped off with a CarbonX cord with metal lock to secure it to your suppressor.
Suppressor Transport Bag
Intended to hold up to two hot suppressors, this CarbonX Transport Bag is just over 14″ in length.
X-Pad Suppressor Heat Barrier
When it's time to remove your suppressor from your weapon, the X-Pad Suppressor Heat Barrier protects your hand by serving as a mitt thanks to inserts for your fingers and thumb. This design helps grip the suppressor to get it loose. Extra insulation is provided by a heavyweight felt interior, withstanding up to 2000°F for 20 seconds.
Those interested in Mechanix Wear suppressor products should send an email here.