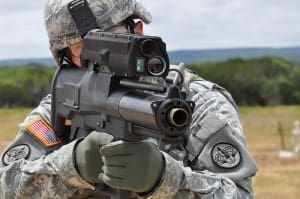 Back in early February we published a story about the deployment of three of the 25mm XM25 Counter Defilade Target Engagement Systems to Afghanistan for a Forward Area Operational Assessment. Word was that the weapons were performing well and the only real question was how to fund additional development of the system.
System developer ATK has announced today that they were awarded a 30 month, $65.8 Million contract for the Engineering and Manufacturing Development Phase by the US Army. EM&D is the next step toward full development and fielding for a program of record. The technology behind the XM25 is impressive. The system includes not only the basic weapon and ammunition but also target acquisition and fire control systems which integrate the thermal sight with direct-view optics, laser rangefinder, compass, fuze-setter, ballistic computer, laser pointer and illuminator.
"The XM25 provides the soldier on the ground a precision weapon to quickly and accurately engage targets behind cover or exposed targets, at ranges and accuracies not seen in today's small arms," said Bruce DeWitt, Vice President and General Manager of ATK's Advanced Weapons Division. "A soldier using basic rifle marksmanship skills can effectively engage targets in less than five seconds while also reducing the chances for collateral damage."
Interestingly, ATK is referring to the XM25 as the Individual Semi-Automatic Airburst System rather than the Counter Defilade Target Engagement System that we have seen in times past.
In addition to program lead ATK, the team also includes Heckler & Koch and L-3 Brashear.