Natick has issued a Sources Sought Synopsis looking for companies that are capable of digitally printing on a variety of substrates (fabrics). Additionally, they must be capable of NIR and SWIR compliance. Specifically:
Natick Soldier Systems Center requires rapid printed fabrics for field/lab testing of camouflage patterns for use in woodland, transitional and arid environments that conform to visual, NIR and SWIR requirements.
The Army is interested in prints on 50/50 Nylon/Cotton Ripstop Fabric, 500D Cordura and Rayon/Para-Aramid/Nylon Ripstop Fabric.
Notice in the documentation they reference Woodland, Transitional and Arid patterns? They go on and on about this, repeating it four times which tells me that, despite the contractual machinations currently (not) underway with Crye Precision for OCP (MultiCam), Natick is committed to working with a family of camouflage consisting of a Transitional pattern combined with Bookend Woodland and Arid patterns. Perhaps someone has realized that they actually own the Scorpion pattern (seen below), a precursor to MultiCam developed for the Objective Force Warrior program and can do pretty much anything they want with it. Then again, maybe not.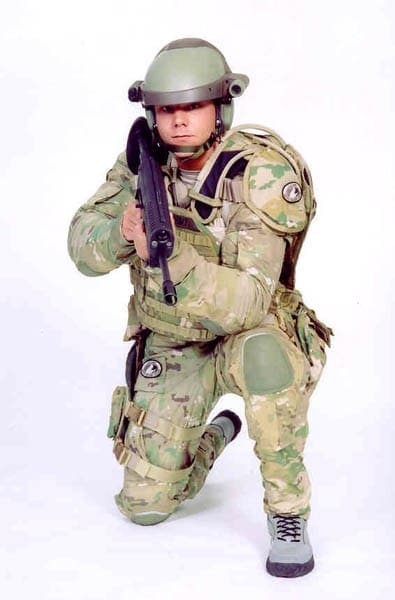 At this point, the Army is in a bit of quandry, having banked on a soft transition to OCP. Now, no one seems sure if the Army will be capable of moving away from the UCP camouflage. If a friend asked me in October if I knew what was happening I'd say "yes." If they asked me now, I'd tell a story that sounds like a plot to an episode of "Three's Company" and say "Not so much."
As for trying to keep up; the Army is getting pretty savvy on releasing solicitation notices that deal with developmental camouflage issues on FedBizOpps. Looks like they've figured out that folks are keeping an eye on them so they are issuing them without any discussion of camouflage on the actual notice. Take for instance this one. It is titled "Fabric Printing BPAs." You have to get down into the attachments to see what is really going on. Sneaky, Sneaky. But don't worry Army, we will keep an eye out for you to help keep you honest. Since the Army likes to alter the public record by deleting postings once they've been brought to light on SSD, we've included the meat of what the Army is looking for below.
Click to download: CAMO_BPA2_Spec23Jan2014
If you're interested in answering up, you've got until February 4th.
For the full Sources Sought Synopsis visit Fabric Printing BPAs.
Tags: Natick