When the Army began its quest to identify a new camouflage pattern several years ago it also realized that it was going to have to do something with the several Billion Dollars worth of Organizational Clothing and Individual Equipment in the Universal Camouflage Pattern, already in its inventory. By PM SPIE, COL Robert Mortlock's own assertion, the Army plans on an eight year period to fully transition from the current patterns to the new one. That UCP gear is going to be with some units, particularly TDA-based, for years to come.
Last week, the Army issued a Sources Sought Notice to industry on behalf of Project Manager Soldier Protection and Individual Equipment (PM-SPIE), Program Executive Office (PEO) Soldier seeking a Overdying Process for Fabrics and Other Items.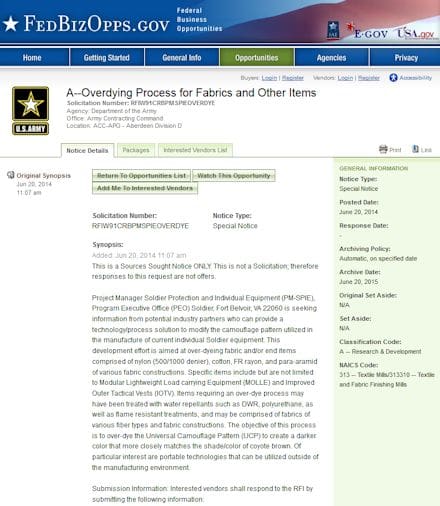 This isn't the first time we've written about this and it isn't the first time PEO Soldier has looked into the solution. Just last Fall they issued a similar Sources Sought but cancelled it in late November. To me, what the reissue of this notice signals is that the Army is finally moving forward with a transition plan. Although, they are stumbling through a couple of issues right now that should have been anticipated before the leadership selected a course of action.
In particular, they are seeking:
Project (sic) Manager Soldier Protection and Individual Equipment (PM-SPIE), Program Executive Office (PEO) Soldier, Fort Belvoir, VA 22060 is seeking information from potential industry partners who can provide a technology/process solution to modify the camouflage pattern utilized in the manufacture of current individual Soldier equipment. This development effort is aimed at over-dyeing fabric and/or end items comprised of nylon (500/1000 denier), cotton, FR rayon, and para-aramid of various fabric constructions. Specific items include but are not limited to Modular Lightweight Load carrying Equipment (MOLLE) and Improved Outer Tactical Vests (IOTV). Items requiring an over-dye process may have been treated with water repellants such as DWR, polyurethane, as well as flame resistant treatments, and may be comprised of fabrics of various fiber types and fabric constructions. The objective of this process is to over-dye the Universal Camouflage Pattern (UCP) to create a darker color that more closely matches the shade/color of coyote brown. Of particular interest are portable technologies that can be utilized outside of the manufacturing environment.
I was told long ago that a solution had been identified, but it's always good to see if industry has come up with anything new. Also, did you notice that they are interested in a solution that closely resembles Coyote Brown? The big challenge here is getting everything dyed to a common shade. With different wear and substrates, dying is as much art as science. As it is, getting the same production run or the same material, dyed to the same shade is a challenge because Cordura, webbing, NYCO, FR rayon, and para-aramid all absorb dyes differently and the concentration of dye is as much an issue as the wear to the fabric's fibers. And that's not to mention previous treatments which may also affect the absorption of dye. Consequently, the kit may end up looking like various shades of this:
Tags: Camo Wars