The NEW PATRIOT Plate Carrier is an ideal carrier for active shooter applications, Law Enforcement, and Military.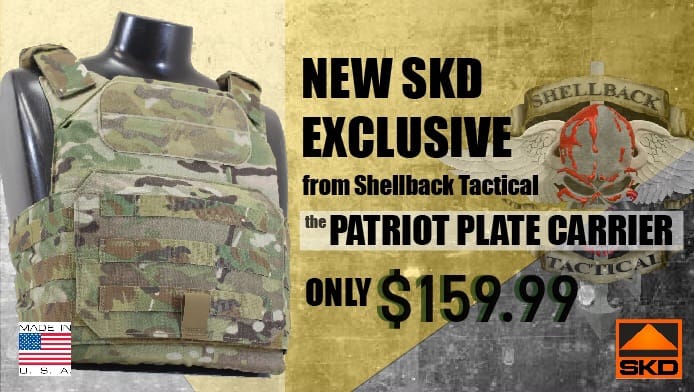 Based off the hugely successful Shellback Banshee Plate Carrier, the Patriot has just what you need in a plate carrier and nothing you don't.
Lightweight, low profile, high quality, and still has great load carrying capacity.
Ideal gear for Law Enforcement patrol officers for use in High Threat active shooter situations, Multi-Assault Counter Terrorism Action Capabilities (MACTAC) and Counter Terrorism direct actions.
Removable Spacer Mesh shoulder pads with 3 strips allow you to run comms or hydration effortlessly over the shoulders.
The PATRIOT will also accept the Banshee soft armor package for the front and back as well as the Cummerbund.
USA Made – Full Berry Compliant Plate Carrier with Lifetime Warranty
Value and features at a great economical price. Ideal to outfit agencies officers with active shooter kits.
SKD is currently the ONLY dealer to have the Patriot Plate Carrier available.