(Melbourne, FL) May 9, 2016 – FightLite® Industries, a special products division of ARES Defense Systems, Inc. announces their new patent-pending STEP-22LS™ (Strategic Target Engagement Pistol, Low Signature). The STEP-22LS™ is an accurate, rugged, lightweight and reliable monolithic pistol receiver chambered in .22LR and features a tensioned target barrel with integral silencer and MIL-STD-1913 Rails at the 6 and 12 o'clock positions for mounting lights, lasers, optics and other accessories.
?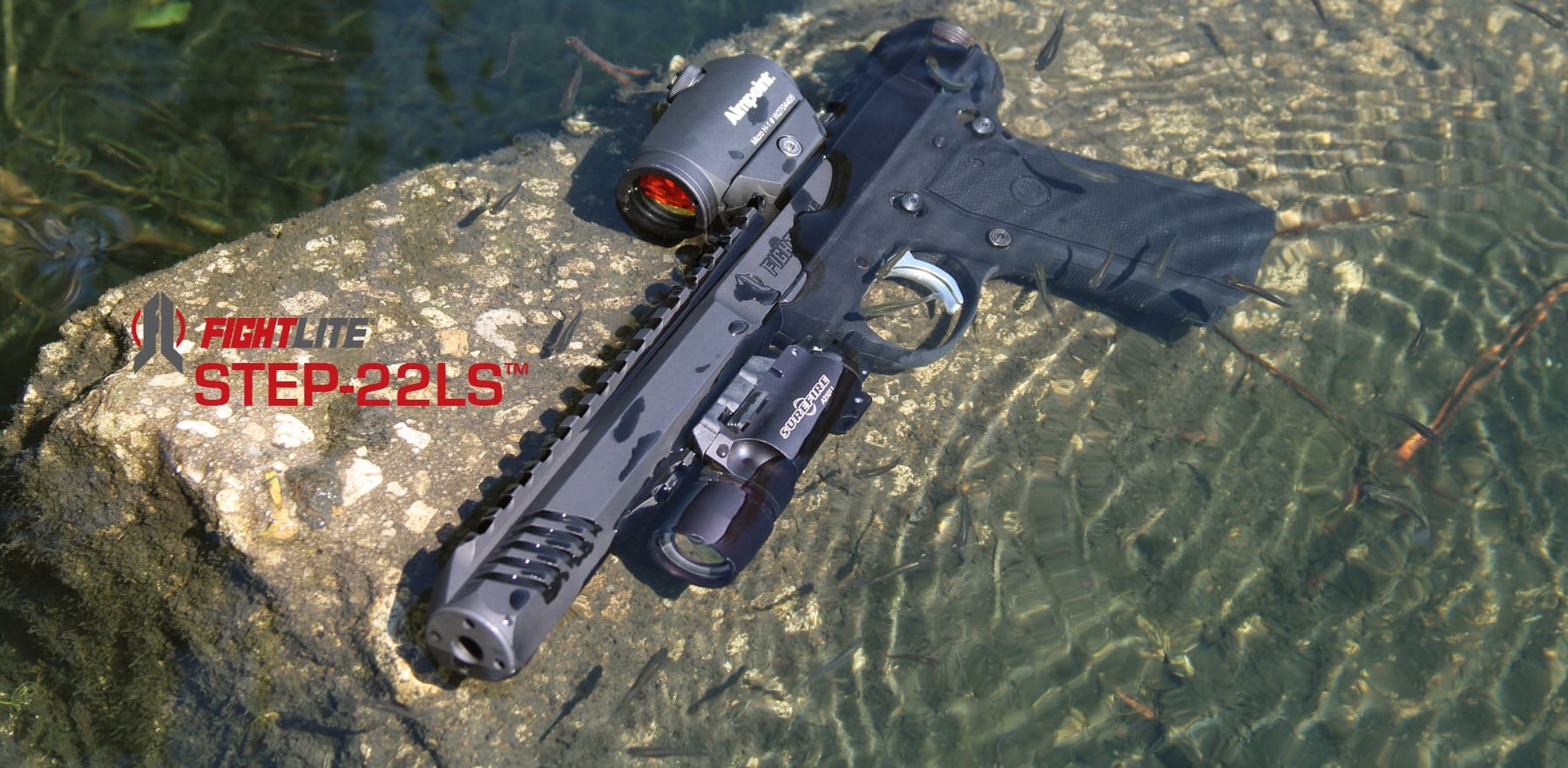 Designed for military, law enforcement and civilian shooters; the STEP-22LS™ is optimized with features ideally suited for the modern warfighter, law enforcement professional and avid civilian shooter who demands cutting edge performance from their weapon. Boasting an incredibly short overall length of only 11" and weighing a mere 24.3 oz; the STEP-22LS™ provides excellent sound pressure level reduction (up to 40 db) from a silencer that is integral to its patent-pending monolithic receiver body delivering extreme performance in a compact and lightweight package!
The tensioned target barrel dampens accuracy degrading harmonics typically associated with lightweight barrels for excellent and repetitive shot placement. And the patent-pending STEP-22LS™ monolithic receiver ensures that there are no sight rails or tubes to loosen during firing. Military, law enforcement and civilian shooters alike will appreciate the ability to place well-aimed, undetected shots in low light and no light conditions.
Avid shooting enthusiasts in 42 states can enjoy target practice and general plinking with the STEP-22LS™ without the need for additional hearing protection; and ranchers will welcome the ability to place accurate shots with the STEP-22LS™ for dispatching rodents or injured animals without spooking their livestock. Additionally, certain high-threat law enforcement scenarios require the dispatching of guard animals, disabling street and porch lights or cameras to maintain the element of surprise with a well-placed and undetected shot prior to executing an arrest warrant.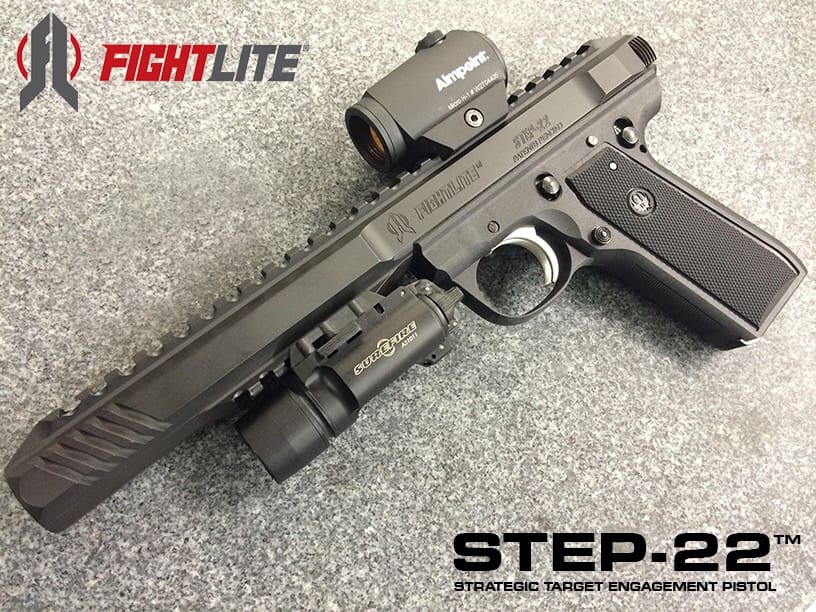 "The historical use of integrally suppressed rimfire weapons by members of the US government and elite special operations forces is well documented. Law enforcement authorities have also used silenced rimfires in their duties and for decades, civilian shooters such as myself and countless others have really enjoyed shooting silenced firearms" said Geoffrey Herring, President & CEO of ARES Defense Systems, Inc. "But the construction and design logic of the FightLite® STEP-22LS™ is light years ahead of the way integrally suppressed RUGER® pistols have traditionally been done by Class II manufacturers. In the prior art, manufacturers of integrally suppressed RUGER® rimfire pistols typically modify a factory gun and in the process, introduce inaccuracies and component mis-alignment that has detrimental consequences to accuracy and product performance. These old-style integrally suppressed pistols are usually very heavy due to their all-steel construction, they're 13" or more in length and are frequently limited to iron sights or optic mounts that are fastened to the receiver with screws that can shoot loose during use. In creating the STEP-22LS™, the experienced design team at FightLite® Industries did what they usually do to achieve product excellence; they removed the entire RUGER® upper receiver from the design equation to eliminate all possible design compromises and re-engineered everything essential to meet our product objectives. The STEP-22LS™ design specifics and manufacturing approach are detailed at fightlite.com and we encourage interested parties to review them and compare the STEP-22™ series to any other integrally suppressed rimfire available. The STEP-22LS™ is another one of our exceptional products that will appeal to a very broad range of customers."
All STEP-22™ models are designed to readily interchange with the standard pistol receiver on popular RUGER® Mk-I®, Mk-II®, Mk-III® and 22/45® pistols without any tools or gunsmithing required, providing users with a lightweight pistol capable of accommodating lasers, lights, optics and accessories on monolithic rails that won't loosen during use.
Installation of any FightLite® STEP-22™ monolithic receiver on a RUGER® Mk-I®, Mk-II®, Mk-III® or 22/45® pistol is easy and straightforward. Simply follow the unloading and disassembly instructions specified in the RUGER® manual for your pistol. Once disassembled, set your RUGER® upper receiver aside and reassemble your pistol with the FightLite® STEP-22™ monolithic receiver assembly using the original RUGER® bolt and trigger housing from your pistol. It's that simple!
Specifications: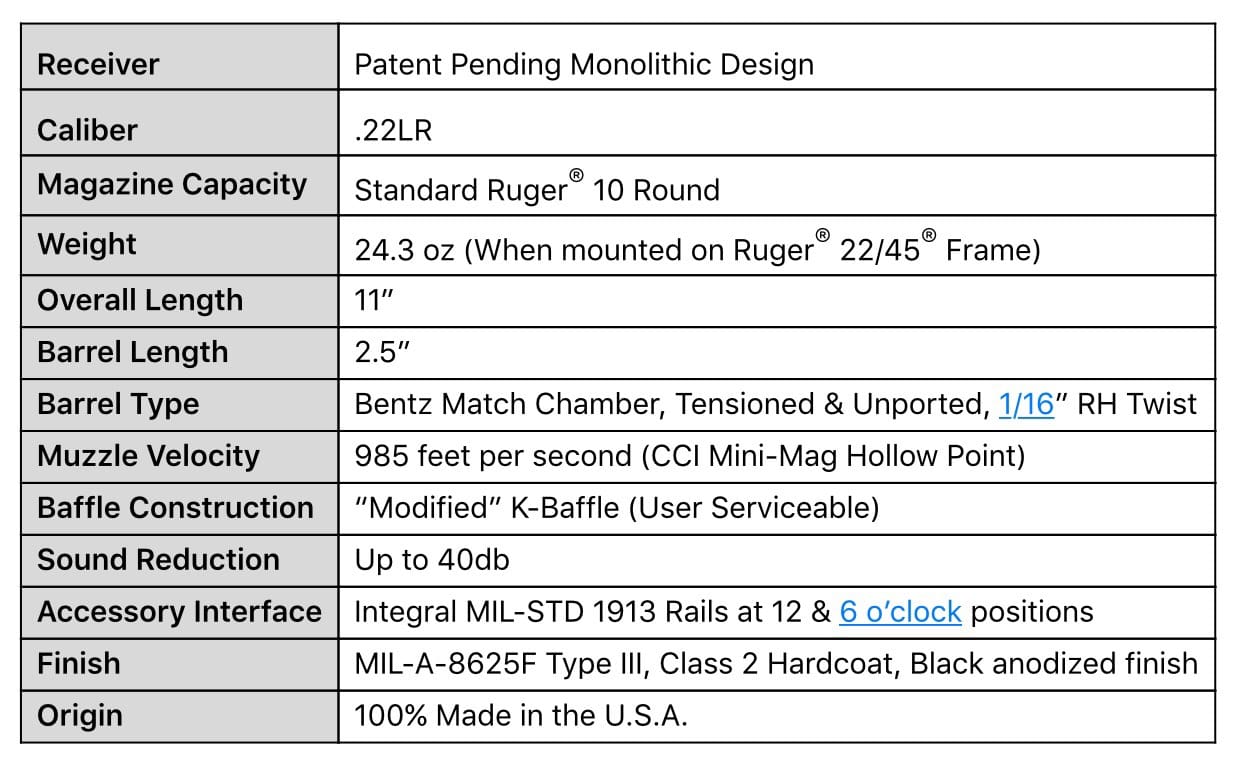 MSRP is $699 and FightLite® Industries is accepting orders for immediate Form 3 transfer to FFL/SOT dealers and distributors. Product will be available to ship to customers as early as July 1, 2016 pending ATF transfer approvals.
To handle the STEP-22™ and other ARES Defense and FightLite® Industries products, please visit the ARES Defense/FightLite® Industries booth #4808 at the NRA Annual Meetings May 20-22, 2016 in Louisville, Kentucky or at booth 748 of the SOFIC Convention May 24-26.
Tags: Ares Defense, FightLite Industries