American Cord & Webbing Co., Inc. (ACW Co., Inc.) is a leading designer and manufacturer of certified Berry-compliant plastic hardware that meets and exceeds the specifications necessary for military applications. We stock a wide range of products to fit all of our customers' needs, and all of our buckles are molded in our RI manufacturing facility.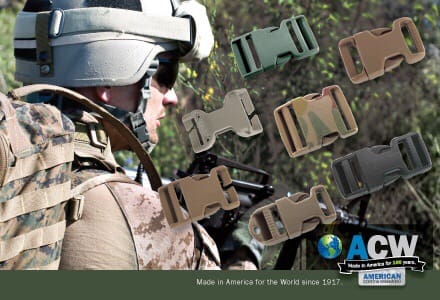 Our MSR Buckles are all military-approved in all widths and are the industry's standard for both performance and appearance among molded fasteners. Our product line includes MSR Side Release, MSR Male Buckle with Hole, MSR Field Attachment, MSR Double Adjust, MSR Camo, MSR Male Loop, and MSR Buckle with Slot. All buckles also have the ACW IRR Scattershield surface finish and are available in standard materials (Acetal, Nylon, FireLoc), as well as custom options. The buckles can be ordered in a variety of color options (Black, White, Coyote #498, Tan #499, Foliage Green #504, Camo pattern and custom colors).
In the marketplace today, there is a need for certified & approved, Berry-compliant products that maintain the highest strength and quality. ACW is able to provide those products all the while exceeding market expectations. Our knowledgeable customer care representatives are able to provide further product specifications upon request.
ACW is located in Woonsocket, Rhode Island in a state-of-the-art weaving and molding manufacturing facility. You are also able to reach us at www.acw1.com.
Tags: ACW