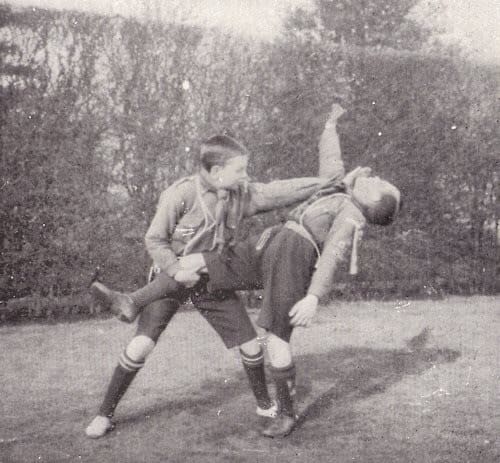 This photo is said to be of Boy Scouts participating in the short-lived Master-at-Arms badge. It was one of the original 14 merit badges which debuted in the 1910 version of the Boy Scout Handbook and unfortunately, this one lasted just a year. The badge was missing from the 1911 version of the manual when it was released.

To earn the badge, a Scout had to master three of the following combat skills (the surviving manual says two):
-Single Stick
-Boxing
-Ju Jitsu
-Wrestling
-Gymnastics
-Quarterstaff Fencing
Update – Kirk Lawson has introduced a reproduction of the original merit badge pamphlet. The drawings come from this manual and you can download it here.
Interestingly, the pamphlet is dated 1925 but it would not be unheard of for a merit badge pamphlet to continue to be published even after it was no longer a merit badge because they were printed by private publishers at the time, and not by BSA.
Can you imagine such a merit badge today?
Tags: BSA