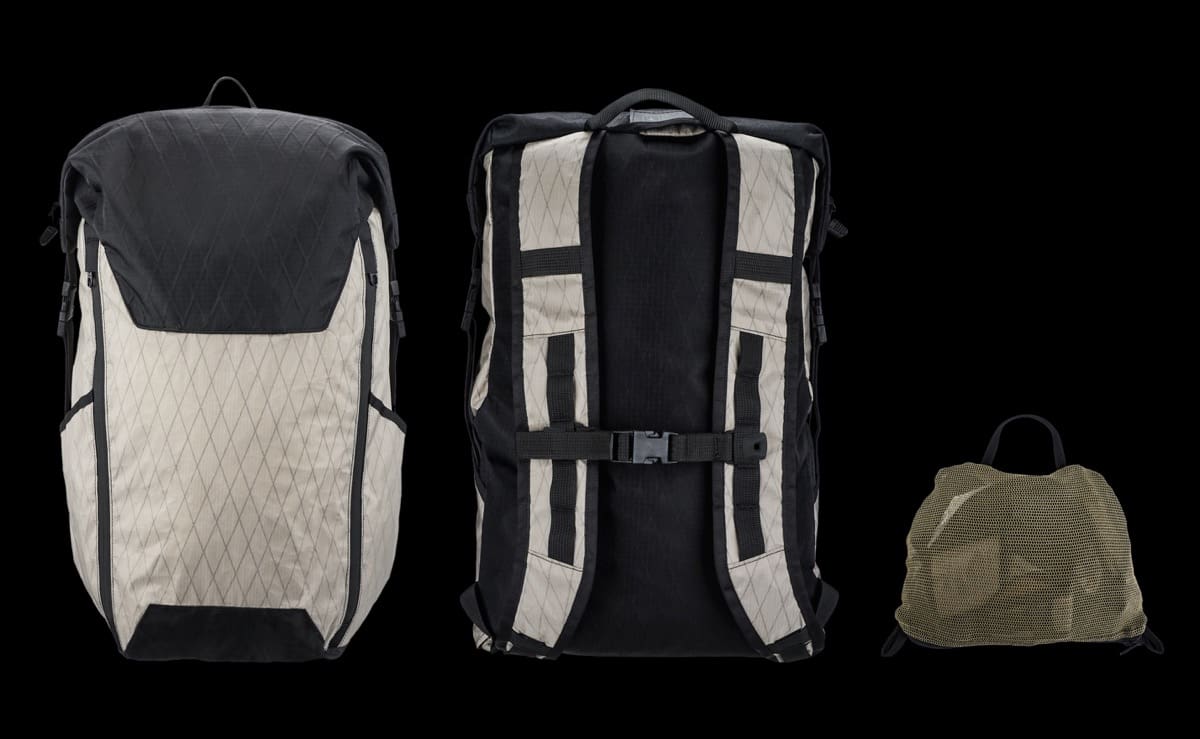 I was first exposed to the Azimuth Transport Pack from Triple Aught Design during Destination: Granite. TAD gave each of the attendees a prototype of this lightweight daypack. I used it during the experience and now keep it with me for travel. As you'll notice, it compacts into an internal pocket for storage or transport. The idea is that you can take it with you in your main luggage and then pull it out and use it as a daypack once you get to your destination. It weighs .8 lbs and offers 19 liters of carrying capacity. I really like the top zipper opening which secures via two side release buckles. The pack also offers a handy side zip for panel access as well as dual water bottle pockets. However, the real exciting thing about this pack is that it is super durable thanks to the VX-21 Ripstop and VX-07 Shell materials which are essentially modern sail cloth.

Features:
Easy Access: Primarily loaded via the large, water resistant zipper at the top of the pack, the Azimuth Pack also has zippers running along both sides of the front panel. One zipper leads to the main compartment, allowing the user to quickly and easily access items at any layer of the pack, and the other zipper leads to a separate, flat storage compartment that keeps small items readily accessible.
Internal Organization: Two Helix (HX) attachment points inside of the Azimuth Pack allow the user to attach Transport Cubes, our soon-to-be-released Transport Sleeve, select Control Panels, or any other compatible storage system securely inside the pack. An internal mesh pocket keeps small items accessible at the top of the pack, and also acts as the carrying pouch when stowing the Azimuth for transport.
External Organization: The Azimuth Pack has two quickly accessible external side pockets with attachment loops to help retain essential tools such as a water bottle, compass, GPS, or map. These pockets are ported to allow small debris or loose liquid to escape.
Capable Companion: Unstructured and minimalist, the Azimuth can be packed into its own internal mesh pocket, rolled up, or packed flat. Made in the USA from premium lightweight and durable weather-resistant materials, the Azimuth packs features above its weight class into a package you'll forget is there until you need it.
Hydration Compatible: A hydration bladder attachment strap rests inside the top of the Azimuth Pack to allow common sizes and shapes of hydrations bladders to be suspended. The top of the pack is ported to allow hydration hoses to be routed to either shoulder strap. Both straps contain a small elastic loop to secure the hose to the strap.
Colors are Black/Brindle. Pre-orders for the pilot production run will begin shipping on Wednesday, 12/7. All pre-orders will ship in time to arrive by 12/24. Not available for pickup in-store. However, there will be a limited number available at the annual prototype/sample/warehouse sale happening this weekend at their Dogpatch location. On a side note, this year TAD will be doing an online sale for the customers who can't make it here for the sale. Online info: tripleaughtdesign.com/dogpatch-warehouse-sale
To pre-order the Azimuth Transport Pack, visit store.tripleaughtdesign.com/Azimuth-Pack.
Tags: Triple Aught Design