MMI partners with Flexsystems USA Inc.® to continue adding to its product line and Berry Compliant capabilities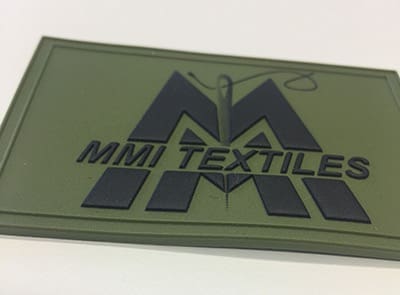 WESTLAKE, OH – MMI Textiles, Inc., a leading supplier in the textile industry, announced today that they are introducing a line of custom plastic parts, labels, and products through an exclusive partnership with Flexsystems USA Inc.® The goal of this addition is to add to MMI's product line while continuing to sell more products made in the USA.
This line of custom products includes VELCRO® backed military patches, rubber keychains, VELCRO® cuff tabs, 2D PVC patches and labels, morale patches, zipper pulls, flame resistant parts, OEM parts and more. The options available are numerous and can be customized to meet sizes, shapes, logos, and colors that fit almost any design needs. These products can be engineered with biocorn and other recycled materials to make them more environmentally-conscious. Berry compliancy is a core requirement of many products that military individuals look for and now MMI can meet that need in this avenue as well as serve other markets who are looking for made in the USA products and components.
"Custom labels and plastic products that are 2D and Berry compliant allow MMI to fulfill needs in more than one area. We have been establishing partnerships that allow us to continue providing solutions to the medical, military, and commercial markets all around the globe and this partnership is just another example." said founder and president of MMI Textiles Inc., Amy Bircher.
After 20 years in the business, MMI Textiles, Inc. has a long history and an excellent reputation of customer service. The company's mission is to be an all-in-one supplier to the commercial, outdoors, medical, and military markets. MMI supplies fabric, hardware, labels, and more to customers all over the world.
For more information, feel free to reach out to the MMI team at 440-899-8050 or [email protected]
Tags: Flexsystems, MMI