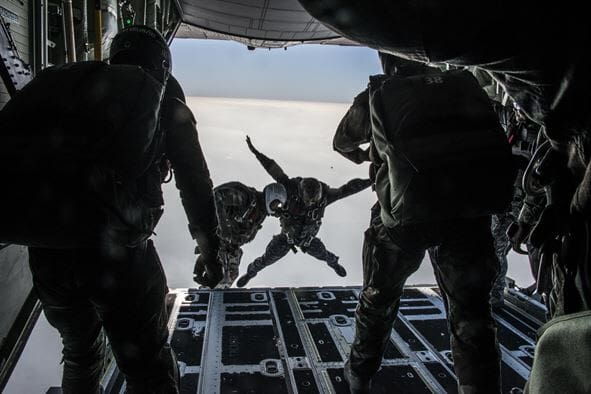 (USAF photo by Capt Jessica Tait)
Despite a couple of delays, the US Air Force is closing in on standing up a Military Free Fall Parachutist qualification course for its Battlefield Airmen. Like the US Navy's course, it will be run by contractors, and the curriculum will be certified by USSOCOM and USASOC as well as AETC. Unlike the USN course, students will not earn their Static Line parachutist qualification, but will already be graduates of the Ft Benning course upon attendence of the AF MFF course. Students will meet all of the standards of the Army MFF course, but it will be conducted at a contractor facility, utilizing contract aircraft.
MFF training is an initial skills course that provides academic, ground, vertical wind tunnel/simulation, and military freefall training to first time jumpers that meets United States Special Operations Command/United States Army Special Operations Command (USSOCOM/USASOC) curriculum requirements.
Sister service parachute training has been stood up due to limited availability of course quotas for the Army MFF course. The Navy has been using a contractor run course for over a decade and added S/L training to their parachutist course because the Ft Benning curriculum lasts three weeks. While NSW primarily conducts MFF parachute ops, they certify their students in S/L procedures within the first few days of their training course.
Final contractor proposals are due on 2 May, 2017. Hopefully, we'll see a pilot course before the end of the fiscal year.