If you're a Soldier, a new jungle uniform is in your future. The Army has developed an Improved Hot Weather Combat Uniform (IHWCU) for use in hot-wet environments and is working to put it into production.
The two-piece ensemble consists of a Coat and Trouser printed in the Operational Camoufiage Pattern. So far, prototypes have been made from Invista's Cordura NYCO fabric, a 57/43 blend, which is lighter, faster drying and more breathble than the ACU's 50/50 NYCO. However, other fabrics are currently under evaluation.
Coat, Improved Hot Weather Combat Uniform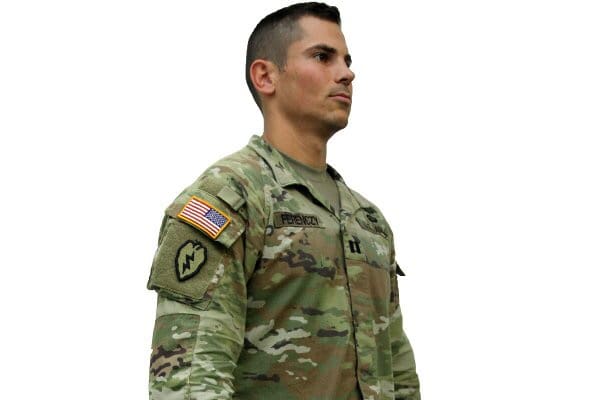 IHWCU worn by CPT Daniel Ferenczy, APM for Extreme Weather Clothing and Footwear, PM-SPIE, PEO Soldier
Features:
-single-breasted
-raglan sleeve front with a five (5) button closure
-a fold down collar with a fusible interlining
-long sleeves with cuffs and one (1) button, three (3) buttonholes adjustable cuff tab
-The top of the button down closure is open to accommodate a pen
-front has loop tape to accommodate the Name and US Army Tape
-front placket has a loop tape for the Rank Patch
-coat has two (2) bellow style top opening upper sleeve pockets and includes an eyelet drain-hole
-sleeves have an elbow reinforcement patch
-Both sleeves have an Identification Friend or Foe tab cover that can be opened and closed using hook and loop fastener
-IFF tab cover is centered and sewn onto the sleeve above the upper sleeve pocket
-double turned and cleaned finished hem
Trousers, Improved Hot Weather Combat Uniform
(Rear of the IHWCU Trouser, showing the cargo and lower leg pocket layout.)
Features:
-covered fly with a four (4) button/ buttonhole closure, or three (3) button/buttonhole closure, depending on size
-seven (7) belt loops
-two (2) side hanging pockets
-two (2) front side pleated cargo pockets with three (3) button/ two (2) buttonhole closure flaps
-high end of cargo pockets at front of pocket rather than rear like ACU
-two (2) lower leg side pockets with one (1) button/ one (1) buttonhole closure flaps
-side cargo pockets shall have three (3) sewn-in eyelets hidden by the bellows
-double needle seat patch and a pleated knee reinforcement incorporated into the pant leg at the knee
-one (1) piece single gusset
-two (2) front side hanging pockets
-mesh fabric attached on the inside of the trousers at the bottom of the legs as inner cuffs
-bottom of the trousers leg hems, the inner cuffs, and the waistband shall have drawstrings
Right now, Natick has issued an RFI to industry in order to identify manufacturers for up to 150,000 sets of the new uniform. However, that number could drastically increase depending on whether the Army decides to make the IHWCU an optional wear item or solely Organizational Clothing & Individual Equipment (OCIE) issue.