We've mentioned SureFire's Advanced Rifle Operating Core (AROC) in the past but now it's in production and has been demonstrated to several customers. There is a great deal of excitement surrounding this new weapon concept. It consists of a new Upper Receiver, including Bolt Carrier Group, as well as Action Spring and Buffer, all of which can be used with existing Lower Receivers.
The AROC bolt lugs are 1/3 longer, making them twice as strong as a standard mil-spec bolt. Naturally, this requires a matching barrel extension. The longer barrel extension reduces the steep feed ramp angle as found on a standard M4, for smoother and more reliable feeding of ammunition.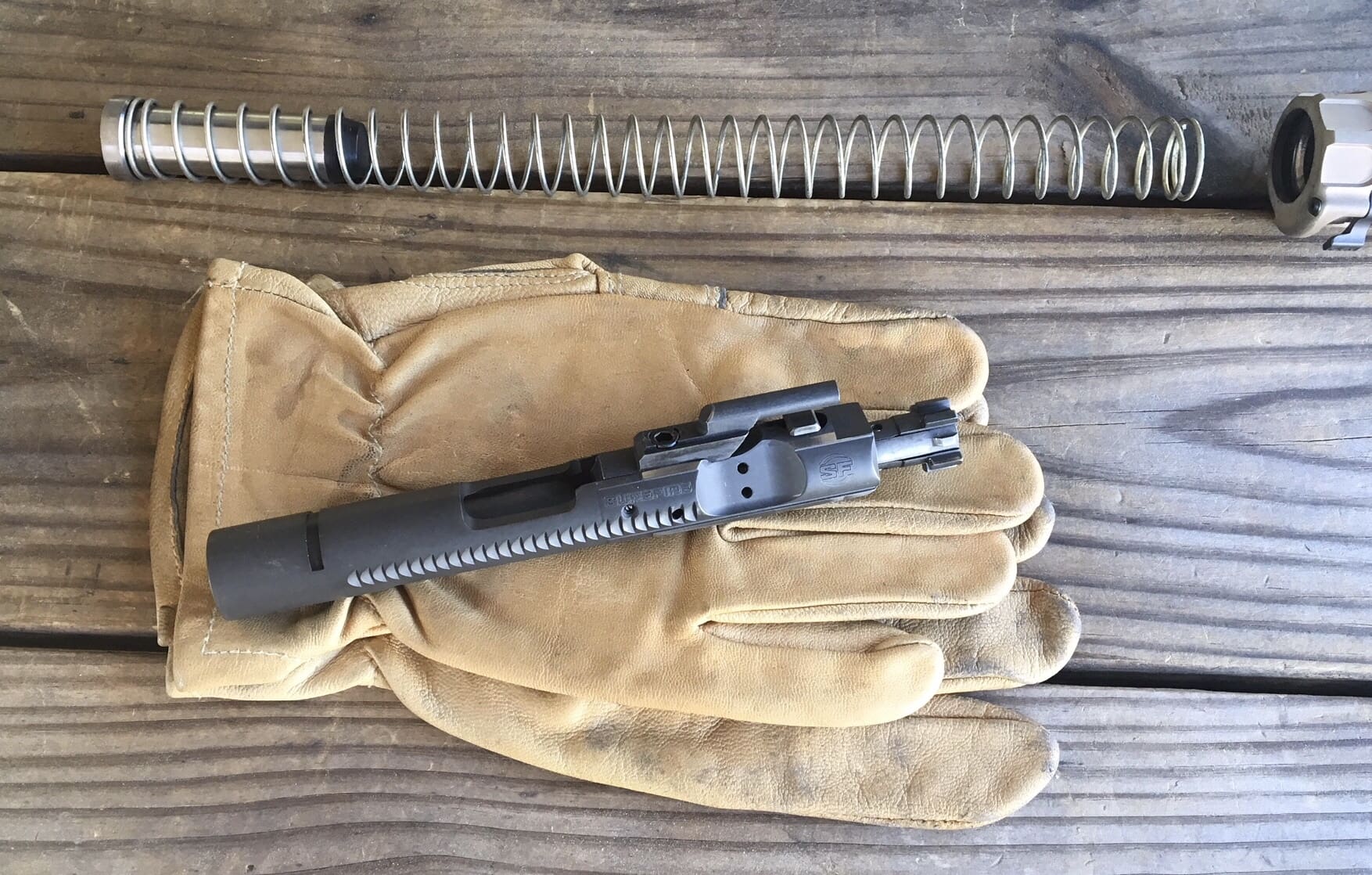 The AROC Bolt Carrier has an additional .400" of travel into the receiver extension requiring a shorter buffer. Along with the additional bolt carrier travel, there is a spring loaded weight in the rear of the carrier that acts as a counter weight to increase dwell time, reducing the cyclic rate to 590-610 rpm depending on ammunition. This makes the weapon easy to control on full automatic fire, increasing accuracy and effectiveness of the weapon. The AROC's Bolt also has a set of interlocking Inconel gas rings that never wear out. Known in stand-alone mode as the Optimized Bolt Carrier, it is available as a drop-in accessory for existing AR pattern weapons, but you won't get all of the advantages of the full AROC.
The AROC also has a heavy duty gas tube to handle full automatic fire. The delayed unlocking of the bolt reduces carbon fouling allowing the AROC to fire thousands of rounds without cleaning or lubrication. That's right, no lube necessary. All the testing for the AROC was done with no lubrication.
The AROC is available as a Carbine, Designated Marksman Rifle, or a box fed lightweight squad machine gun. It's a super reliable, very controllable, upper receiver that can be added to an M4 or HK416 lower receiver. The AROC pictured has a 14.5" machine gun, chrome lined barrel. Weight is 7.9 pounds with M4 lower receiver. However, shorter and longer barrel lengths will be available as well. Shown with the SOCOM556-RC-TN contract suppressor.
The AROC will be at The USASOC Sniper Competition held at Range 37, March 22-23. For more info contact SureFire VP of Military Sales, Jamie Wiedeman, [email protected].
Tags: Surefire