Powered by the Sun, this Wristwatch-Style Computer takes Modern Diving to a New Level
The wristwatch-style Z1 is a good-looking timepiece for topside use. At the same time, it's a ruggedly built dive computer. Its hybrid construction combines a polyacrylate case with a 316L stainless steel bezel (polyacrylate resin provides better heat-resisting properties than polycarbonate). This gives the Z1 a high-quality feel and appearance, yet enables it to excel in both durability and light weight.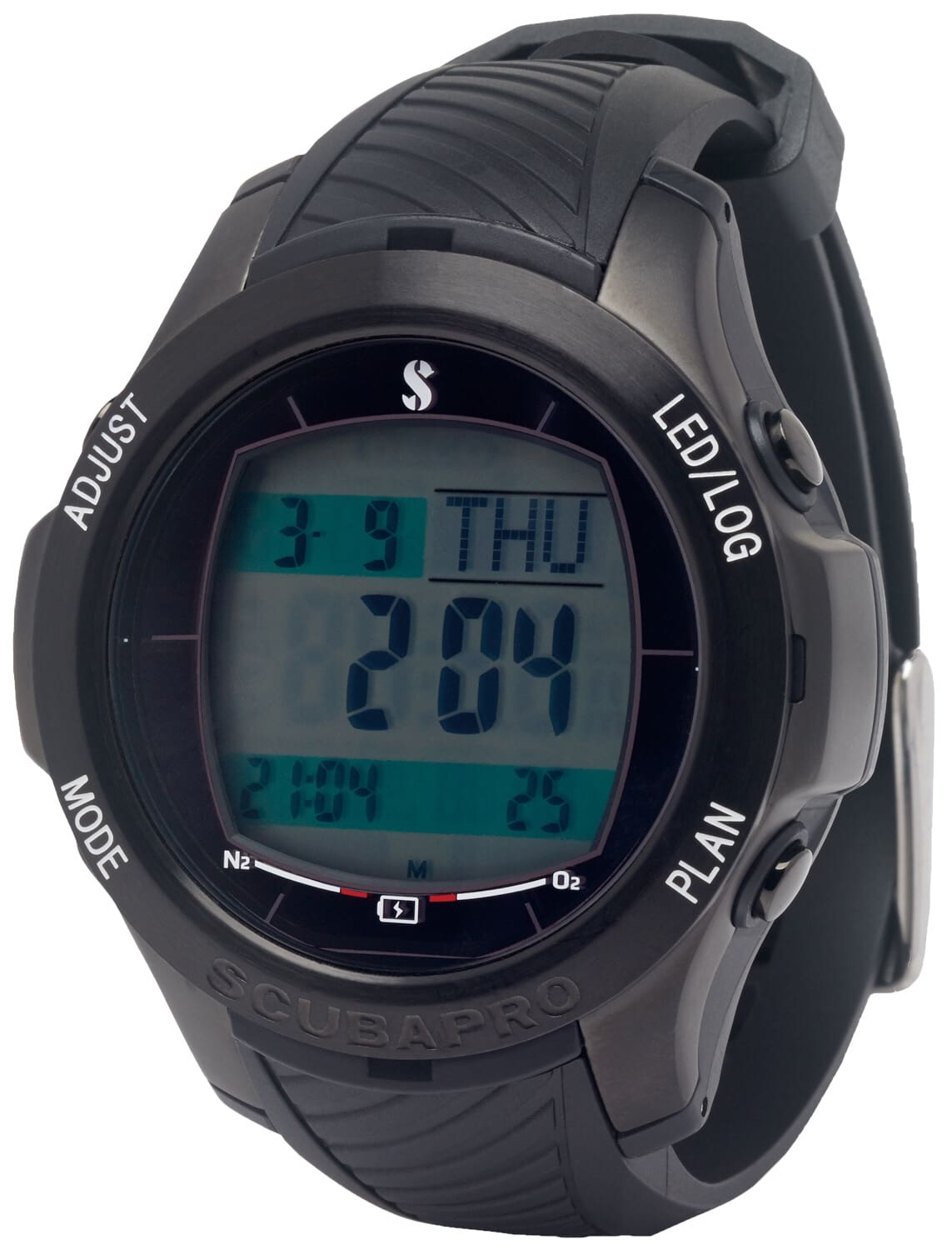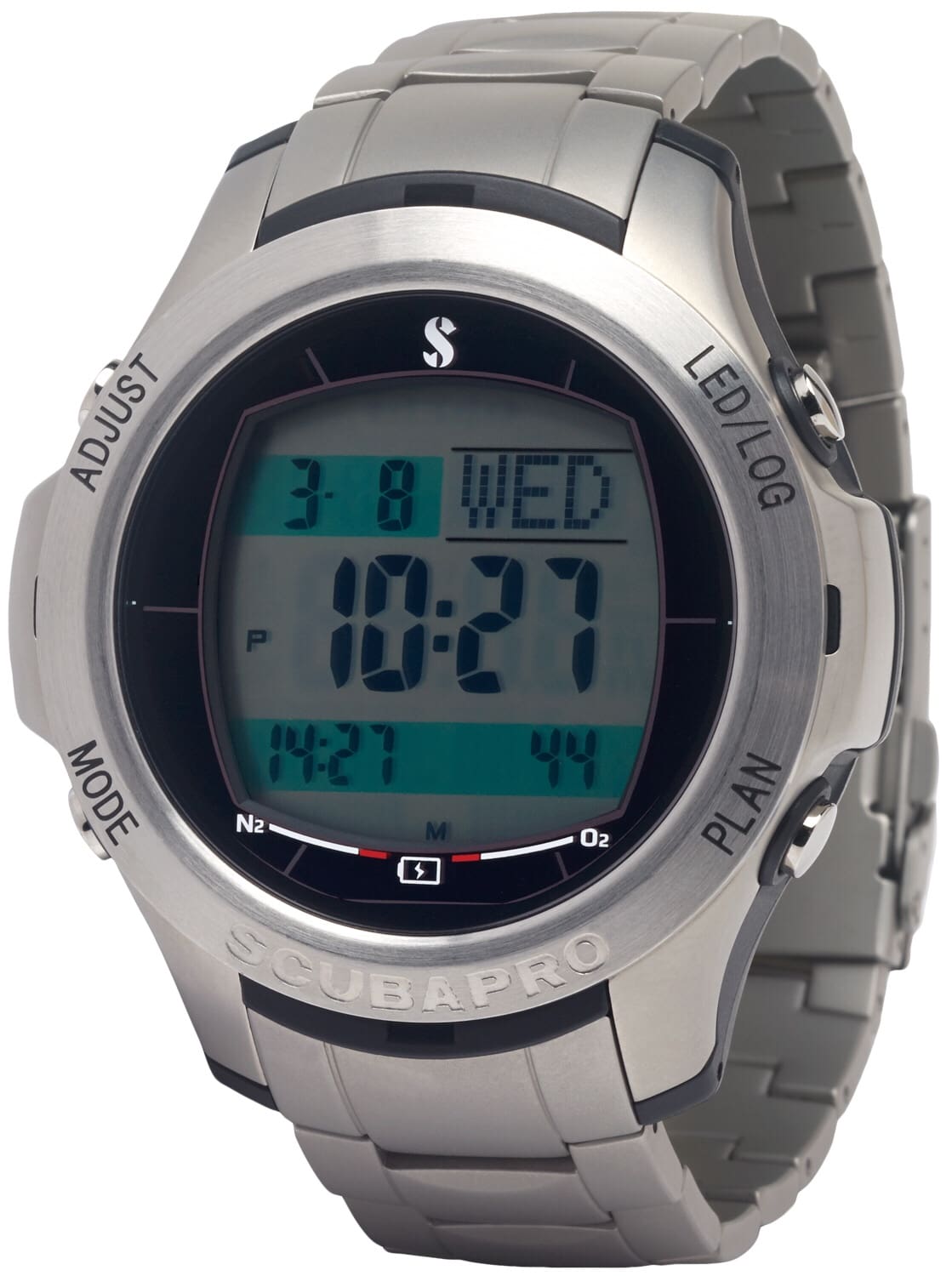 SOLAR POWERED DIVE COMPUTING
But where the Z1 really shines is in its sleek, technically advanced design.
A thoroughly elegant device, the Z1 is SCUBAPRO's first solar powered
dive computer. Not only does this eliminate the need to dispose of discarded batteries, it also eliminates the need to find a power source when it's time to recharge the battery, making it perfect for traveling divers. Part of our SCUBAPRO Cares line, the Z1 is another SCUBAPRO product that takes our oceans and our planet into consideration.
Basically, if the Z1 is exposed to light, its internal battery is charging; whether you're outdoors in the sun, or indoors beneath fluorescent lighting. And because the Z1 is Bluetooth enabled you don't have to worry about where you left your download cable; downloading, data analyzing and some adjusting of settings can be done wirelessly.
Simple to use, the Z1 provides four clearly labeled control buttons to take you through the menu system. All data is presented in easy-to-read alphanumerics backed by green screen highlights. The onboard digital compass lets you navigate the depths with confidence, and the innovative backlight function illuminates the screen beautifully. Its super bright white LED light is automatically activated simply by tilting your arm in the dark, using the Z1's ambient light sensor.
The Z1 allows you to live your life in dive mode, without being leashed to a cord and power source. What's more, the Z1 is compatible with all of the SCUBAPRO M2 and Chromis bands. A simple accessory change allows you to go from orange to yellow to red to blue to pink to purple to white. All bands match the rest of the SCUBAPRO line including the HYDROS PRO, Seawing Novas, Synergy masks and even our S620 Ti regulators. Express your personality – and your love for diving.
Z1 FEATURES & SPECS
• Solar charging system provides hassle-free battery charging.
• Internal battery can be charged by outdoor sunlight or indoor fluorescent light.
• Power saving function maximizes your dive time between charges.
• Battery can last for more than 8 years before needing replacing. (Maximum life span depends on use and
conditions.)
• Hybrid construction combines an attractive polyacrylate case and 316L stainless steel bezel for
lightweight durability.
• Buhlmann (ZHL-16C) algorithm offers Nitrox capability from 21% to 100% O2 for up to 4 Nitrox mixes. • Provides full time-keeping functions, including a stopwatch.
• Digital onboard electronic compass allows for easy navigation.
• A non-step altitude measurement configures the pressure reduction based on the current atmospheric
pressure rather than using an altitude ranking.
• Large, bold numbers in the center of the screen, plus eye-catching green highlights, ensure that all dive
data is always easy to read.
• Super bright backlight can be activated for 1.5 seconds or 3 seconds by simply tilting the arm (when the
Auto-Light function is set to ON).
• Audible and visual alarms keep you alert to your dive status.
• Depth and time interval alarms are diver-selectable prior to the dive.
• Logbook stores 30 dives and includes a dive history which can be analyzed with wireless technology. • Bluetooth 4.0 Low Energy connectivity lets you download dives to any iOS or Android device.
• Dive modes: Scuba, Freediving and Gauge.
• Maximum operating depth: 328ft/100m.
• Available in a variety of eye-pleasing casing and wrist band colors (see below).
• Will also accept M2 and Chromis colored wrist bands.
SUMMARY
Ultra-modern and eco-friendly, the Z1 dive computer is one of the many innovative, "green" products that demonstrate SCUBAPRO's commitment to our planet. A stylish design, simple to use, and powered by the sun, wearing the Z1 at work and at play lets you celebrate your status as a modern diver, plus demonstrates that you are in tune with the latest technology and committed to an eco-friendly world.
Tags: Scubapro