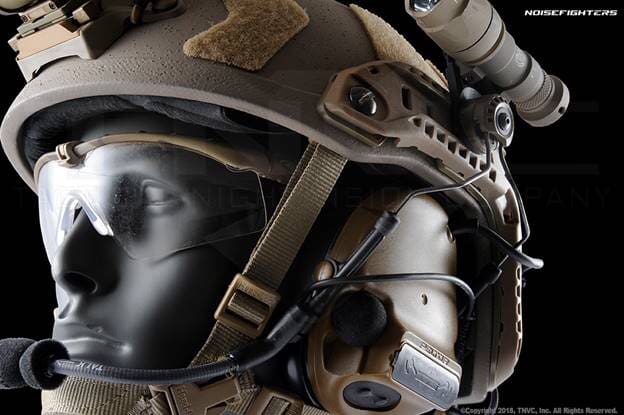 Check out our Instagram @tnvc_inc for a chance to win a free set of Noisefighters SightLines as part of our #tnvctuesday photo contest!
As headborne hearing protection and communications systems have become ubiquitous for warfighters, law enforcement, and civilians alike, integration with eye protection and prescription eyeglasses has been an afterthought at best, relying on the softness of the pads to conform to the shape of eyewear temples, leading to hot spots, discomfort, and most importantly, loss of integrity of the earcup's seal, potentially leading to a significant degradation in hearing protection, increasing the chances of hearing damage to the user.
Enter the Noisefighters SightLines replacement gel ear pads–designed and manufactured in the USA by a USMC veteran-owned small business, and originally funded through Kickstarter, the Noisefighters SightLines is a deceptively simple but much-needed improvement to most popular tactical communications and hearing protection headsets, including the 3M/Peltor ComTac, MSA Sordin, and Howard Leight Impact Sport, among many more.
Silicone gel replacement earcups have long been a popular upgrade to many headsets, improving comfort during extended wear, however the SightLines have gone a step further by integrating a relief cut above the earcup, allowing eyewear temples to be slid into a groove created by the relief cut, allowing the earcup to maintain a full seal over the ear while simultaneously preventing the eyewear from pressing against the head causing discomfort and pain. The relief cut allows the eyewear to rest less than one pinky finger's thickness above the location where glasses normally rest, and it feels completely natural for eyewear to sit at this location after just a few moments and are fully compatible with prescription eyewear, including multifocal lenses.
Testing has indicated that a 1-10dB decrease in noise cancellation when eyewear breaks the hearing seal on traditional ear cushions. A broken hearing seal also permits significantly more noise into the headset, which can be extremely detrimental to proper monitoring of audio levels and radio traffic when used with communications headsets.
Noisefighters SightLines are constructed with a dual layered design to provide both superior comfort and hearing protection, using both noise cancelling memory foam (meets FAR 25.853 for U.S. aviation use) and silicone gel which maintains its flexibility in temperatures ranging from -100F to +300F (-70C to 150C). The pad's outer skin is a durable, ultra-thin polyurethane that is antifungal and UV resistant that should last for many years under regular use.
Features:
·         Gel earmuff pads with relief cuts for glasses to pass through without breaking the seal and causing headaches–can be used as normal without eyewear without breaking the hearing seal
·         Unique horseshoe-ring shaped double-hump front face and 1/4? inch of silicone gel provide significantly better softness and sealing vs. competitors' pads
·         Use of super-premium acoustic memory foam and silicone gel provides superior noise cancellation
·         Polyurethane outer skin is UV-resistant, waterproof, and much longer-lasting than vinyl or other alternative hearing cup materials
·         Drop-in replacement for existing pads on compatible models and can be installed by the user in seconds
·         Available for most popular 3M/Peltor, TCI/MSA, and Howard Leight headset models
tnvc.com/shop/noisefighters-sightlines-replacement-gel-ear-pads