In the past, there's always been something interesting in the Marine Special Operations Command Booth and this year is no different. This manikin depicts a MARSOC Critical Skills Operator equipped with the latest and greatest gear.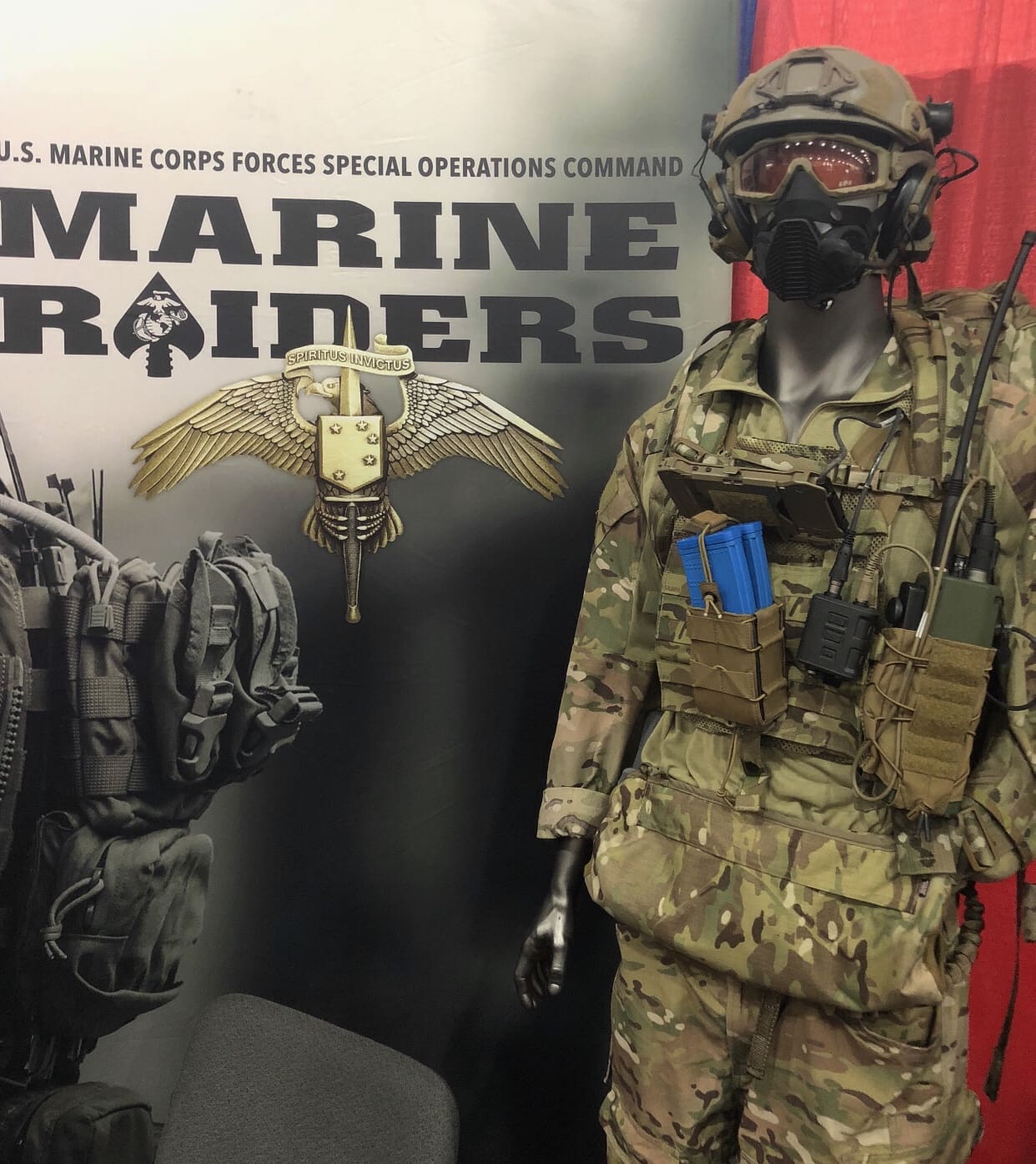 Currently, the United States Special Operations Command purchases specialized clothing and individual equipment for its personnel in multiple colorways. These include MultiCam, AOR 1 & 2, various shades of Green, Coyote, and M81 Woodland, to support the various missions of its different components.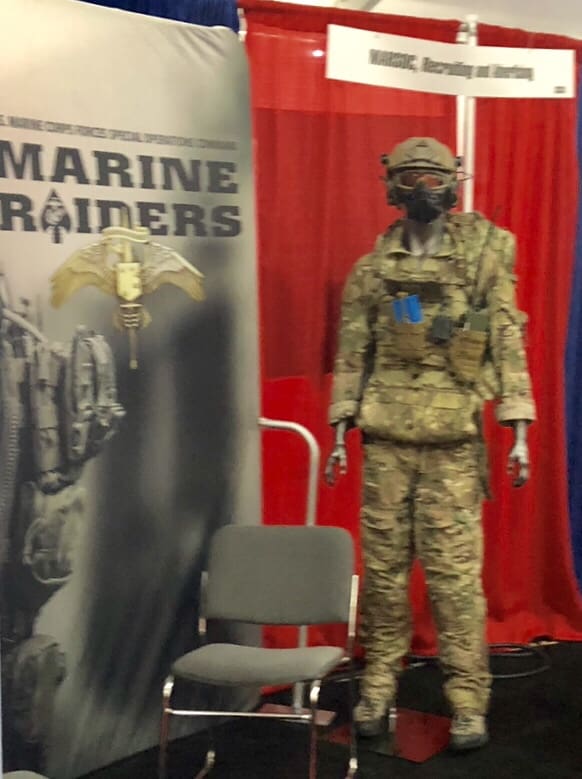 US Army Special Operations Command and Air Force Special Operations Command have been using MultiCam for over a decade, while Naval Special Warfare Command has used the AOR 1 and 2 camouflage patterns for Desert and Jungle environments, respectively. MARSOC, the newest SOF component, has relied primarily on Coyote PPE and M81 Woodland uniforms due to years of working as advisors to the Afghanistan National Army. Otherwise, the CSOs have worn Marine Corps Combat Utility Uniforms and 782 Gear in MARPAT Woodland or Desert.
For some time now, SOCOM has considered whether to transition all four components to a common camouflage pattern in order to streamline acquisition. For a short period, this looked to be the case, but a fiscal reality may have thrown a glitch into the plan.
For years, NSW has relied on the AOR patterns which are costly to field due to the Command's small number of personnel and supply chain fabric minimum orders. For example, even if a glove order only requires 2,000 printed yards of a specialized fabric, the printer may require a minimum of 5,000 or even 10,000 printed yards in order to make it worth their while. Fabric that isn't used still has to be purchased, even if it won't be used for some time. At one point the process was tying up so much of industry's working capital that the government took on inventorying the fabric and doling it out for each contract. Considering the number of different, technical fabrics worn by special operators, and doubling the numbers to accommodate two different prints, this can get very expensive.
The idea was raised to transition NSW to MultiCam. Already, individual units within the Command were purchasing MultiCam items for deployments. On the surface, it made sense. But reportedly, when the numbers were crunched, it turns out that replacing WARCOM's current complement of equipment with brand new MultiCam gear, is more expensive than continuing to pay more for gear printed in AOR. It's understandable; they can't have SEALs wearing AOR blouses and MultiCam pants, or carrying packs in one pattern with armor in another. There's just so much already invested in AOR.
It will be interesting to see at what point the math begins to make sense. Until then? NSW will remain a hybrid, fielding AOR at the program level and purchasing MultiCam at the small unit level.
On the other hand, MARSOC's wear of M81 Woodland was tied to a specific mission which has all but gone away. The time of the old Woodland pattern is once again over. Aside from that, there has never been a large purchase of SOF-unique clothing for MARSOC. Consequently, procuring clothing and PPE in MultiCam from here on out isn't as daunting a task. In fact, it's a smart use of limited resources.
So, is MultiCam the future of USSOCOM? Eventually.