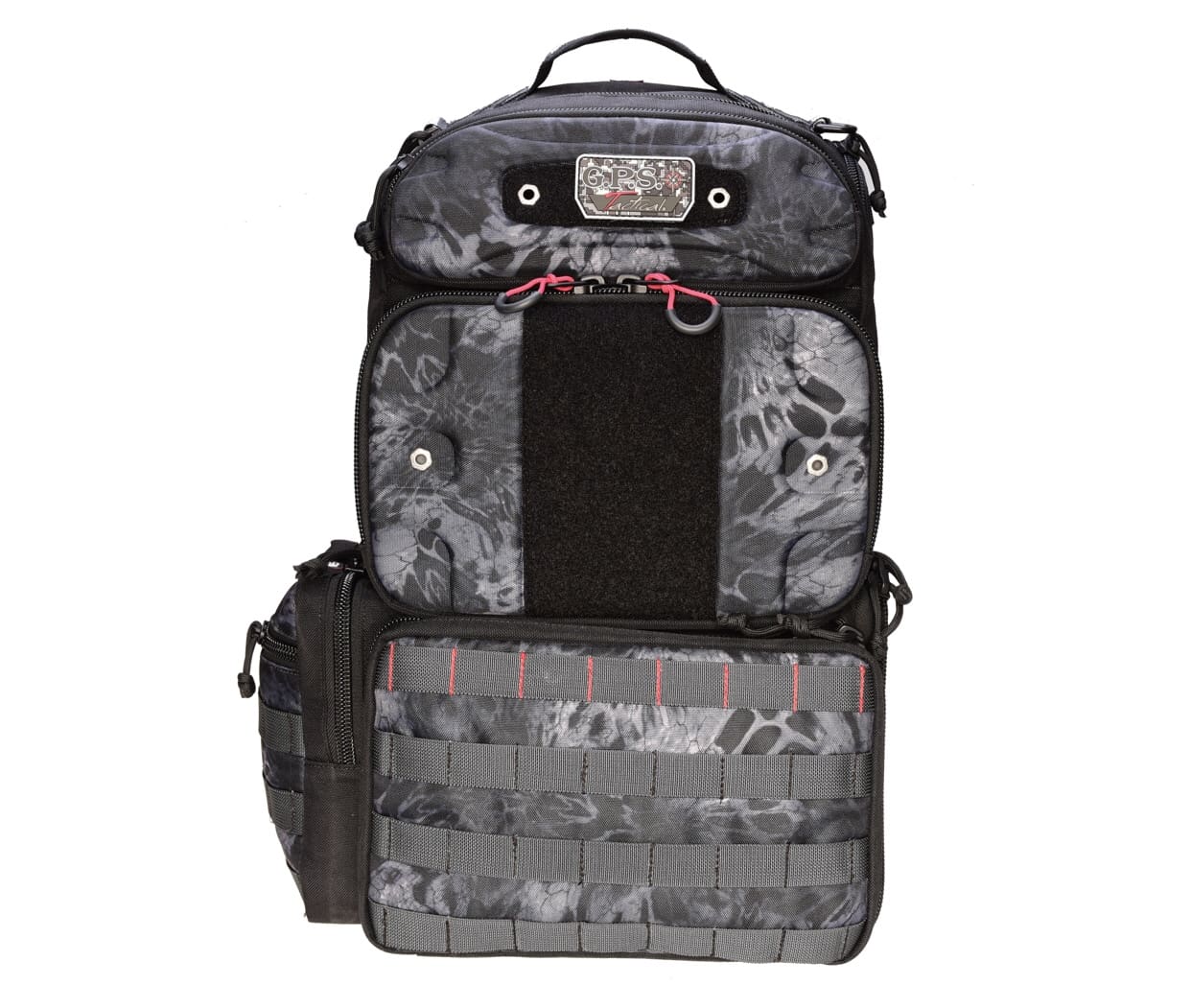 We're proud to announce the release of our brand new 'Handgunner' Range Backpack in Prym1 BlackOut ® (GPS-1711BP Handgunner). With the 'handgunner' already being our #1 selling product, the updated Prym1 Blackout ® pattern gives this product a fresh new look, that is sure to turn heads with your friends at the range!
The reason the "Handgunner" has become our #1 selling product is because we have designed something new that addresses all of the problems that exist with with other range backpacks on the market today. Our Range pack is designed to stand upright and features a rigid construction 360 degrees. This stand alone G.P.S. design allows us to make a front door that folds flat for pistol storage. All other Range Backpacks use some kind of pistol sleeve or pistol case to secure the handguns. We took a different approach and designed a foam block that is precisely cut by a CNC machine to hold 4 medium frame pistols. We took great care in measuring all of the popular pistols to be able to make this new foam cradle in the perfect size. Now you don't need extra pistol sleeves to store your pistols. The GPS Foam Cradle holds 4 pistols in a downward position and is held by the trigger guard. The material is heat and chemical resistant and slides into the belly compartment for storage and ease of transport"
– Patrick Gee
– G Outdoors, Inc.
This "free standing" backpack allows for hands free transportation to and from the range. Our new "Handgunner Backpack" was designed to allow the avid handgun shooter a way to transport his handguns, 12 extra magazines, ammo, shooting glasses, ear protection, targets, stapler, tape, bino's, shooting mats, cleaning supplies all in a compact backpack.
By utilizing our patented Visual ID Storage System we have designed separate pockets that store your most frequently used items for added protection and easy retrieval. The most unique feature is the inside storage cradle that slides in and out of the lower compartment. This foam cradle was designed to hold 4 medium to small size handguns in a VERTICAL format. This Vertical format allows for ease of use at the range and added protection from 360 degrees. This cradle is made of high density foam and is cut with a CNC machine to cradle each pistol by its trigger guard. Just slide out the cradle at the range and keep all 4 pistols organized. After shooting, remove the cradle with the handguns inside for cleaning and then for storage in your gun safe. No need to open and close pistol cases or rugs each time you intend to use. The "Handgunner" backpack also features a waterproof pull out cover to help keep the contents dry in case of a sudden downpour.
Please visit our web site to learn more about our exciting GPS line of Range gear at GoutdoorsProducts.com
For more information on Prym1 Camo and their licensed products visit: prym1camo.com