Warm, Light, Packable, Technical Mid-Layer Made with State of the Art Materials
Prometheus Design Werx introduces their Tycho Down Hoodie for Fall-Winter 2019. There is no better insulator known to man other than nature's own goose down. The best warmth to weight ratio of any outdoor garment made.
The new Tycho Down Hoodie packs down small making it ideal to easily stow in any pack for wilderness pursuits. Made with state-of-the-art DownTek™ brand premium 850 fill power goose down that is 27 times more water resistant than untreated down, so the Tycho retains its thermal properties even if dunked or wet. Additional unique design details include an integrated stuff-sack storage camp pillow and detachable travel neck pillow, 6 pockets, a cozy brushed hood liner, and a 20D mini-ripstop nylon shell with DWR.
The Design and R&D Team at PDW states:
"Why choose goose down? There's a number of very compelling reasons why down jackets are so popular and well used by the wilderness tribe. There is nothing lighter, warmer and compressible than a down mid-layer. Nature's down is the most thermally efficient insulator known to man. No synthetics yet made can compare. When in the field, down jackets allow the user to be unencumbered by excess weight; when not being used, they pack down smaller than any other technical mid-layer and can be easily stowed in a pack. The one downside to down is if it gets wet. Wet down loses all of its thermal insulating properties. The Tycho Down Hoodie uses DownTek™ brand goose down which has been treated with a hydrophobic process to make it 27 times more resistant to water. It will even survive an accidental dunk and still insulate. This is a major leap forward in down insulated apparel. While down jackets were never intended to be rain wear, the Tycho along with its DWR shell will allow the user ample time to shrug off the first minutes of rainfall to grab a waterproof shell to wear over and not lose its insulating capabilities. It's the quality of make and design details that makes our hoodie stand out and be the best in its class. We used premium 850 fill power DownTek™ goose down, a DWR shell, cozy brushed tricot hood liner, and expanded capabilities with its integrated camp pillow or detachable travel neck pillow. No other down jacket in its class has all these features."
The Tycho Down Hoodie is a part of their PRO-Line of technical apparel by Prometheus Design Werx.
Available in Universal Field Gray, and Transitional Field Green.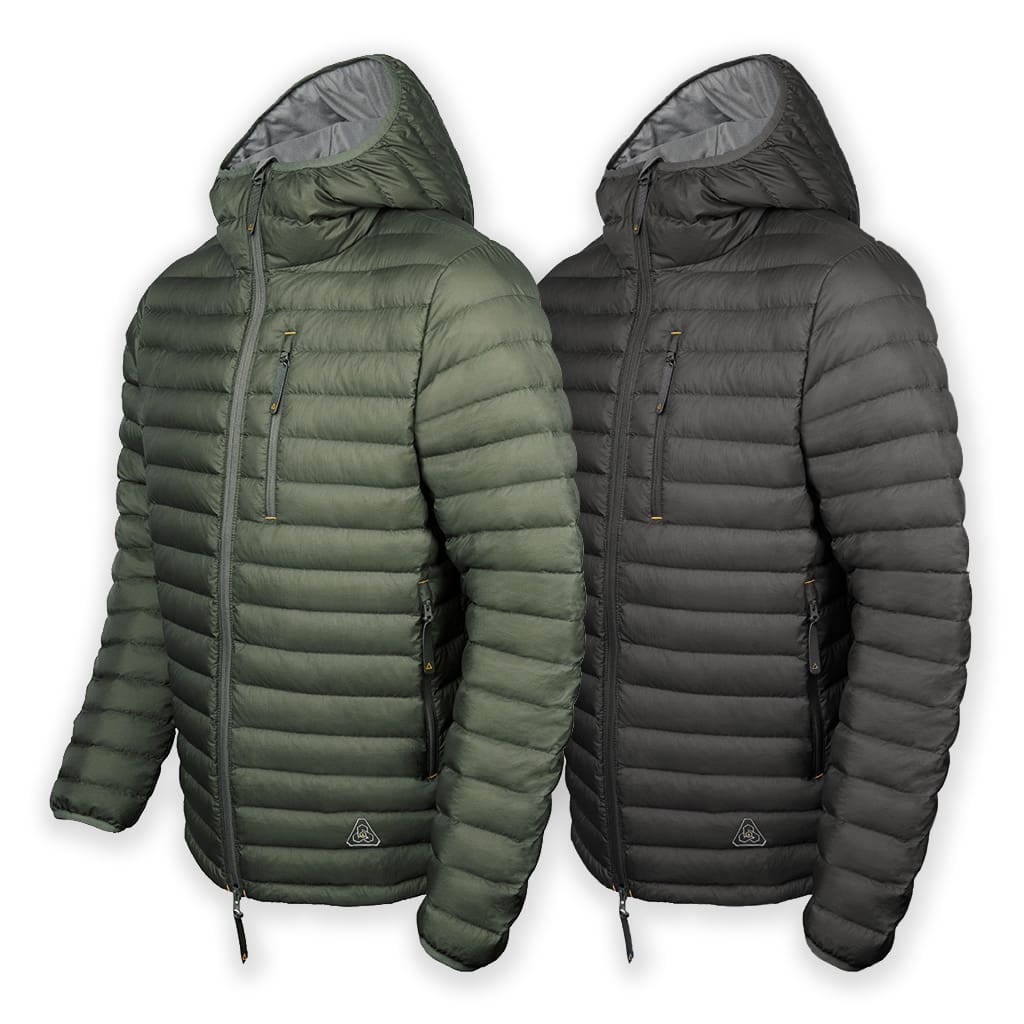 The first limited delivery of the Tycho Hoodie will be available for purchase on Wednesday, November 6th, 2019 at 12:00pm PT via their website, prometheusdesignwerx.com.