Part 1
I wore this stuff more than anything else in over 40 military classes in 2019. For reconnaissance and sniper stuff I use the Crye Low profile chest rig only. For CQB classes I wear the Crye JPC carrier with my chest rig over the top. I use the Crye range belt with both JPC and chest rig and by itself for pistol and carbine only classes when full kit is not required and for most LE classes. The holster is a Safariland ALS which I use for military classes and I typically switch to an SLS for law-enforcement. The holster is in a UBL plate with the big fastec so I can switch easily to the pistol that the unit I'm training uses. The pistol pouches and single m4 pouch are HSG to make it easy switching from Sig, Glock, HK mags. All other items are from Crye Precision.
Part 2
I made an effort to ditch the leather jacket more this year and did most of my riding with a goretex shell (Black Diamond Liquid Point) with leather vest over the top (unconventional but I need the jacket anyway for all my jobs so I came up with a way to make it work). When cold I would have a small down jacket (BD First Light) under the shell- basically same as I would dress for the field except the leather vest, which is absolutely needed at highway speed to prevent flapping. This experiment not only made my moto loadout smaller but also reduced weight during the 15k miles of trips I took in 2019.
For helmet I switched back to the Biltwell Lanesplitter after Biltwell was kind enough to supply me with one of the few prototype transition shields. For wind reduction on the Biltwell helmet scroll back a few posts to see what I came up with. Bluetooth is Sena 10s.
For cold weather riding I use Gerbing Hero Heated Gloves. For 9 months out of the year I use Outdoor Research Firemark gloves which double as my work glove when I get to the range/shoot house.
I wore both Defcon Vans and new to me this year Redwing Heritage 8849 Moc Toes. The Redwings are legit for working on concrete floored ranges and shoot houses and also impressed me with how waterproof they are at speed on the interstate. I never got wet on my last long trip of 2700 miles and I went through a lot of rain.
Pants for riding in cold/rain over the top of my normal pants are goretex Arcteryx but I'm not sure of the model. They have hooks that go around the forward most part of your boot lace and that really helps keep you dry at interstate speed. Never once got wet.
I'll sum up my riding choices with this…..it's all a compromise once you're not wearing a full leather race suit with armor and your not on a track. Experience and processor speed are what should determine personal decisions on how much safety gear you wear/ don't wear when riding the streets……don't bring emotion into it and don't have mindset problems from the start.
Part 3
I wore Prometheus DesignWorks pants on all Moto trips and during cool weather on the range. I also exclusively use PDW wall beanies.
New to me this year thanks to the Northman was the insulated snap shirt from Kuiu. It is the warmest and most packable insulated piece I've ever seen. Good to the low 40s with only a T-shirt underneath.
New to me this year are Dixxon Flannels. They are made of a blended material so essentially they are synthetic. For me this makes them very useful because they can get wet and still provide warmth. They are so good that I quit wearing a base layer on top in the cold weather and just wear a Dixon flannel with a down jacket over the top. I'm seriously considering buying a Dixon flannel and using it as my insulated piece for cold-weather running. Because they are made for riding a motorcycle the collars snap down which also helps immensely when wearing body armor all day or being around any helo work.
Darn tough socks or a no brainer and anyone reading this page should realize they are the greatest sock ever made and come with a lifetime warranty.
I ran in New Balance 1080s this year but will most likely be switching to a Gore-Tex running shoe due to the harsh weather conditions I am generally in when I get to PT and also I can reduce packing by having a do it all shoe.
The Crye Precision AVS 1000 pack has been in my saddle bag or on my back the majority of the year wether riding my bike, flying in a plane or driving to the range.
The red wing heritage boots impressed me with over 10,000 miles ridden and countless ranges, shoot houses, and in the field. They are in desperate need of a resoling but I am impressed. Might look at Thorgood's to have a second pair to rotate.
Part 4
Gear in Review 4 of 5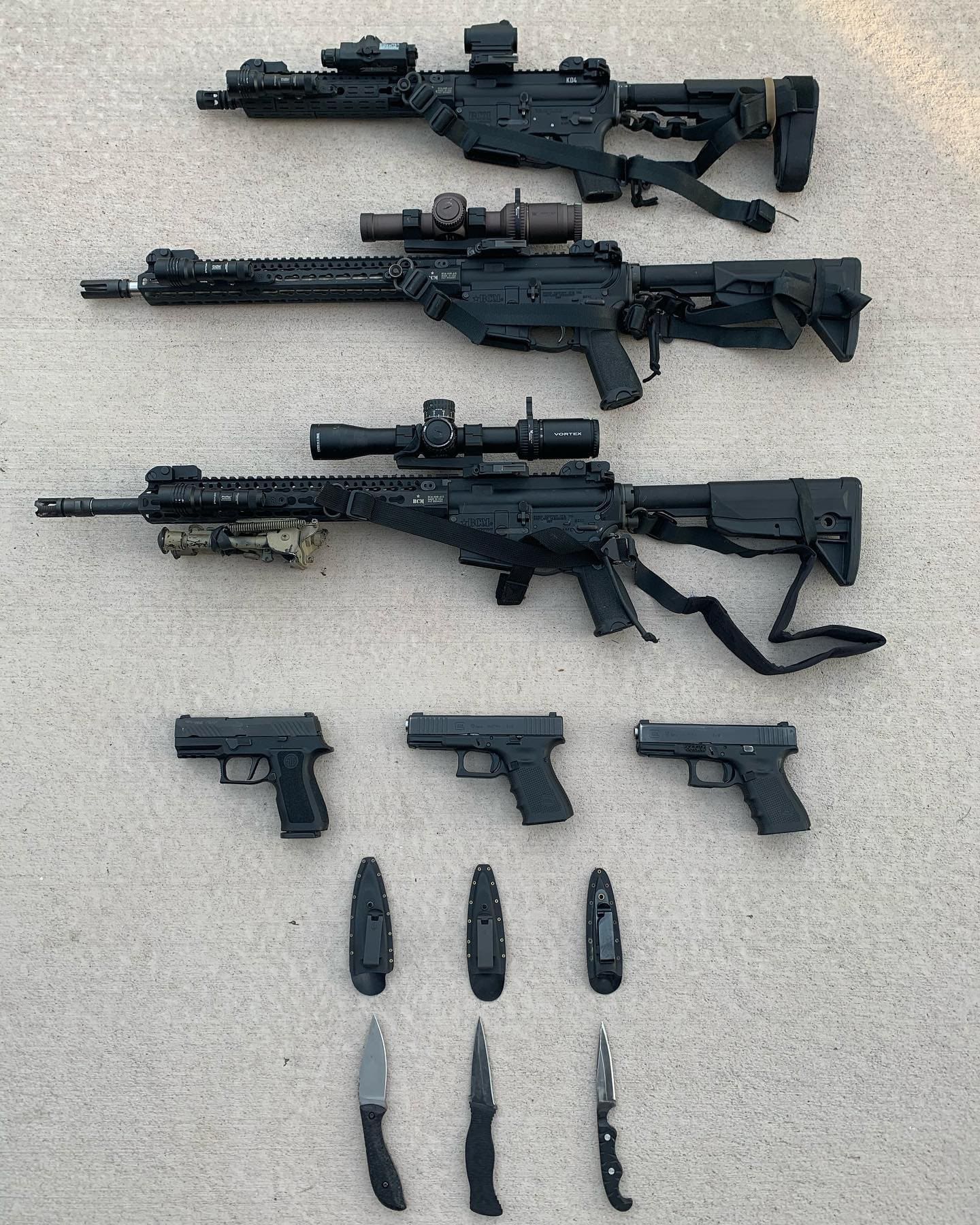 11.5" w/Vortex Crossfire and PEQ-15 for MIL and LE classes with SBT Brace for CIV jobs
16" w/Vortex Razor, SS Kreiger Barrel for CIV classes
16" w/Vortex Viper 2-10, KD4 barrel for MIL and CIV Scoped Classes
All BCM, all Bobro Mounts, all lights Streamlight Protac Rail-1, all slings VTAC.
Sig Sauer P320 for Army and CIV classes
Two Glock 19s for LE, MIL and CIV classes
Atienza Wicked, Northman BEDU, Headhunter Rat for all classes rotated out for various reasons.
Part 5
The constants;
Wilderness Tactical FF belt, Garmin Fenix 5X for the running, a cool hat, Smith Longfin sunnies, Olukai flops, Swiss Army Explorer, Streamlight Protac 1L, The Ring.
defoor-proformance-shooting.myshopify.com