Kitanica production plans for Range Shorts had been disrupted by the coronavirus pandemic, but are now getting back on track. Every week through the end of August Kitanica will be releasing a Range Short in a new color or camouflage. So far Kitanica has released Dark Khaki, Woodland, Multicam® Arid, Kryptek® Typhon® and Tiger Stripe. Multicam® Black and other colors will be dropping in the coming weeks. These are short runs of Range Shorts are designed to maximize colorways and camos and are being sold right off the production floor factory direct at Kitanica.com. The Range Shorts are made in the U.S.A. by Kitanica's in-house sewing team using 100% U.S. made materials.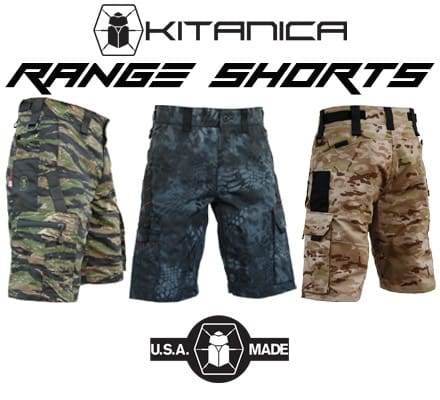 Range Shorts Features:
• Total of 8 pockets including 2 hip pockets with knife clip reinforcement
• Left and right CORDURA® fabric side knife/multi-tool/mag pockets
• 2 large rear pockets with VELCRO® closure
• Contoured waistband design with 7 heavy duty belt loops
• Double layer reinforced seat
• Left side cargo pocket with elastic retainer straps and organizer sleeves
• Right side zippered cargo pocket with pen tubes
• Bar-tacked stress points
• Dual waist cinches for fit adjustment
Kitanica Range Shorts are sold factory direct at the link below:
Or, visit them if you're in the Bay Area.
Kitanica
867 Isabella St.
Oakland, CA 94607
Contact: Chris Cronin 415-305-7663