St. Louis, MO. July 31, 2020- Patrol Incident Gear (PIG) partners with Presscheck Consulting, LLC. to create the Presscheck Assault Glove. 30% of all proceeds from sales of the Presscheck Assault Glove will go to Warriors Heart Addiction and PTSD Treatment Center.
During a Presscheck Consulting No Fail Pistol course in 2018, Instructor Chuck Pressburg explained various instances where he utilized his gloves in non-typical applications as an operator at a Special Mission Unit. Attending this course was a glove designer for PIG who paid attention- and a new glove project was born. After ongoing discussions with Tom Spooner at Warriors Heart, it was decided that a large portion of the proceeds from this project would be donated towards treatment scholarships at Warriors Heart.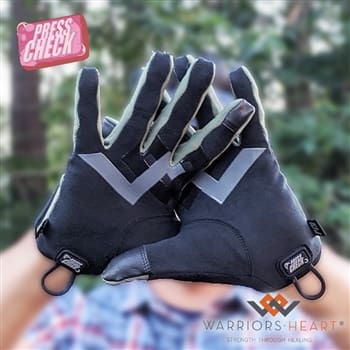 Patrol Incident Gear is proud to bring this exciting new glove to market, and is proud of it's continuing affiliation with Chuck Pressburg and Presscheck Consulting. The Presscheck Assault Glove features a Patent Pending Bite Tab to aid in hands-free removal of the gloves, and like all PIG gloves, they are touch screen compatible. The Presscheck Assault Gloves will be available in Black, Carbon Grey, Ranger Green and Coyote Brown and in Men's sizes Small through 2XL.
Pre-orders for this glove will be available exclusively at SKD Tactical. Delivery is expected mid-December, 2020.
Pre-order yours at www.skdtac.com/EXCLUSIVE-Presscheck-Assault-Glove-Pre-Order-p/pig.762.
Free Limited Edition Presscheck Fight Soap Patch for each Presscheck Assault Glove Pre-Ordered by August 15, 2020