EIELSON AIR FORCE BASE, Alaska — In November of 2019, Airmen from the 354th Fighter Wing developed a new arctic survival kit for the F-35A Lightning II. Now, 11 months later, the first kits are being installed in Eielson's F-35A fleet.
Eielson's F-35As are the first of the Air Force's fleet to be stationed in an arctic climate, which drove the need for a new survival kit. After months of research, development and testing, the design was sent to the 354th Operations Group commander for approval. In April the kit was given the "green light" and aircrew flight equipment Airmen got busy building them for the approaching winter.
"Due to the smaller size of the seat we are limited on how many items we can pack in here," said U.S. Air Force Staff Sgt. Ross Dugger, a 354th Operations Support Squadron AFE craftsman. "Over the years, we've worked with [survival, evasion, resistance and escape specialists] to develop this kit and decided what is the most essential equipment needed to survive."
Airmen from AFE are responsible for packing the kit to fit a specific size in the F-35A before it is ready to go into the jet. The kit consists of survival tools and equipment to help pilots in case of an emergency ejection to include a knife for gathering food, a poncho to stay dry, and flares to signal rescue teams.
"It's been a learning curve, with the seats being so new they are not as easy to pack," Dugger said. "With time we will become more efficient and continue to ensure our pilots' safety."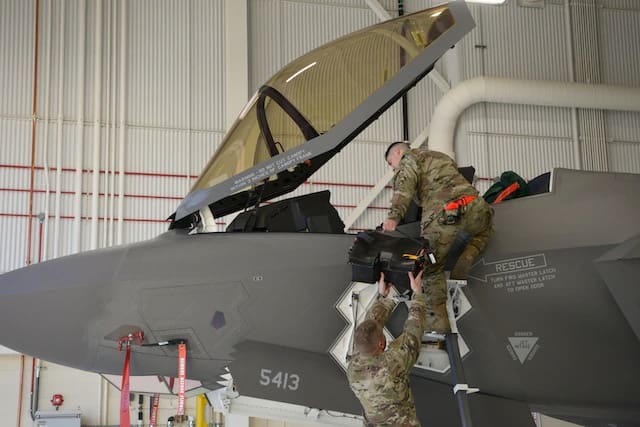 After the kit has been packed and fitted to the seat, Airmen assigned to the 354th Maintenance Squadron Aircrew Egress Flight bring the kit to the jet and carefully swap the summer kit with the arctic kit. While doing this, Egress also inspects the seat for discrepancies to ensure the pilot will be safe if they eject.
"We are starting from the ground up, setting up systems and learning as we go," said Staff Sgt. Victor Benitez, a 354th MXS Aircrew Egress specialist. "There's a lot of components and sometimes it can take a long time to put just one bolt in, but it has to be done so that everything works 100 percent of the time."
The new arctic seat kits will be installed on all of Eielson's F-35A fleet and could potentially be used by some partner nations who have F-35s in similar climates.
"Hopefully they never have to use these items but I take a lot of pride in my work, which could potentially save a pilot's life," Dugger said.
By Senior Airman Beaux Hebert, 354th Fighter Wing Public Affairs