Before I share the USAF story, I want to ask the obvious question, "Why didn't this happen decades ago?"
For Air Force members, The Tongue and Quill is one of the most painful document ever devised by man and I believe was created simply so that those without any talent other than enforcing rules would have something to do.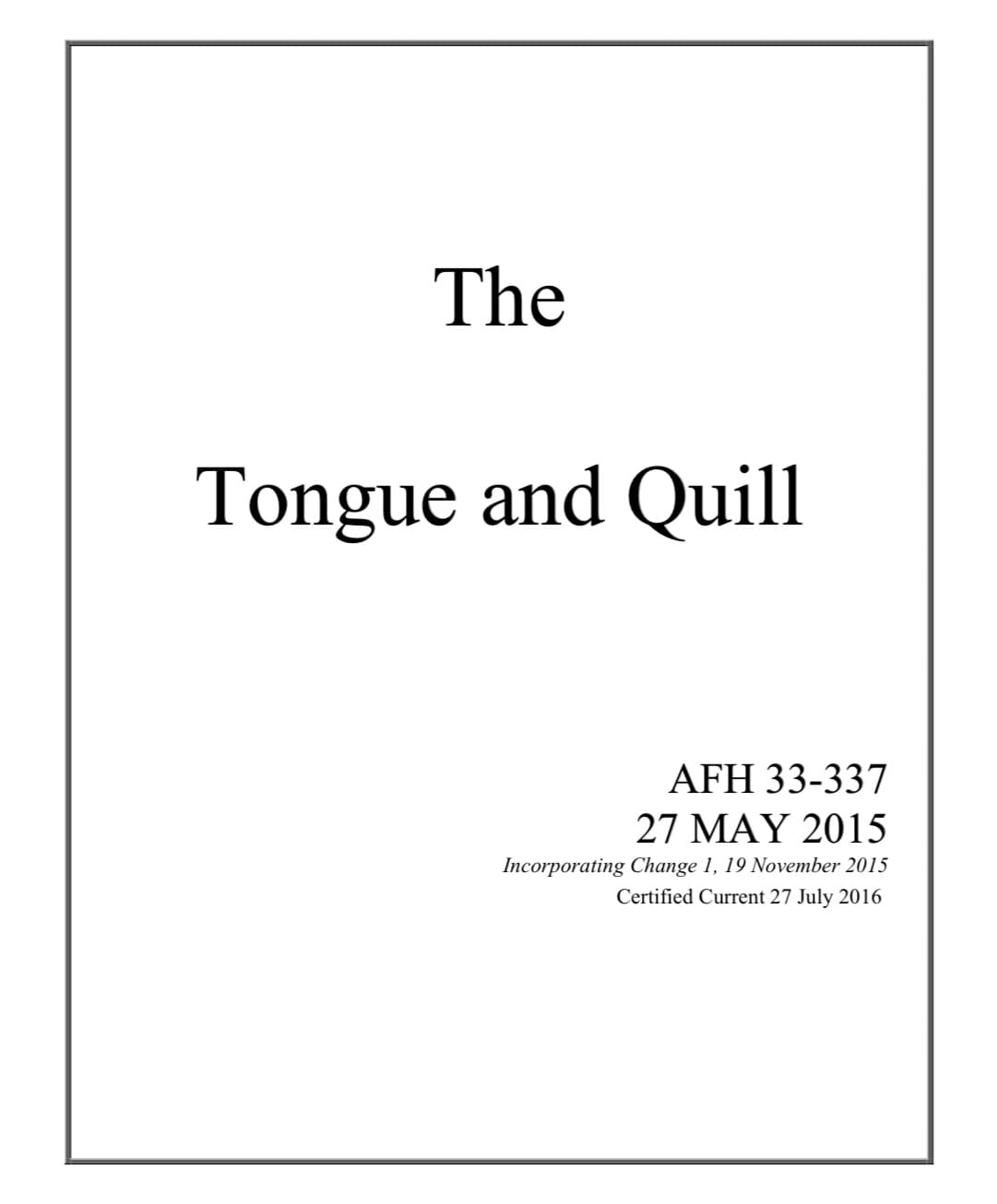 Templates for commonly used documents should have already been created by those same shoe clerks who get upset if you didn't put the signature block on a memorandum, in the exact spot, meticulously checking all of the measurements with their ever present ruler.
The Tongue and Quill was the bane of my existence at Officer Training School. In some ways the pain continued throughout my career in the Air Force as someone would tell you to check The Tongue and Quill for some odd format, only to find out that it was wrong.
Most of us made our own templates and then just rewrote over the last one and saved a new file, but having something Air Force-wide should have happened long ago.
Finally, based on the way this USAF story is written, I'll lament that this seems to be the biggest innovation our Airmen could come up with to help us counter near-peer threats. Boy, are we in for a wakeup call.

ARLINGTON, Va. (AFNS) —
As teleworking and social distancing became a part of daily life, the Department of the Air Force was hard at work. Not only were Airmen delivering on daily mission requirements, they were also working hard to improve the department from within.
The 2020 Vice Chief's Challenge launched in February with a focus on working faster and smarter, and finding innovative ways to give Airmen back their time.
"Competing in an environment dominated by near-peer threats requires that we unleash our Airmen to think differently and to put their tremendous talents to use," said Air Force Vice Chief of Staff Gen. Stephen W. Wilson at the launch of the challenge. "Doing so will transform our Air Force to meet the rigorous demands of the next generation of warfare."
Airmen were encouraged to participate in the challenge by submitting ideas via the Airmen Powered by Innovation platform to solve problems related to automation or elimination of menial tasks.
One idea stood out as simple and straight-forward, and required only a head nod from Wilson to get started. The idea was to create official templates for common Air Force documents such as memorandums, Air Force biographies, talking papers and more.
"We asked for our Airmen's help in identifying and eliminating drains on their time that do not directly contribute to warfighting readiness — and our Airmen delivered," Wilson said. "The support for this idea was overwhelming. And for such a simple idea, it was clear that we could start work immediately."
The Department of the Air Force uses Air Force Handbook 33-337, The Tongue & Quill, to describe how official documents should be formatted and written. The handbook, which is a static file, was last updated in 2015, and includes images of what a properly formatted document should look like.
The average Airman typically makes a new document by opening the Tongue & Quill, reading the formatting instructions, opening their word processing software, and begins formatting a document before beginning the first sentence.
An Airman having to format a blank document is exactly the kind of "menial task" Wilson was referring to when he launched the Vice Chief's Challenge.
Now, thanks to this idea submission, nine official templates are available for download on the service's e-publishing website. This website is available online and doesn't require a Common Access Card or other special login to gain access.
"Giving Airmen back the time they need to drive innovation and build our future is a warfighting imperative," Wilson said. "No one knows better what processes or tasks weigh on our Airmen, than Airmen themselves. We're excited to see what other innovative ideas come next."
The next step is to push the templates to the Air Force standard desktop, which would make the templates available to Airmen when they open a new Word document on an Air Force computer. This system update is expected to be accomplished before the end of November.
By Secretary of the Air Force Public Affairs