Bandera, TX – November 20, 2020 – Warriors Heart, a private treatment facility providing care for addiction and chemical dependency & PTSD for active military, veterans, law enforcement and first responders, has announced a collaboration with MTM | Watch, the leading manufacturer of sophisticated, tactical and military watches worldwide, to offer a limited-edition series of the MTM Warrior timepiece, benefiting the Warriors Heart Foundation.
Available exclusively at www.mtmwatch.com/warriors-heart, this collection of timepieces is seamlessly connected to the wearer, and those supported by Warriors Heart's facility. Celebrating Law Enforcement, Fire Rescue, Military and First Responders, each version of the timepiece will feature the Warriors Heart logo in one of four colors, representing the hero communities cared for by the facility (Red, Orange, Green and Blue).
MTM has promised 40% of the proceeds from each purchase will go directly to the Warriors Heart Foundation, where they will be used to subsidize the cost of treatment for a Warrior or First Responder in need. The foundation is driven solely through the donations of others, supporting programs that address the unmet needs of suffering servicemen and women and give individuals and communities the tools to become self-sufficient.
"MTM proudly stands by the efforts of the Warriors Heart Foundation to support programs that address the unmet needs of suffering service men and women (Military, Veterans and First Responders). From chemical dependency and PTSD treatment, to service dogs and arts and culture classes, these programs give individuals and communities the tools to become self-sufficient warriors long after the support ends," stated MTM Founder, Joe Casis.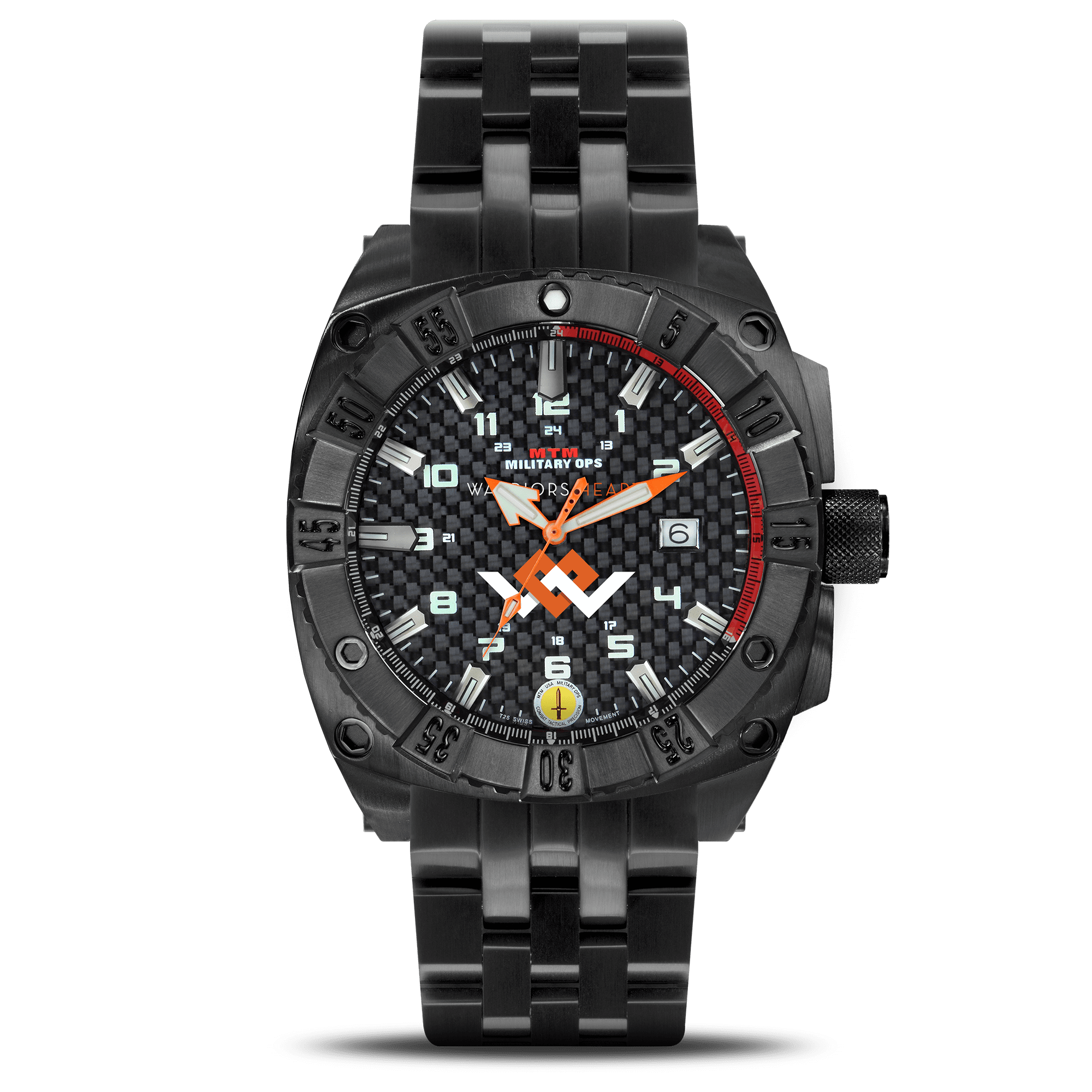 The Warriors Heart Edition Watches are American-made and feature tritium gas-filled tubes on the index and hands. The watch movement is swiss-made Ronda quartz and the dial is made of a carbon fiber compound that is similar to the quality used by NASA. With sapphire glass crystal, along with a 316L solid stainless steel or titanium case, band bezel and locking screw down crown, the Warrior is a truly rugged , unique and durable watch you can depend on.
"Teaming with MTM to offer the Warriors Heart Limited Edition Time Piece, allows us to celebrate two very powerful entities, the Heroes of our nation, and an American made company to celebrates those who give it all, "stated Warriors Heart co-founder, Tom Spooner. "MTM's innovative designs and styles are a true parallel to the lives of those Warriors Heart works to provide care for. We are honored to partner with such a selfless organization, who truly understands what it means to give back to the heroes."
Available now through www.mtmwatch.com/warriors-heart the Warriors Heart Warrior timepiece is the perfect addition to your collection; all while making a difference in the lives of our warriors and their families.