This photo by Kemberly Groue was posted last week to the US Air Force Facebook page under the heading Freestyle Friday!
The caption:
335th Training Squadron freestyle drill team members performed during the 81st Training Group drill down on the Levitow Training Support Facility drill pad at Keesler Air Force Base, Mississippi. Airmen competed in a quarterly open ranks inspection, regulation drill routine and freestyle drill routine. Keesler trains more than 30,000 students each year. While in training, Airmen are given the opportunity to volunteer to learn and execute drill down routines.
Here is a screenshot of the full post:
Just take the dubious activity depicted in the top photo out of the equation for a moment and concentrate on the headgear of the participants. This is where the question of stolen valor originates.
The Gray berets worn in the photo have long been solely authorized for wear by Weather Parachutists and the new Special Reconnaissance Air Force specialty.
It's difficult to tell from the photo but the darker berets are either Blue or Black which belong to the Security Forces and Tactical Air Control Party AFSCs respectively.
Here are the appropriate passages from Air Force Instruction 36-2903 "Dress and Personal Appearance of Air Force Personnel" which governs who wears what.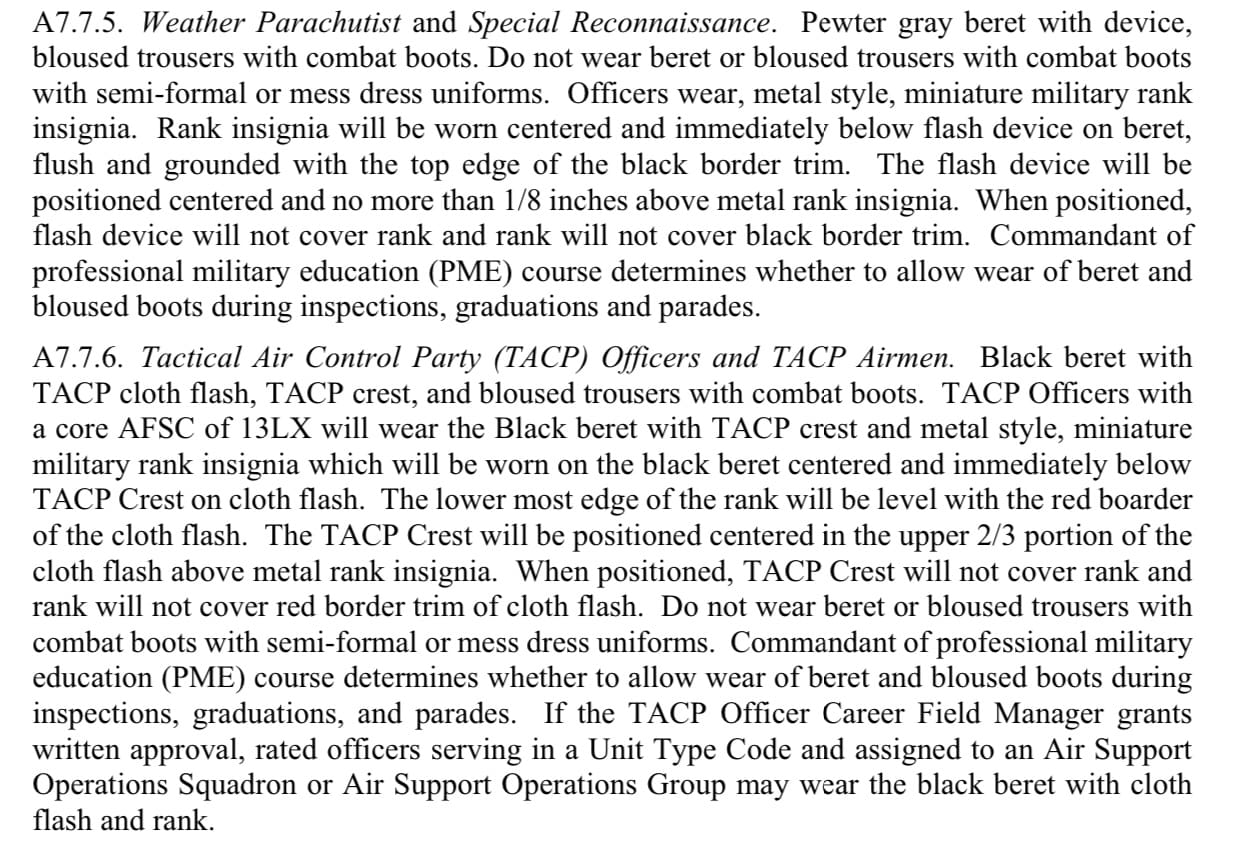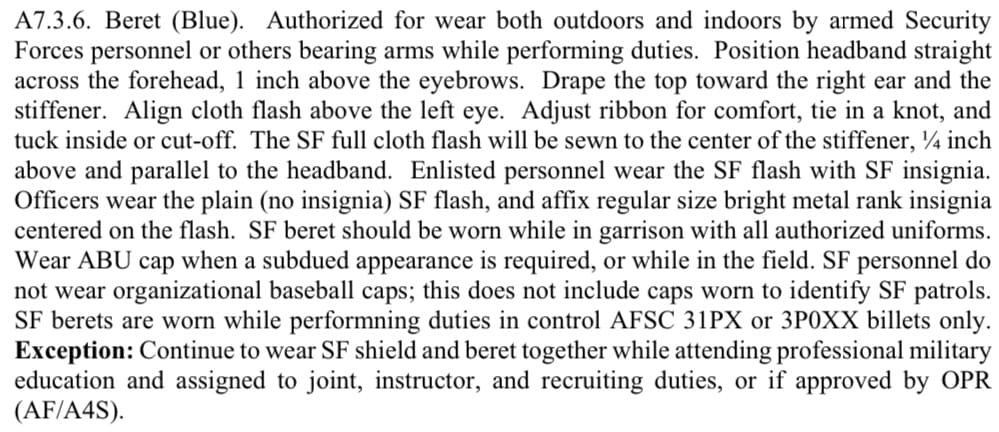 Either way, it is highly unlikely that any, let alone all of the Airmen depicted in these photos are from the AFSCs in question.
This begs the question of how long this has been going on and who authorized the behavior. It's an Air Education Training Command base and unit, a command which is generally hypersensitive to following Air Force Instructions and yet, here we are, AFI 36-2903 out the window.
I've got a lot of friends in all three of those communities who are proud of their careerfield heritage. Naturally, they don't want their beret worn as an ornament for someone who isn't in their AFSC. I can respect that. Apparently, AETC doesn't.
Some will say it doesn't matter. If it doesn't, then I suppose it would be okay for troops to just put on any old doodad they think would look great in uniform. Imagine A1Cs putting stars on their caps and Master Pilot Wings on their chests.
But, it does matter, and AETC needs to put a stop to this buffoonery.