SWANSBORO, N.C. – October 19, 2021 – High Speed Gear® offers additional mounting options for the popular Navigator Tech Pouch to pair with the ever so popular High Speed Gear® Core™ Plate Carrier.
Like the original Navigator Tech Pouch, this HL version is a low-profile admin pouch designed to assist in hands-free navigation through smart phone apps. The pouch unfolds and suspends at a 90-degree angle to give clear visibility to a smart phone or similar device, which it holds securely in an adjustable, hook and loop harness. The harness is designed to accommodate most smart phones, including plus-style phones, with or without cases, as large as 7" x 3.5" x 0.75". The pouch also features an internal pocket with corner cutouts for notebooks or battery packs, as well as an elastic loop for a map pen or marker and another loop by the pocket for an additional pen or cable management.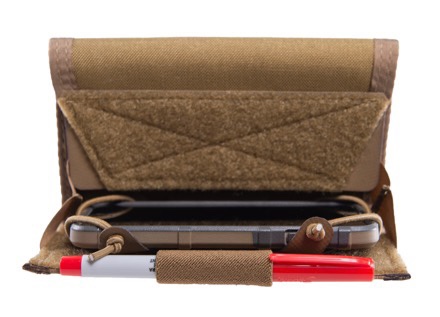 "At High Speed Gear, we always design our products with cross functionality in mind. Due to popular demand, the Navigator Tech Pouch is now able to quickly mount right onto the front of our Core™ Plate Carrier," explained Allison Mitchum, HSGI® director of sales and marketing. "Convenience, quality and functionality is exactly what strive to deliver every time we launch a new product."
You can watch the official product video for the Navigator at Navigator Tech Pouch and Navigator Tech Pouch-HL – YouTube.