Precision Made, DA OTF for Military and Law Enforcement Users
New for Spring 2022, Prometheus Design Werx introduces their Audax OTF under their Special Projects Division label. This modern, precision made, double-action, "out the front" type knife features a clip point blade made with Böhler M390 steel, fully machined-contoured, T6061 handles with a type III hard anodized finish, and a titanium sliding actuator with a dive-watch grade, luminous glow dot inlay. Many fine details are machined throughout this purpose driven OTF including a blade fuller, jimping for saber and reverse grips, signature handle fullers, an internal lanyard pin, and titanium billet pocket clip. The SPD Audax OTF is designed and made for their military and law enforcement users in mind and is available with black or olive drab green handles and a fine matte finish blade with satin flats.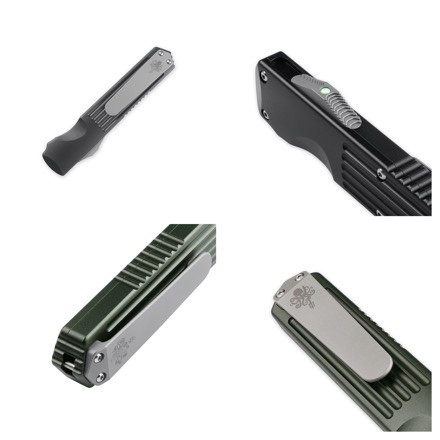 The Design and R&D Team at PDW states:
"We created with Audax OTF as a refined, reliable and purpose driven edged tool for our Military and Law Enforcement customers. Unique to our OTF design is the fully milled contoured handle, and along with the five fuller pattern, offers solid positive grip with or without gloves. Our signature luminous dive-watch grade glow dot inlay on the sliding actuator and internal lanyard pin rounds out the small details which makes our design stand apart. Our Audax OTF holds fast to our form follow function design ethos in this fast-deploying duty knife. 'Audax' is Latin for bold, courageous and daring; and a well suited product name for the knife's intended users."
The Audax OTF will be available for purchase for $289.00 on Wednesday, May 11th, 2022 at 12:00pm Pacific via their website, prometheusdesignwerx.com.