JOINT BASE SAN ANTONIO – RANDOLPH, Texas —
Organizing safe, effective survival and evasion training for nearly 1,000 people isn't easy – especially in an austere and unforgiving environment that's hours from the nearest signs of civilization. But Capt. Jason Walker and Master Sgt. Brian Youngberg's team of 33 Survival, Evasion, Resistance and Escape Specialists are doing just that this summer as they train hundreds of U.S. Air Force Academy cadets during three 21-day courses on critical survival and evasion skills at the Air Force Academy and Pinon Canyon Military Site near Trinidad, Colorado.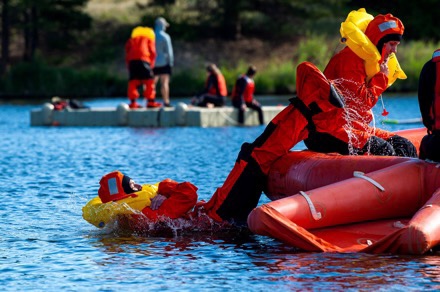 The Air Force Academy Combat Survival Training program enables cadets to practice and learn the skills required to survive as an isolated personnel in a combat environment. This training also provides leadership opportunities for upper-class Cadets and shortens the training timeline for new lieutenants in certain AFSCs.
"SERE provides the tools necessary to survive in multiple situations and to return with honor," said Walker. "This program is designed to not only introduce cadets to these survival skills, but also offer them a leadership opportunity."
On a normal day these specialists instruct at the 336th Training Group at Fairchild Air Force Base, Washington, where they're responsible not only for teaching SERE to more than 6,000 Airmen annually but also training candidates in the SERE technical training pipeline.
"Helping people has always driven me," Youngberg said. "SERE as a career field is predominantly helping people, whether to learn the skills that will help them return with honor or to do their jobs."
While teaching SERE isn't new to the specialists, the scale of the program is. A small-group try-out was conducted in 2021 with just over 130 cadets completing the program. This year's iteration, consisting of three 300-plus blocks of students, represents a nearly 800% increase in student training.
One unique aspect to the program is that cadet cadre act as primary instructors, having completed a hands-on training course with SERE Specialists, who help guide student learning and ensure course objectives are met. This provides cadet cadre with opportunities to grow their leadership and develop in a controlled training environment.
Nearly 1,200 cadets are anticipated to complete the program by the end of the summer.
"Any time you're dealing with 1,200 people, there are a whole bunch of gears that have to fit together the right way," Walker said. Weather, environmental factors, instructional timelines, safety and more all have to be factored in and adjustments made to ensure students receive proper training.
The team of SERE Specialists are eagerly tackling the challenge of adapting their training to the cadets.
"Uncertainty is where SERE specialists thrive," Walker said. "The team out here has one officer, a senior NCO, a couple NCOs, and then the rest are all Airmen. These Airmen are problem-solving nonstop to get the mission accomplished. It's awesome to watch them."
The team of SERE specialists also appreciate the chance to mentor the future officers.
"For a lot of the cadets, this is their first exposure to active duty non-commissioned officers," Youngberg said. "So they're able to talk with our SERE Specialists for perspective on what it's like being active duty and understand the importance of the officer and NCO relationship."
Walker agrees. "Mentoring is my favorite part," he said. "It's great when you see the light switch flip on, because it means you were able to connect and get information across in a way that people understand. And then also seeing students do things they didn't think they could do or hadn't done before."
To become a SERE Specialist, Airmen must be both physically capable and mentally prepared for extreme conditions, requiring more than a year of intense, and grueling training. Candidates are initially assessed through a 19-day screening course at Joint-Base San Antonio-Lackland, where they are evaluated on their physical fitness, aptitude, dedication, and leadership potential. After passing those tests, candidates undergo the rigorous SERE Specialist training that prepares them to survive in any environment, including deserts, mountains, arctic conditions and on the open water. Following graduation, SERE Specialists undergo more dive, parachute and emergency medical technician training, ensuring they have the right skills to operate in any situation. Only 40% of candidates that begin the pipeline end up earning the coveted pewter-green SERE beret.
The Combat Survival Training program at the Air Force Academy concludes July 29, and is expected to continue to impact future leaders for years to come.
Story by Capt Lauren Woods, Air Education and Training Command Public Affairs
Photos by Trevor Cokley