LENGGRIES, GERMANY (7 Sept. 2022)—Lindnerhof-Taktik GmbH today launched its new, high- performance Advanced and AdvancedX battle dress uniforms, each consisting of a field shirt, combat shirt, and combat pants.
The Advanced BDU model is available in a classic five-colour Flecktarn camouflage pattern, while the AdvancedX version is offered in a choice of MultiCam® or Stone Grey.
Lindnerhof is known worldwide for its evolutionary and revolutionary work in the development of pouches, plate carriers, belts, and tactical nylon gear—all driven by an unyielding desire to improve the quality and performance of equipment used by military and law-enforcement special forces.
It was that desire which brought the company to a decision to revisit and subsequently enhance its previous efforts in the development of BDUs, specifically a BDU produced in 2019 for the German Bundeswehr.
"That BDU was unavailable for purchase except by the Bundeswehr, but now we have two new models of BDU—the Advanced and AdvancedX—which can be acquired by everyone as of today, the 7th of September," said Lindnerhof-Taktik CEO Jakob Kolbeck. "The BDUs' component combat pants, combat shirt, and field shirt are right now available at our online store— www.hqg.de—and are ideal choices for all who want to gear up for missions or training exercises in a BDU that's smartly designed but not over-engineered."
Kolbeck, in detailing the thinking behind the creation of the Advanced and AdvancedX BDUs, said the new garments represent a blending of classical elements with innovative materials and features.
"Consider the field shirt, for example—it needs to look every bit as good as it performs," Kolbeck began. "Therefore, we combined traditional must-haves with new and outside-the-box thinking concerning design and construction. The result is a field shirt with cool optics, patched breast pockets with capacity enough to stow everything, underarm zippers for increased air circulation, and Velcro® closures over the front zipper's cover bar for even greater ventilation and comfort.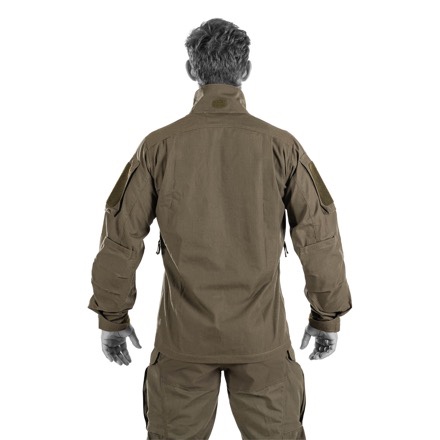 "Speaking of comfort, we shaved off significant weight by streamlining the shirt to just its absolute essential features so that it can function like a second skin. It of course includes camouflaged long sleeves with adjustable arm cuffs and areas for attachable insignia patches, but also construction using breathable fabrics to support the wearer during operations in warm weather—not to mention fabric that's highly durable so that it holds up against abrasion from plate carriers and other add-ons."
Kolbeck explained that both the Advanced and AdvancedX versions of the combat shirt employ in their torso region a ceramic dotted fabric known as Lizard Skin.
"We waved goodbye to pure polyester and said hello to breathable Lizard Skin, which is both abrasion-resistant and comfortable," he said. "We don't rely on the material alone for comfort, though. We further enhance it with super-lightweight underarm mesh inserts and a quarter- front zipper."
The Advanced and AdvancedX BDUs each employ a different base material. The Advanced model—available only in Flecktarn—relies on the same common twill found in the BDU worn by members of the German Bundeswehr. The AdvancedX model—available in either MultiCam® or Stone Grey—makes use of the nylon-cotton blend NyCo Extreme, which is lighter and more air- permeable.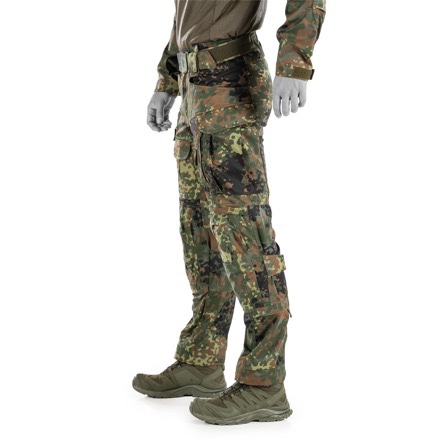 "The parts of the two BDUs that require fabric reinforcement have been constructed with classic 500-denier CORDURA®," Kolbeck said. "The knees of the pants are one such part."
Kolbeck noted that the combat pants offer users the option to attach protective knee pads made by the top-three makers of that particular accessory.
"There is a ventilation-adjustable zip pouch for UF PRO knee pads and a receptacle for either Arc ?teryx Combat Knee Caps or Crye AirFlexTM Combat Knee Pads," he explained.
Another key feature of the combat pants is its pocket setup. "Big cargo pockets, side pockets, and a lower leg pocket are all included," Kolbeck said.
He indicated as well that the combat pants have a comfortable glove-like fit thanks to their proven Flex Fit closure system and said their highly adjustable, weight-saving integrated trouser belt renders obsolete the need for a separate trouser belt.
"Moreover, we've integrated into the pants expandable fabric sections constructed of Schoeller®-Dynamic stretch material," Kolbeck said. "These stretch sections are fully camouflaged and support the user exactly where needed while moving."
Lindnerhof is a part of the Mehler Group of companies, which include tactical garment maker UF PRO. Kolbeck credited that sibling organization with contributing its own expertise toward the successful development of the Advanced and AdvancedX BDUs.
"We collaborated to very good effect," he enthused. "UF PRO is an excellent partner and we appreciated greatly their willingness to share their knowledge."
For more information about the new Lindnerhof Battle Dress Uniform Advanced and AdvancedX as well as other Lindnerhof-Taktik products, please visit the company's web shop at www.hqg.de