Trainshot has designed an interactive live-fire robot to enhance your training. This unique system combines speed and tech to make it the most mission capable robot available. The robot when used in combination with the Trainshot app will allow you to create a truly customizable training experience.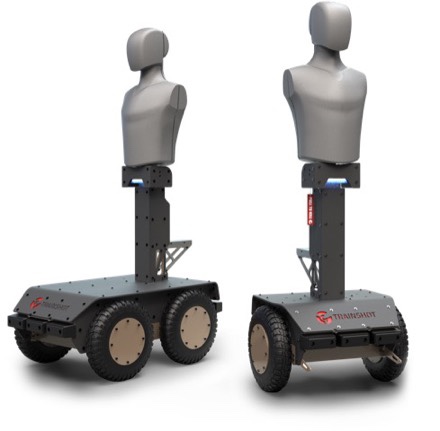 The Trainshot robot utilizes pre-programmed features including; Random Mode, SWARM, or GPS Waypoint Mapping to meet your mission-specific training needs. Features on the app include free shooting mode so you can work on everything from reflexes, precision, drawing, or reloading skills. The app also features missions for all skill levels. Users can even track their progress in real time eliminating wasted time down range trying to find shots on paper.
The robot is available in two different versions; a self-balancing two-wheel is ideal for indoor use and a rugged four-wheel version for outdoor and off-road capability. Both robots feature flat-proof, foam-filled tires, with a max speed of up to 10 mph for the two-wheel robot and 15 mph for the four-wheel version.
The Trainshot robot utilizes a proprietary lightweight self-healing foam body target which can detect three unique zones. It also features a pop-up mechanism ideal for shoot/no-shoot scenarios. The robot body is protected with a Hardox 500 Frame and an anti-ricochet Ballistic Rubber plate designed to hold up to 7.62×39 or 5.56 mm calibers (capable of being upgraded to 7.62×51 or greater) and a self-healing four-color ultra-bright 36W LED module is used. A rechargeable lithium-ion battery ensures a runtime of 8-12 hours.
Everything on the robot is controlled with the app which, can be used with single or multiple targets. The app provides shooters real-time scores, hit zones, and reaction times. Indoor waypoint mapping of your robot is set up using a special computer vision- 3D navigation, so no GPS is required. The robots are compatible with Trainshot static targets allowing for use of both during the same training session. You can also use multiple robots to drive in formation. A long-range radio allows for a range of up to 1,000 meters/3,300 feet for static targets. The system can easily be broken down for transport, with the two-wheel weighing 110-150 lbs. and the four-wheel weighing 150-200 lbs.
For more information, please visit www.trainshot.com.