Watertown WI, Wed Nov 16 2022
Reflex Suppressors, or Over the Barrel Suppressors have been manufactured for quite some time, but recently haven't been the focus by mainstream manufacturers. Griffin first made over the barrel suppressors over ten years ago with the introduction of the RSTA and SPR models. Meant to diminish blow back, provide superlative accuracy, excellent POI shift characteristics and add minimal system length, these suppressors were highly desirable among suppressor aficionados. Griffin is reintroducing next generation over the barrel suppressors with the DUAL-LOK PSRTM suppressor series. However, before going into detail on these models, a brief discussion on the history of reflex suppressors is warranted.
Unlike an integral suppressor, which typically has drilled holes in the barrel of the host firearm and the tube extending over the barrel; the over the barrel suppressor has an attachment system which goes rearward of the barrel's muzzle by several inches thus making a shorter overall length suppressed firearm. Despite the long length of the suppressor itself, this allows for a ~9 inch suppressor to be something like only 6.5 inches or so of added length to the barrel. Popular Vietnam War era suppressors were all over the barrel varieties. Fast forward to a more modern time, the company Ops Inc, started providing these style suppressors in the early 1990's and later became prolific integrating its suppressors with the SOF communities MK12 MOD0 and MOD1 firearms. Around the same time Knights Armament also started engineering similar products. In the early 2000's, AAC, and Surefire started manufacturing over the barrel suppressors as well for military sale. These suppressors targeted the sniper community. Semi-automatic and bolt action rifles in the sniper community used over the barrel suppressors almost exclusively for some time in both the Army and Marines until about 2010. This was most likely due to accuracy being more consistent in harsh field use with over the barrel suppressors vs muzzle mounted variants. Fast forward to today and over the barrel suppressors are still in use by the sniper communities but not very popular by commercial recreational users due to their more limited versatility. Griffin introduced the RSTA and SPR around 2010. These suppressors were well liked by the small community of end users who purchased them due to their single piece muzzle devices which were much easier to install vs multi piece mounting systems from companies like OPS inc. Griffin refocused engineering efforts towards more mainstream muzzle mounted products around 2016 and chose to discontinue those models.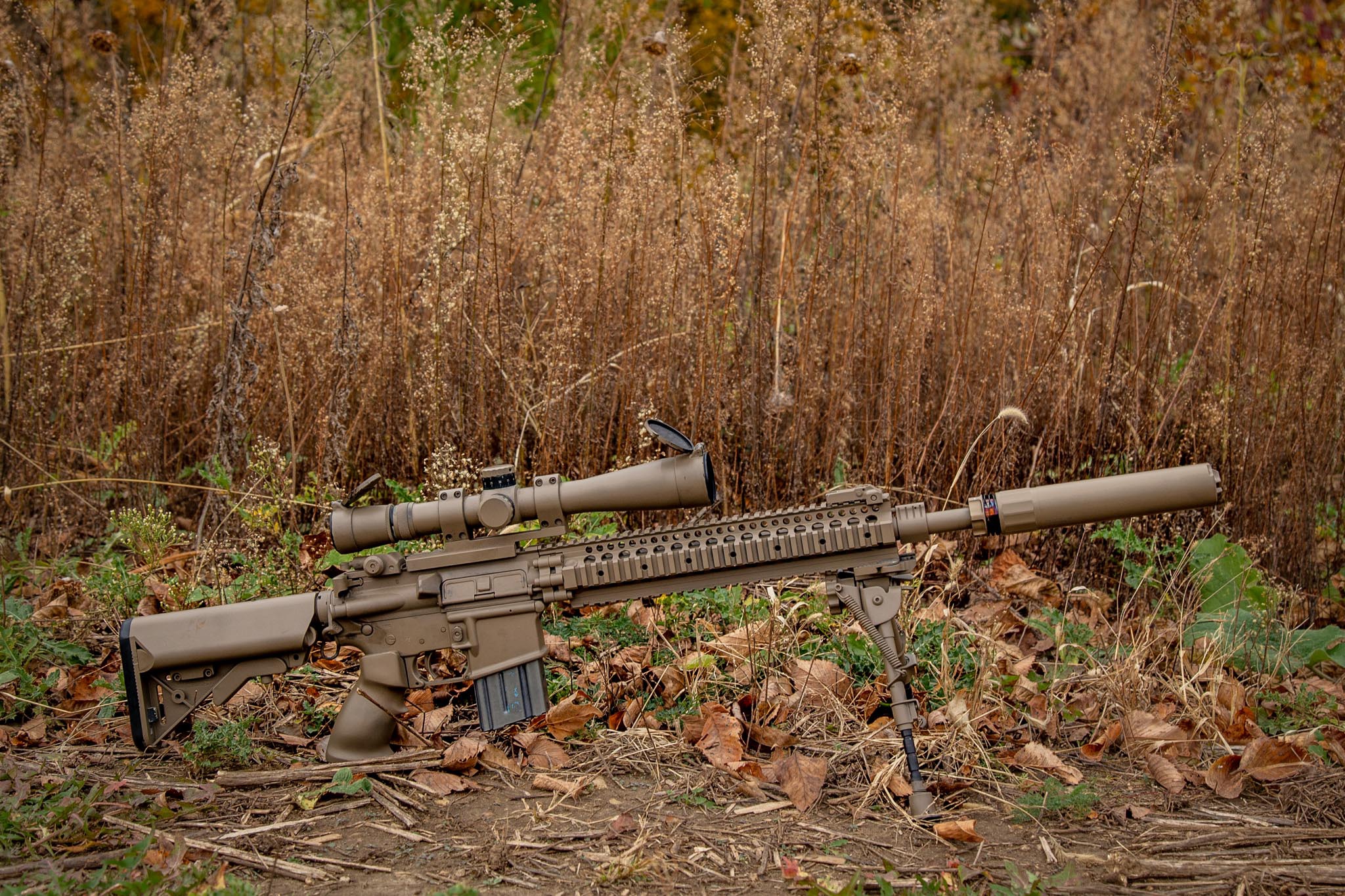 In the last several years Griffin has been spending considerable research efforts on developing lighter suppressors with better mounting systems and higher performance baffle technology. The advent of these developments brought about a reason to revisit the over the barrel suppressors. Current Griffin ECO-FLOWTM baffle tech is much more capable of using the volume of space in the large blast chambers of over the barrel suppressors. Laser welding technology has also allowed for light-weight tubeless versions of these suppressors which historically had a very negative weight impact vs muzzle mounted suppressors. The DUAL-LOKTM mounting system provides high performance attachment, greater user confidence, and a more modern feature set. Incorporating it into the over the barrel DUAL-LOK PSRTM series allows for a rigid locking system in an extremely accurate taper interface mount. Rough handling of the firearms muzzle device is not an issue with the PSR cans as there is a redundant support structure that forces alignment to be as exceptional as a brand new mounting interface regardless of dings and handling abuse common to the sniper field environment. The suppressors feature the patent pending pressure reduction front cap with integrated flash suppressor for extremely low flash. Blow back is lesser than previous Griffin RSTA and SPR suppressors in part due to the ECO-FLOWTM baffles as well as the patent pending end cap, and other internal geometric nuances. These suppressors are ear safe on gas operated firearms making them a perfect fit for bolt actions or semi-automatic systems.
"The DUAL-LOK PSRTM suppressors offer the benefit of over the barrel suppressors for precision rifles with weight penalties similar to lighter muzzle mounted systems. These are the best over the barrel suppressors available in the industry today."
– Austin, Lead Design Engineer, Griffin Armament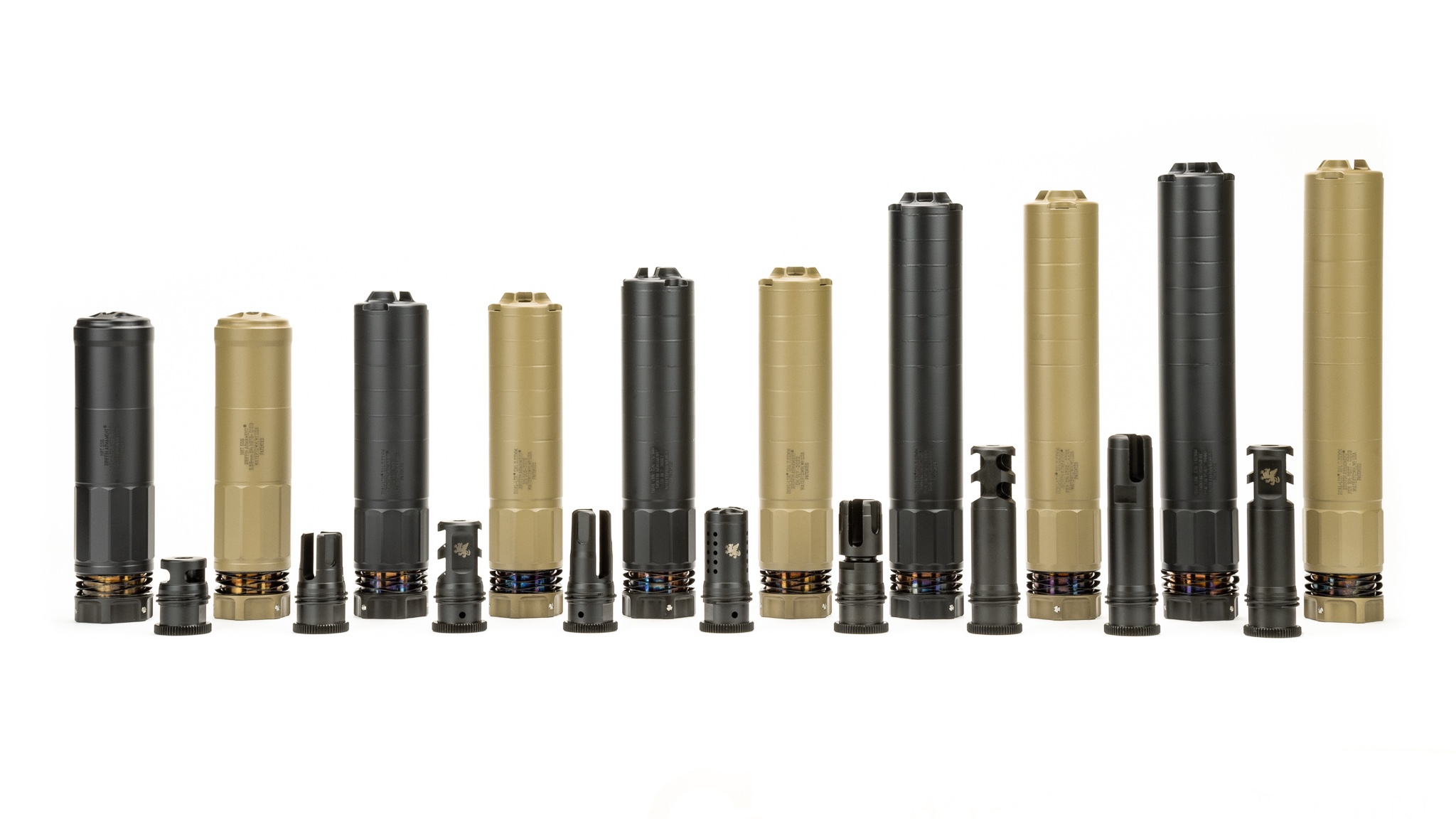 DUAL-LOKTM suppressors are machined in Griffin's Watertown Wisconsin facility by freedom loving Americans.
Key points :
• Patent pending DUAL-LOKTM wear free mounting system, requires no consumable parts
• Taper lock interface ensures security and accuracy
• ACME thread provides speed of attachment
• Locking ring incorporates 3 anti-rotation teeth to eliminate inadvertent loosening
• 120 effective positions ensure a rock-solid suppressor mount and provide extremely low POI shift
• 17-4 stainless steel & 718 Inconel materials
• Tubeless laser welded design
• Patent pending ECO-FLOWTM baffle system for reduced blow back
• Patent pending Pressure Reduction Cap with integrated flash hider
• 3/4" wrench flats on muzzle devices
• Collar Nitrided black and PVD'd on FDE models for increased surface hardness, corrosion, and wear resistance
• Heat treated and Cerakoted Black and FDE in a heat resistant finish
• Warrantied for life with Griffin's Perpetual Lifetime Warranty
DUAL-LOK PSRTM 5 Specs:
• DIMS: 1.5"x 8.4"
• Weight: 14.9oz
• Sound pressure Level: 129.7db (16" 5.56mm Griffin MK1)
• MSRP: 1195.00
DUAL-LOK PSRTM 7 Specs:
• DIMS: 1.5"x 8.9"
• Weight: 15.8oz
• Sound pressure Level: 137.6 (16" 7.62mm AR10)
• MSRP: 1295.00
Muzzle devices supported :
• DUAL-LOK PSRTM muzzle brake
• DUAL-LOK PSRTM flash suppressor
Thread pitches supported:
• 1/2×28 (5.56mm)
• 5/8×24 (7.62mm)
To find out more on Griffin Armament's entire product line, please visit their website at www.GriffinArmament.com. For attendees of the 2023 SHOT Show, Griffin Armament will be exhibiting the Optimus, along with the rest of their product line. Booth #20458.