B&T showed me a couple of new suppressors which are compatible with SureFire's family of muzzle devices.
Manufactured from Thermax / Inconel, the 5.56mm ROTEX-X is 20% lighter than the previous ROTEX-V.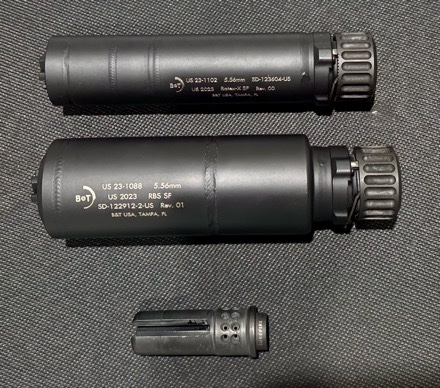 The RBS line offers Reduced Back Pressure using a "flow through" design in order to reduce gas pressure at the charging handle and ejection port.
They are so new that they came straight from the factory in Tampa, right to the show floor at SHOT.
The full line of new suppressors includes:
Rotex-X Full Size & Compact
RBS 556 Full Size & Compact (17 oz & 19oz)
RBS 762 Full Size & Compact (21 oz & 23 oz)
MARS 556 14 oz
MARS 762 15 oz
Pricing starts at $675 with the SureFire attachment and is inclusive of the ROTEX-X's and MARS suppressors. RBS suppressors are $875.
Aside from the lack of an industry standard for suppressor performance measuring, the other thing that irks me about suppressors is the myriad attachment methods. Hopefully, more companies will adopt common standards.