Designed as part of our Sniper/Observer ecosystem, for mounting the Leupold™ MK-4 direct to RRS tripod, as well as to our Sniper Attachment Platform (SAP). The adaptor is machined to match the contour of the scope, allowing for a rock solid, solid swivel free connection for the scope. The bottom of the adaptor is machined to the RRS standard, for quick attachment to any RRS mount. When you need to mount the MK-4 and other optics and lasers, pair the MK-4 Adaptor with the SAP. The adaptor allows for top or bottom mount of the MK-4 to the SAP, for personal preference.
Includes: 6061 Aluminum Adaptor, one 1/4-20×3/8 thumb screw.
Does not include: Installation tools or 1/4-20×3/8" screws for mounting to the Sniper Attachment Platform.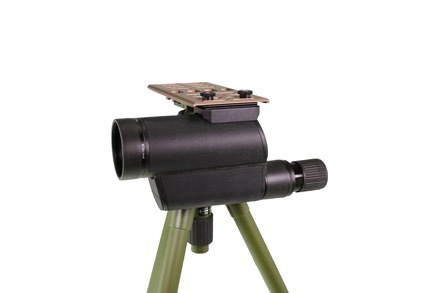 Additional accessories for purchase:
1/4-20×3/8"screws for mounting your item to the Sniper Attachment Platform.
Made in the U.S.A/ Berry Compliant Made with 100% U.S.A 6061 Aircraft Grade Aluminum.
Anodized matte FDE or Black.
Product total weight: 3 3/8 oz. Product dimensions: 3.0"L x 1.9"W x 0.87"H
Currently available in Black.
www.215gearstore.com/mk-4adaptor