SWANSBORO, N.C. – November 8, 2023 – High Speed Gear® has partnered with David Acosta Jr. of Allegiance Defense Solutions to develop the most versatile and concealable magazine pouch to hit the market. With direct insight from Acosta, HSGI® , the leading tactical gear manufacturer for military and police, has created a pouch that is concealable, comfortable, and most of all, functionable.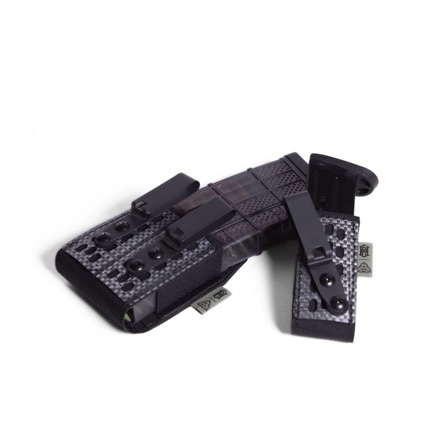 The Lo-V Mag Pouch series is the perfect harmony of high end fabrics and thermoplastic composites that provide balanced rigidity and flexibility. The exterior of the pouch features an industry leading cant compatible clip design. The Discreet Carry Concepts clips are held together with adjustable retention hardware to provide optimal security.
With a comfortable fabric backing infused with sweat guard technology, the pouch can ride alongside the user for all day comfort. This innovative and flexible construction allows for comfortable concealed carry of magazines of all calibers.
David Acosta Jr. of Allegiance Defense Solutions states, "Be it military, law enforcement, or civilian, if carrying a spare magazine is a want or a need, the HSGI Lo-V Mag Pouches should be your choice. Think of it as the one concealed pistol magazine pouch to rule them all".
For more information regarding this product or others please visit the HSG website at:
www.highspeedgear.com/lo-v-mag-pouches