Build Your Own Set
The Guardian Plate Carrier is a modern vest designed for carrying ballistic plates with the option of attaching additional gear thanks to its modular system compatible with MOLLE/PALS. The Guardian series includes the vest and 16 components that can be configured as you like. The Guardian Plate Carrier allows for carrying plates in the most popular standards: E-Cut (SAPI/ESAPI), Swimmer Cut, and Shooter Cut.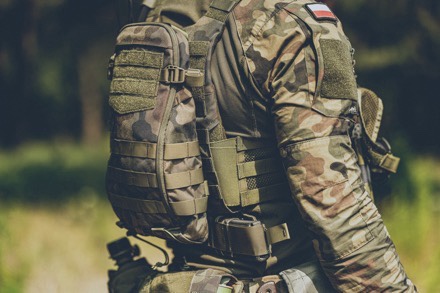 Elements of the Guardian Series:
To better tailor the products to users needs, we've prepared several components designed for various activities. Two types of cummerbunds: standard Guardian Cummerbund and Guardian Cummerbund Quick Release. For carrying equipment at the front, there is the Guardian Kangaroo Flap with hook & loop and the Guardian Flap equipped with MOLLE/PALS straps with room for three AK/AR magazines.
Specifically for police and similar services, we've developed the Law Enforcement Insert, which will accommodate two pistol magazines, a radio, and handcuffs. In addition, the Guardian series features two pockets for grenades: the Smoke Grenade Pouch for smoke grenades and the Flash Grenade Pouch for flashbangs.
Efficient organization of equipment is provided by various types of pouches and pockets: Double Horizontal Pouch for rifle magazines, Pistol Magazine Pouch for a single pistol magazine, Universal Pouch for flexible gear storage, Guardian Dangler drop pouch, and Radio Pouch for storing a radio unit. Also available in the series is the Guardian Admin Pouch, a universal tactical Mini Pouch, and the Tourniquet Pouch.
Anything that doesn't fit at hand can be carried in the Guardian Smallpack with a 7.5 l capacity, which can be attached to the plate carrier thanks to detachable straps. The backpack opens almost entirely and has a separate pocket for a hydration insert.
OR CHOOSE A PRE-MADE SET
In addition to individual components, Helikon-Tex also offers complete sets tailored for specific types of services: the Guardian Military set designed for the armed forces comes with the Guardian Cummerbund and the front Guardian Flap. The Guardian Law Enforcement set was developed with the police and other uniformed services in mind. The base element here is the tactical Guardian Plate Carrier vest. It comes with a Guardian Cummerbund, a front Guardian Kangaroo Flap, and a dedicated Law Enforcement Insert.