Now More Than Ever, Standards And Leadership Matter
The Taliban's ambush kicked off with the standard barrage of RPGs and machine gun fire. After completing their "mad minute" of initiation fires, the surprise attack lulled and we maneuvered out of the kill zone to coordinate our response.
Unlike previous ambushes, the Taliban either through overconfidence or misreading of the terrain positioned themselves in a wadi. Clear of any civilian structures and risk of collateral damage, they were exposed to the full capacity of our small arms, mortars, and crew served machine guns.
It was the type of fight we begged for. An open engagement with what was an elusive enemy that preferred to fight from the homes of civilians, purposely using them as shields. With a hastily formed assault line of gun trucks, we suppressed Taliban fighting positions and dismounted personnel began prepping mortar fire to contain them.
Everything was textbook, flawless with execution, except one thing.
Prone behind his machine gun, a junior soldier attached to our team wasn't shooting the Taliban positions.
"Why aren't you shooting?"
"I can't see them."
He was lying, but he wasn't a coward. He knew where the Taliban were. Everyone did because tracers from our heavy weapons directed fires at the Taliban's skirmish line.
The fear of death wasn't what scared the soldier from shooting. Instead, he was afraid of punishment. For doing something wrong and being made an example of by a higher headquarters that readily distributed career ending reprimands. The irony was painful. A highly trained—albeit junior—soldier failed to perform his mission critical task because he was afraid of our senior leadership, not the enemy.
———
Last month, the nation again revisited an uncomfortably familiar cycle of mourning, outrage, and finger pointing after the Parkland Florida school shooting. However, following this specific tragedy, the typical week long news cycle about gun control was pushed into the backseat as a nation cried out against the law enforcement officers that failed to enter the school and kill the gunman.
Civilians, soldiers, and cops took to social media with an unending supply of blame and ostracized the deputies that failed to perform their duties. And just as the outrage was beginning to subside, news surfaced about officers that were actually reprimanded for attempting to swarm the scene in an attempt to kill the shooter.
Despite all of the blame, meme generating, and "I would have run into the school" sound clips; we're still left with a hard question to answer.
Why did this happen?
During the ambush in Afghanistan, I knew that the junior soldier on the machine gun was competent. He was not afraid, and despite it being a terrible decision, would charge blindly into a compound full of Taliban by himself if he knew he wouldn't get in trouble.
However, I don't know the deputies that failed to enter the school in Florida. In fact, few of us do. I don't know if they were afraid, or confused due to lack of training. But what I do know is that organizations do not fail as a whole because of a single mission. Organizations fail throughout years in which a collection of small and insignificant events compound over time to produce a culture of complacency.
For tactical professionals, the hardest decision to make often isn't running towards the sound of gunfire. Instead, it can be taking on the less heroic task of attempting to change complacent organizational culture.
As a trooper on the line you never get to choose your commander. As a commander, you do not get to choose which policies your predecessors establish. When an organization fails, the easy answer is for subordinates to blame weak leaders, and for leaders to blame rigid policy. However, pointing fingers  after mission failure tends to yield minimal results because the reality is that complacency must be challenged every day.
It's in the small things:
-Every time we let a teammate skip out on training for non-urgent personal matters.
-Every time we bend the rules for those that fail to meet physical fitness standards.
-Every time we finger drill mission critical SOPs.
-Every time we ignore negligent discharges instead of enforcing punishment.
-Every time we reward promotions for precedence instead of ability.
-Every time we complain about the lack of quality with department training, but then fail to seek out better methods for acquiring skill.
-Every time we let a teammate improperly configure his equipment (e.g. tourniquet not easily accessible) so that he can instead have cooler looking kit with "do-nothing" pouches.
-Every time we let our ego say "But I've been (SWAT/SRT/Special Forces) for "X" years to compensate for performance failures.
During pre-deployment training for Afghanistan, a brand new Green Beret assigned to our company negligently discharged a simunition gun. He wasn't in a shoot house or in a training scenario. He was just loading the trucks for movement to the day's training area and got careless. Regardless, he was removed from the company and sent to a staff section as punishment.
Later, during a 2-month CQB train up, a seasoned Green Beret negligently discharged a pistol. Similarly, this wasn't in the shoot house or during a course of fire on the range. It was while he was clearing his team's weapons before they were transported back to the arms room. His failure with the ND was both because he finger drilled his checks, but also because a teammate had set him up for failure by lazily placing a loaded gun in an area that was designated only for cold weapons. That Green Beret was not reprimanded because "he's a good guy." But because he was not punished, the stigma of his reputation always beat him to his next assignment. A career debilitating black eye that he would not recover from.
Examples such as these exist in many forms. Whether its failing to meet physical fitness standards, or misuse of operational funds. Ultimately, if an organization fails to correct small issues, the problems compound and reach a tipping point. Typically, a commander will overly punish a minor infraction in an attempt to set an example for future decisions. Of course, this starts an organization down a path in which trust between subordinates and leadership is eroded.
Returning from our deployment to Afghanistan, we were not greeted by senior leadership that applauded us for a job well done (or for most, a job well endured, because hey, democracy is kind of a hard thing to spread). Instead, we were marched into the battalion classroom and told all the ways in which we would be kicked out of the unit for integrity violations.
As the infractions were explained, we all began shaking our heads and rolling our eyes. The individuals that were made examples of were known for their poor professional behavior. But in the past, instead of being punished, they had been allowed to fail upwards to their next assignment. Although they were finally reprimanded in the end, it was at the expense of establishing policy that impacted every soldier in the unit.
———
Attempting to change organizational policy is a monumental task, and often isn't one accomplished through a single individual's career. However, real professional growth occurs day-to-day, and in the grey areas where there are no strict guidelines or rules. In other words, it occurs both when someone is and isn't watching you.
There is also a difference between rules and standards, and the two must not be considered the same. Rules declare limits, but must not be arbitrary otherwise they actually encourage individuals to subvert or bypass them. However, standards are meant to empower because their achievement indicates superior skill. Organizations that misunderstand these realities will use standards and rules synonymously. And instead of empowering individuals to achieve success, will actually deter them from trying for fear of a reprimand that accompanies failure.
My successes as a soldier weren't because I possessed natural talent or superior skills. It was because I had direct supervisors that understood how to create a learning environment in which I wasn't afraid to fail. This allowed me to grow as a noncommissioned officer because I understood the difference between punishment and professional critique. Organizations that fail to separate the two will create a zero sum environment in which troopers are afraid to do anything wrong. Consequently, this handicaps otherwise competent individuals from returning fire at enemy ambush lines, or running towards the sound of gunfire to save innocent lives.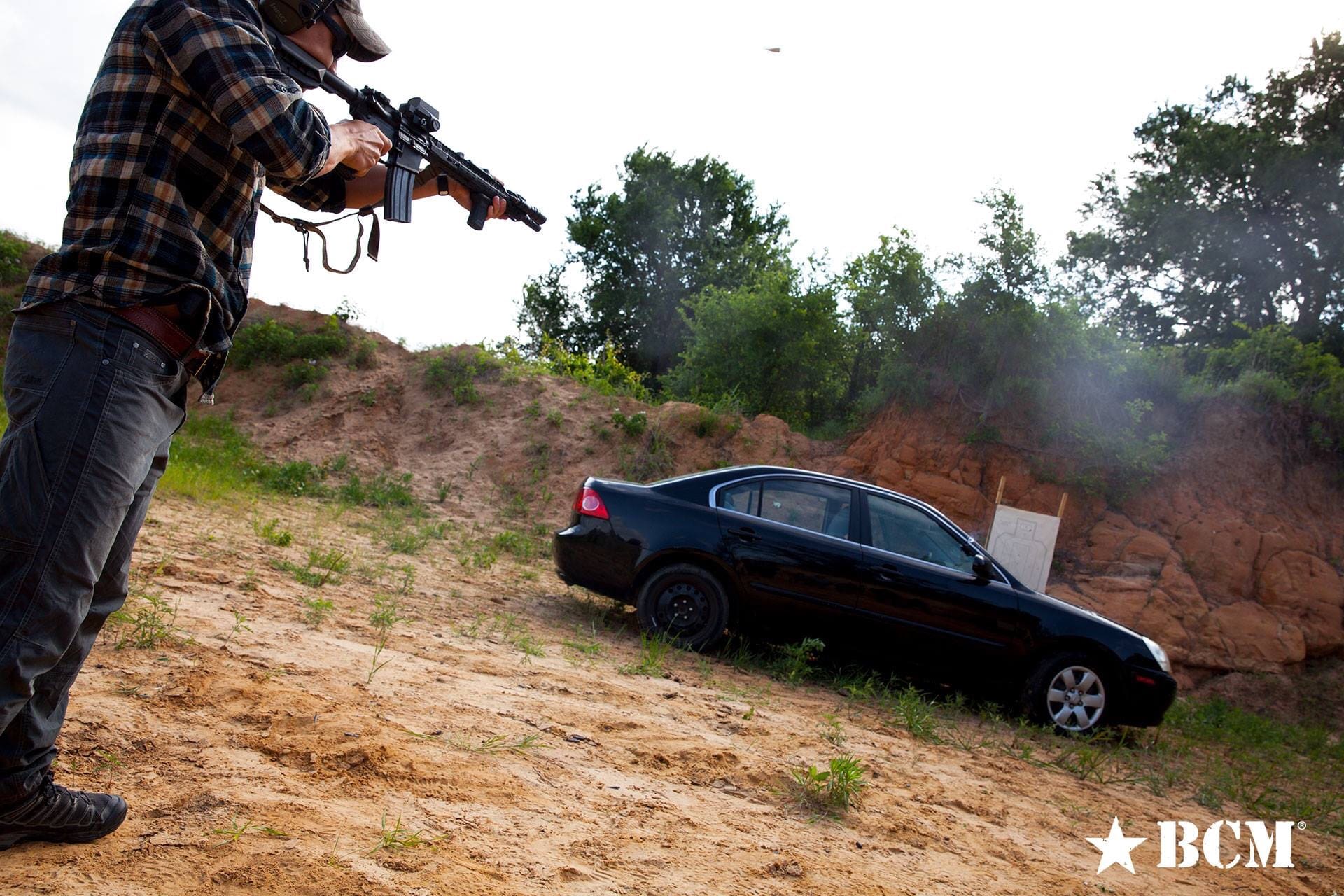 Aaron Barruga is Special Forces veteran with deployments to Iraq, Afghanistan, and the Pacific Theater of Operations. He has trained foreign commandos, police officers, and militia fighters. He is the founder at Guerrilla Approach LLC, where he consults law enforcement officers on counter-terrorism and vehicle tactics.
www.facebook.com/guerrillaapproach
www.instagram.com/guerrilla_approach
Gunfighter Moment is a feature brought to you by Bravo Company USA. Bravo Company is home of the Gunfighters, and they bring us a different trainer to offer some words of wisdom.